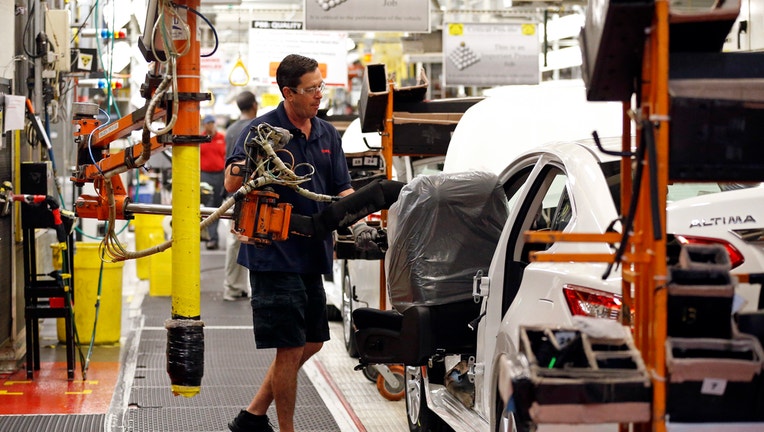 Demand for long-lasting factory goods fell in April, hinting at potential speed bumps for the manufacturing sector.
Orders for durable goods--products designed to last at least three years, such as trucks and computers--decreased 0.7% from the prior month to a seasonally adjusted $231.17 billion in April, the U.S. Commerce Department said Friday.
Economists surveyed by The Wall Street Journal had expected a 1.8% decline for orders last month. In March, orders rose a revised 2.3%.
New orders for civilian aircraft, a category that swings wildly from month to month, dragged down the headline figure. In April, such orders tumbled 9.2%.
Other sectors also retrenched, including primary and fabricated metals, machinery and electrical equipment. In one sign companies are investing, new orders for computers jumped 5% from a month earlier.
Motor vehicle and parts orders climbed 0.3% following decreases the prior two months. Automotive production had been a driver of growth for much of the economic recovery, but demand in the sector appears to be easing in recent months after hitting record levels in 2015 and 2016.
Excluding transportation, orders fell 0.4% in April.
A closely watched proxy for business spending on new equipment, orders for nondefense capital goods excluding aircraft, was flat in April, the second consecutive month with no change.
Data on durable goods can be volatile from month to month, but broader trends suggest the manufacturing sector had picked up early in the year after weak stretches through much of 2015 and 2016.
Total durable-goods orders were up 2.2% in the first four months of 2017 compared with the same period a year earlier. Orders for nondefense capital goods excluding aircraft advanced 1.3% in the same span.
An improving global economy, revived energy sector and a strong housing market generally support demand for U.S. manufactured goods.
Other manufacturing gauges have been broadly positive recently.
The Federal Reserve's April industrial production index showed manufacturing output posted its strongest gain since early in 2014, pushing the Fed's manufacturing index to a new postrecession high.
Separately, the Institute for Supply Management earlier this month said its closely watched index of U.S. manufacturing activity fell in April but still indicated the sector was expanding. ISM manufacturing readings for each month this year have been higher than any month in 2015 or 2016.
The Commerce Department's durable-goods report can be accessed at: https://www.census.gov/manufacturing/m3
Write to Jeffrey Sparshott at jeffrey.sparshott@wsj.com and Ben Leubsdorf at ben.leubsdorf@wsj.com.
(END) Dow Jones Newswires
May 26, 2017 08:45 ET (12:45 GMT)