U.S. Crude Rises 1%, Supply Outages in Focus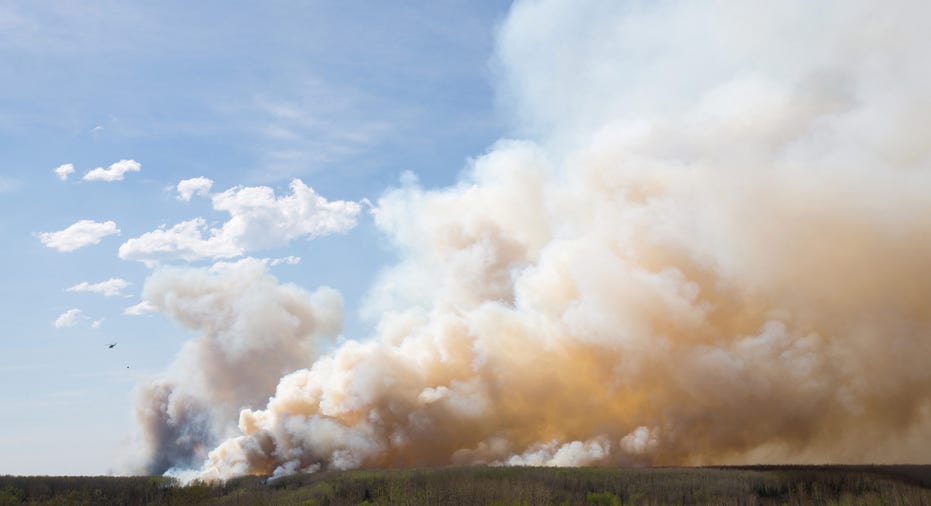 Oil rose on Tuesday, driven by supply disruptions in Canada and elsewhere that have knocked out 2.5 million barrels of daily production and temporarily eclipsed concern over high global inventories and a looming surplus of refined products.
In spite of outages from Canada to Nigeria, oil prices are down by more than 2 percent so far this week, hampered by worries that even hefty dents to production will have little effect on the growth of stocks of unwanted crude.
Brent crude futures were up 75 cents on the day at $44.38 per barrel by 0945 GMT, while U.S. crude futures were up 45 cents at $43.89 per barrel.
Canadian officials got their first glimpse of the oil sands town of Fort McMurray since a wildfire erupted and knocked out vast amounts of crude production there, and they said almost 90 percent of its buildings were saved.
Outages in Canada, which consultancy Energy Aspects said now totalled 1.6 million barrels per day (bpd), have brought global disruptions to more than 2.5 million bpd since the beginning of the year. This has at least temporarily wiped out a surplus that emerged in mid-2014 and slashed 70 percent off prices before a recovery started early this year.
"Oil prices are likely to continuing falling nonetheless, for the recent supply outages ... have no longer been driving prices up further, but have merely prevented them from falling," Commerzbank said in a daily report.
"Speculative financial investors also appear to be switching sides ... they significantly reduced their net long positions in Brent for the first time in eight weeks," analysts at the bank said.
Goldman Sachs said it expected U.S. oil production to decline by 650,000 bpd this year, while BMI Research said that production in Asia would fall by 4.9 percent in 2016, equivalent to 331,500 bpd. Production in Latin America and Africa is also stalling.
A series of attacks on Nigeria's oil infrastructure has pushed its output of crude close to a 22-year low, Reuters data shows, piling pressure on the country's finances.
"Despite some significant supply disruptions, most notably in Canada, ongoing bearish fundamentals precipitated a modest retracement in prices," Societe Generale said in a weekly note to clients.
With plenty of crude available, refiners have produced large volumes of gasoline and diesel, threatening to swamp demand despite the coming U.S. summer driving season.
"Crude cannot go up without support from products, and that support is not there at the moment, and more refineries are coming out of turnarounds so there will be more products and tanks are getting full," said Oystein Berentsen, managing director for crude at Strong Petroleum in Singapore.
(Additional reporting by Henning Gloystein in SINGAPORE; Editing by David Evans)