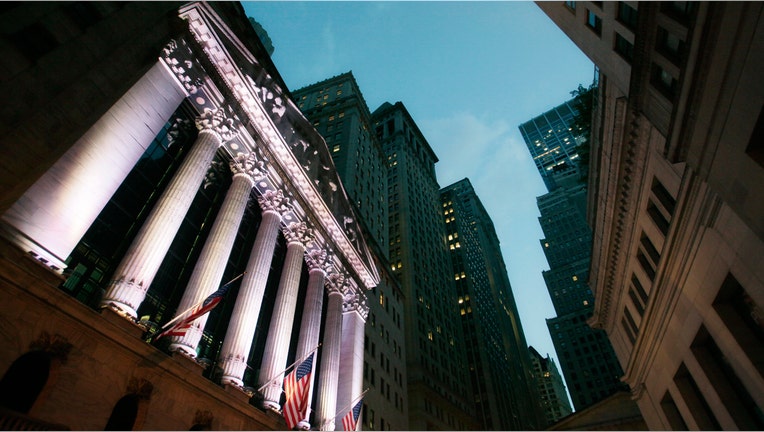 U.S. companies are poised to report their strongest quarterly earnings in years, another sign that the stock-market rally could have further to run.
Analysts expected earnings for S&P 500 companies to grow by 9.1% overall in the first quarter from a year earlier, as of March 31, which would mark the highest growth since the fourth quarter of 2011, according to FactSet. Still, analysts have trimmed their profit expectations since the start of the year, and disappointing results could stoke concerns that stock-price gains have outpaced earnings growth.
Reporting season heats up over the next few weeks, with banks including J.P. Morgan Chase, Citigroup and Wells Fargo expected to report results next week and giants like Johnson & Johnson, Verizon Communications and General Electric scheduled the week after.
Investors have been betting that U.S. corporate profits will soar this year, supercharged by a Trump agenda that includes tax cuts and looser regulations. Last month's collapse of the Republican health-care bill cast doubt on such policies, but a strong earnings season could give investors a reason to keep investing in stocks.
Technology companies, among the best performers in the stock market this year, are expected to post some of the biggest earnings gains. Meanwhile, profits at industrial companies are projected to contract, potentially weighing on a sector that has lagged behind the broader S&P 500 this year after outperforming in the postelection rally.
"The buying and closing your eyes bit -- that part's gone," said Bret Chesney, senior portfolio manager at Alpine Global Management LLC. "I think now is when we really start to be dependent on what the hard numbers show."
Apple, whose stock is up 25% this year, was expected to report per-share earnings of $2.02 for its latest quarter as of March 31, up from $1.90 a share in the year-earlier period. Shares of the world's most valuable company hit a record this year partly on bets that its 10th-anniversary iPhone, expected later this year, will keep momentum building at the firm. The company posted a profit in January after three consecutive quarters of declines. Apple declined to comment.
Oil prices also have rebounded from their 2016 lows, a factor that should help energy companies -- the biggest laggards in previous earnings seasons -- improve results. Energy companies are expected to be the biggest contributors to earnings growth for the first quarter -- accounting for more than a third of the broader index's projected gains, according to FactSet.
Revenue also is expected to pick up for S&P 500 companies overall, after many had relied on cost-cutting to improve profits during the recovery from the financial crisis -- an encouraging sign for some investors who were looking for more sustainable growth. For the first quarter, S&P 500 firms are projected to report revenue growth of 7.1%, the biggest jump in more than five years, according to FactSet.
Improving corporate health and U.S. economic data have supported stocks since the second half of last year, helping the rally weather shifts in fiscal-policy expectations. Over the past year, S&P 500 companies have rebounded from a five-quarter earnings slump, wage growth has firmed and consumer confidence has risen to a more than 16-year-high.
A strong dollar, which some worried would cut into exporters' profits, has largely stalled this year after a postelection surge.
Analysts have pared back their expectations for first-quarter earnings since the start of the year, but the cuts have been smaller than the average over the past five years, according to FactSet. As of year-end, analysts estimated first-quarter earnings growth would be 12.5%.
But disappointing earnings could dent stocks' recent gains. Shares of industrial and materials companies, which helped lead the rally between Election Day and the end of 2016, posted the largest declines since then in expected earnings.
As of March 31, analysts expected General Electric to post first-quarter per-share earnings of 17 cents, down from 21 cents a year earlier, according to FactSet. Analysts had expected first-quarter earnings of 29 cents per share at the end of 2016. The company -- whose stock is down 5% this year after a 7.4% advance between Election Day and year-end -- has faced pressure from activist investors to slash expenses after missing profit targets last year, The Wall Street Journal has reported.
Mining firm Freeport-McMoRan was expected March 31 to post earnings of 18 cents a share for the first quarter, compared with a loss of 16 cents a year earlier but down from analysts' year-end estimate of 41 cents a share, according to FactSet. The company said in March that, because of a standoff with regulators, it had to scale back output and lay off workers in Indonesia, where it derives roughly a third of its copper output. Its stock is up 2.7% this year after rising 9.1% between Election Day and the end of 2016.
GE and Freeport declined to comment.
Still, company management has been upbeat. S&P 500 firms used the word "optimistic" in 52% of earnings calls for the fourth-quarter earnings season, the most ever in Bank of America Merrill Lynch data going back to 2003. At the same time, company-issued guidance was "nothing to write home about," the firm noted.
The gap between firms' confidence and their future earnings estimates reflects a concern among some investors and analysts: That stocks have run up at a pace beyond what is warranted by earnings results. It also parallels what Morgan Stanley economists in March called a "stunning" divergence between soft and hard economic data. While poll-driven reports, like consumer confidence and business sentiment, have surged since the election, hard data like retail sales, housing sales and business spending have lagged.
Major indexes' gains since November have made them even more expensive relative to their historical valuations, raising some concerns that they could be vulnerable to a pullback.
Stocks are trading near their records, even with some recent declines. The S&P 500 is up 10% since Election Day, while the Dow Jones Industrial Average has climbed 13% over the same period. As of Monday, companies in the S&P 500 traded at an average of 21.7 times their past 12 months of earnings, above their 10-year average of 16.5 times trailing earnings, according to FactSet.
"The fundamentals just don't support valuations where we're at," said Art Hogan, chief market strategist at Wunderlich Securities. "Some of what was baked in there was that we'd get corporate tax cuts and deregulation boosting earnings."
Many investors are skeptical President Donald Trump is close to pushing through a corporate-tax-cut package. While Treasury Secretary Steven Mnuchin has said he hopes to secure a U.S. tax-code overhaul by August, some say disagreement within the Republican Party over how to pay for the plan could set back the scale and timing of any package that passes.
"The minute you begin to worry about policies going through, you have to start worrying about the basics again," said Nicholas Colas, chief market strategist at brokerage Convergex.
Write to Akane Otani at akane.otani@wsj.com