U.S. Celebrates First WBC Title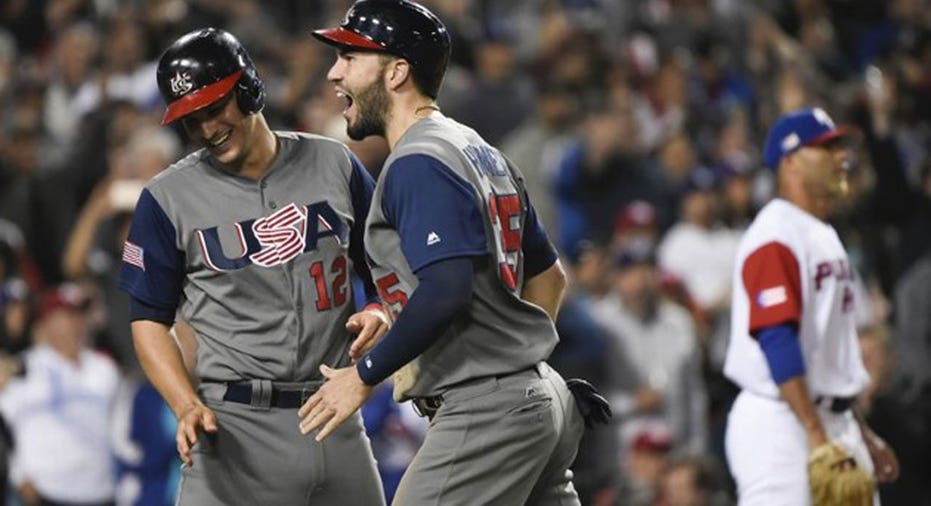 The United States won their first World Baseball Classic title with an 8-0 victory over Puerto Rico in Los Angeles on Wednesday behind the stellar pitching of Marcus Stroman and a 13-hit attack.
Puerto Rico came in with a spotless 7-0 record in the 16-team tournament but the Americans (6-2) were not to be denied and the losers finished runners-up for the second straight WBC.
Stroman was sensational, throwing six no-hit innings after yielding six hits in a row in a four-run first inning to Puerto Rico in a 6-5 second-round loss.
The Toronto Blue Jays starter faced the minimum 18 batters through six innings with Carlos Beltran the only man to reach, after a walk leading off the second inning. Beltran was erased when Yadier Molina bounced into a double play.
Stroman, who struck out three, had his no-hitter snapped in the seventh when Angel Pagan led off with an opposite field double, and the right-hander exited to a standing ovation from a crowd exceeding 51,000.
The U.S. team jumped to a 2-0 lead off starter Seth Lugo in the third inning when Ian Kinsler crushed a two-run homer to left-center.
The Americans doubled their advantage in the fifth on run-scoring singles by Christian Yelich and Andrew McCutchen.
They tacked on three more runs in the seventh, on a two-run single by Brandon Crawford and an RBI-single by Giancarlo Stanton, and McCutchen drove home the last with an infield single in the eighth.
The United States had advanced to their first WBC title game with a 2-1 semi-finals victory over Japan, winners of the first two tournaments.
(Reporting by Larry Fine in New York; Editing by Nick Mulvenney)