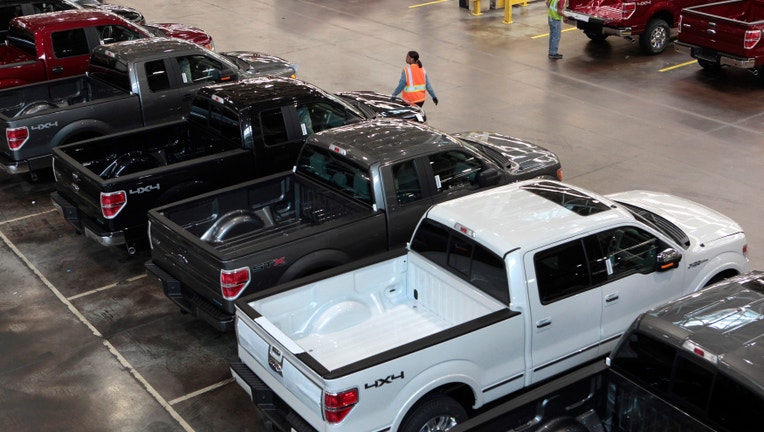 General Motors Co. and Ford Motor Co. posted declines in January auto sales amid what is expected to be a broader cooling in demand following brisk sales in the prior month that is creating a glut on dealer lots.
GM, the No. 1 U.S. auto maker, sold 195,909 vehicles in the month, compared with 203,745 a year ago, for a sales decline of 3.8%. Retail sales declined 4.9%.
Ford's sales, meanwhile, edged 0.7% lower to 171,186. The Detroit auto maker reported its retail sales climbed 6% while fleet sales declined 13%. Ford said its popular F-series pick up trucks -- up 13% -- saw their best sales start for the year since 2004.
GM said its Jan. 31 inventory was equivalent to more than 100 days' of supply, reflecting a broader spike in dealer stock for the industry. High inventories have traditionally led to discounting and layoffs.
GM's inventory, for instance, could come down in coming months as the auto maker lays off thousands at car plants in the U.S. Demand for sedans and compact cars has slumped amid low gas prices, which typically boost buyers' appetite for trucks and SUVs.
More from FOXBusiness.com…
GM sold 195,909 vehicles in the month, compared with 203,745 a year ago. Retail sales declined 4.9%.
While January typically is a slower month for auto demand, leading to the buildup of supply for warmer months, RBC Capital Markets estimates the industry now has 90 days' worth of supply, up from 62 days' in December and 77 days' in January 2015.
The firm says the industry is about 12% higher than what is typical for the initial month of the year.
Analysts called for a broad range of results in January. Edmunds.com estimating a relatively flat performance for the industry compared with the same period, while WardsAuto.com forecast a 4.4% decline and a much lower seasonally-adjusted annual rate of sales than what was recorded in December or the prior January.
December, fueled by record incentive-spending by auto makers, was among the best months for U.S. light-vehicle sales in history, helping the industry set a second-consecutive annual sales record. Auto makers are planning to build slightly more vehicles in North America in the first quarter than the same period a year ago, signaling optimism that 2017 full-year sales will remain in the 17.5-million range that was reached in each of the past two years.
Low gasoline prices, cheap financing and generous discounts are expected to continue propping up demand in the auto industry. JD Power recently estimated auto makers spent an average of $3,614 on average per-vehicle incentives in January, substantially less than December but 7% higher than January 2015.
Edmunds analyst Jessica Caldwell points out it is tricky to use January -- the lowest volume month -- as a bellwether for how auto sales will trend for the year.
"But 2017 is already proving to be a year unlike any other -- expectations were that sales were going to level off or decline, but the president has proven a bit of an X-factor," she said. "Considering the way the stock market has performed and current consumer sentiment, it seems policy will play a bigger role in the market than ever before."
By Mike Colias and Anne Steele