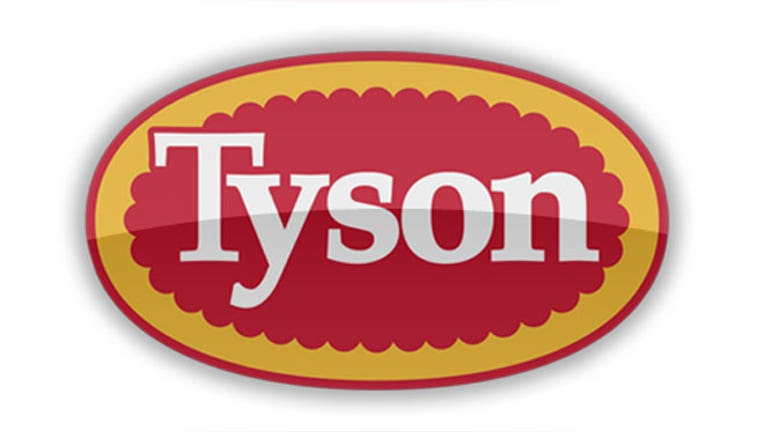 Tyson Foods on Monday raised its profit forecast for the fiscal year, as the meat supplier's quarterly earnings easily topped expectations and revenue fell less than expected, helped by continued strong consumer demand and lower costs.
Donnie Smith, Tyson's chief executive, said the company was helped in its fiscal third quarter by its focus on growth in prepared foods. Earnings jumped despite an overall decline in sales, a recent trend that executives have said shows Tyson's investment in packaged-food products -- aimed at reducing its dependence on shrink-wrapped fresh meats -- is paying off.
In June, the company named Tom Hayes as its president. Mr. Hayes was chief supply-chain officer at Hillshire Brands at the time of Tyson's $7.7 billion purchase of Hillshire in 2014. The deal enhanced Tyson's position in higher-margin prepared foods by picking brands such as Jimmy Dean sausages and Ball Park hot dogs. Sales volume in the prepared foods segment rose 1.9% in the latest period.
The Springdale, Ark., company has benefited recently from robust consumer spending, increased cattle supplies and low prices for animal feed. Tyson, the largest U.S. meat processor by sales, has said that expanding cattle, hog and poultry supplies would reduce costs for its prepared-foods business, while its restaurant clients would benefit from freer-spending consumers. Overall operating margin at the company rose to 8.2% in the latest period from 5.6% a year ago.
The company raised its full-year profit forecast to a range of $4.40 to $4.50 a share on an adjusted basis, compared with prior guidance of $4.20 to $4.30 a share. Analysts polled by Thomson Reuters expected $4.36.
For its third quarter, which ended July 2, Tyson posted a profit of $484 million, or $1.25 a share, up from $343 million, or 83 cents a share, a year earlier. Excluding certain items, per-share earnings were $1.21, up from 80 cents. Analysts surveyed by Thomson Reuters forecast per-share earnings of $1.06 cents.
Revenue slid 4.1% to $9.4 billion. Analysts had anticipated $9.33 billion.
Tyson shares, which have risen 76% in the past 12 months, rose 3.3% to $76.10 in premarket trading. The stock has been pushing to all-time highs for the past month.
Write to Joshua Jamerson at joshua.jamerson@wsj.com