Twitter Stock Is on Sale, but That Doesn't Make It a Buy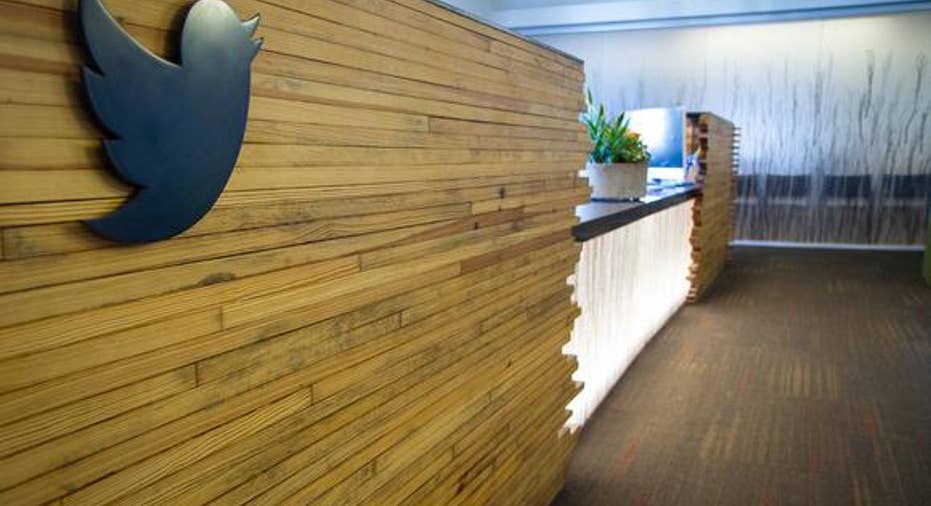 Source: Twitter.
Shares of Twitter have lost around half of their value since hitting a 52-week high in April. The stock price slide is the result of a couple of mediocre earnings reports with next to no user growth. Despite the slow user growth, however, revenue growth has been on fire. Sales increased 58% year over year last quarter and 61% the quarter before.
As a result of the rapid revenue growth and the decline in stock price, Twitter shares are now trading at a price-to-sales ratio of just 8.87. Comparable companies, such as Facebook and LinkedIn , are trading at price-to-sales ratios of 18.70 and 11.62, respectively. That's despite significantly slower sales growth rates for both companies compared to Twitter.
So does Twitter's relatively low price make it a buy?
Future revenue growth outlook isn't nearly as strongRight now, the market is telegraphing that Twitter's future sales growth simply isn't worth as much as the more modest expectations for Facebook and LinkedIn. There are several reasons why.
Twitter's future revenue growth is largely dependent on increasing users, ad prices, ad engagements per user, or some combination of all three. The recent results with regard to user growth indicate that the company's future user growth will continue to suffer. During the past two quarters, Twitter added a total of just 5 million monthly active users to its app and website.
Meanwhile, Twitter has been unable to consistently increase its ad prices. Last quarter, the company blamed autoplay video ads for the decrease in average cost per engagement. Average ad prices declined 39% year over year last quarter after modest growth in ad prices in each of the previous three quarters.
The autoplay videos certainly helped increase total ad engagements on the network, which accelerated to 165% growth last quarter. Increasing ad engagements can be done in several ways; however, some are good and some are ... less good. Twitter has taken to making compulsory engagements with autoplay video, where when a user scrolls past a video ad it automatically counts as an engagement.
This method falls toward the "less good" end of the spectrum, as that growth is unsustainable. A more sustainable method is to improve ad targeting to the point where users want to engage with advertisements. The latter has the added bonus of increasing ad prices at the same time.
Overall, the potential for Twitter's future revenue growth is not as strong without more users joining the network every quarter. Once timelines are saturated with ads, Twitter's revenue growth will stop.
The bottom line is the biggest issueEven more important to investors is that the stock price represents the future profits from the company. Twitter's current profit outlook isn't good. Twitter has remained consistently unprofitable since coming public, and its quarterly net income has remained relatively flat at around negative $150 million.
Comparatively, Facebook's net income has been positive every quarter save the quarter it made its IPO. What's more, Facebook's net income continues to grow even as it spends more on capital expenses. Last quarter, Facebook reported net income of $896 million, a record quarter.
Part of the problem for Twitter with regard to profitability is that the company was planning for much more robust user growth. As a result, it went on a hiring spree starting around 2012 and saw its employee count balloon from 350 in 2011 to 3,638 in 2014. This enormous growth in headcount couldn't be sustained without the user growth Twitter was expecting, and Jack Dorsey decided to layoff 336 employees -- 8% of the workforce -- after taking over as CEO. This is a good step toward making the company profitable, but it's also an indicator that future growth won't be as strong as expected.
User growth is the key metric that indicates the company's future potential for both revenue growth and profitability, because the company has been set up for a significantly larger user base. That's why the stock price rises and falls with each user-count report.
Twitter continues to roll out new product features designed to attract more mainstream audience, such as Moments, and integration with Google search results. It's even launched an advertising campaign with television spots to attract more users to the platform. If these efforts have a positive impact on user growth, and we see it accelerate, Twitter's stock price will, too. If Twitter's user growth continues to stagnate, however, the stock price will certainly continue its decline. The company hasn't provided any details on the early impact of those efforts, but investors will get a better idea when the company reports its fourth-quarter results.
The article Twitter Stock Is on Sale, but That Doesn't Make It a Buy originally appeared on Fool.com.
Adam Levy has no position in any stocks mentioned. The Motley Fool owns shares of and recommends Facebook, LinkedIn, and Twitter. Try any of our Foolish newsletter services free for 30 days. We Fools may not all hold the same opinions, but we all believe that considering a diverse range of insights makes us better investors. The Motley Fool has a disclosure policy.
Copyright 1995 - 2015 The Motley Fool, LLC. All rights reserved. The Motley Fool has a disclosure policy.