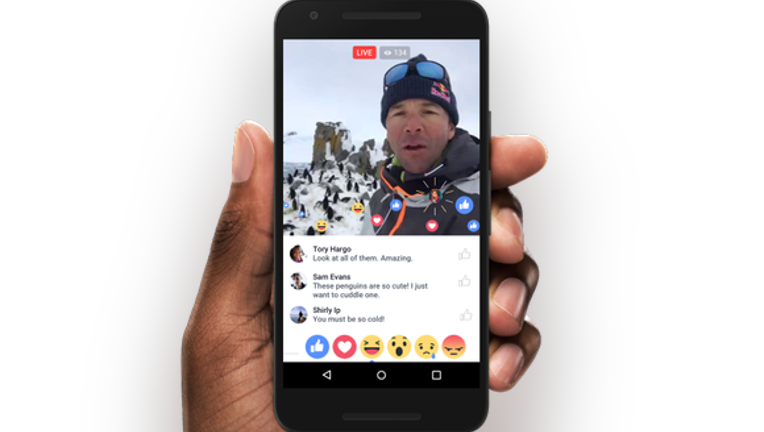 Since Twitter (NYSE: TWTR) launched Periscope last year, live video has quickly grown in popularity. Even Facebook (NASDAQ: FB) jumped in on the promising trend. However, by keeping live video primarily associated with the Periscope app, Twitter has missed out on a key opportunity to launch live video on its core platform...until now.
Twitter's new live video feature. Image source: Twitter.
Twitter goes live
On Wednesday, Twitter announced it is launching the ability for users to broadcast live video from within Twitter. The update, the company said, would roll out to everyone on Twitter for iOS and Android in the "coming days."
"Starting today, you can create and Tweet live video from the Twitter app," the company said in a blog post on Wednesday. To share live video, users simply compose a Tweet, tap "LIVE," frame their shot, and then press "Go Live."
Twitter's new live video feature, which it calls Go Live, is powered by Periscope, a live-streaming app Twitter bought in 2015 about a month before the app went live.
Earlier this year, Twitter began bringing Periscope technology to Twitter by integrating live video streams from Periscope into Twitter. This enabled Twitter users to discover and watch Periscope live streams in their timelines. But users had to open the stream in Periscope to interact with it.
But does Facebook have the upper hand?
By taking this long to launch live video on Twitter, the social media company has lost the momentum achieved from its initial success with Periscope, particularly as Facebook has charged ahead with the technology. Facebook enabled live video for all users on its social network in April, and the feature has proved to be a hit. In Facebook's third-quarter earnings call, CEO Mark Zuckerberg said the number of people going live on the platform has quadrupled since May.
Facebook Live. Image source: Facebook.
Facebook's ability to rapidly deploy live video to its entire user base reflects the social network's ability to execute quickly at a very large scale. When discussing the company's prowess in launching new features across its apps, Zuckerberg said during Facebook's most recent earnings call that its live video rollout demonstrates a competitive advantage Facebook has over smaller social networks like Twitter.
After initially leaping into the lead with live video when it launched Periscope, Twitter wants to reestablish itself as the go-to platform for live video. But can Twitter keep up with Facebook's execution and innovation in live streaming?
One way Twitter might be able to succeed in live video is by ensuring its platform evolves to better support the live video experience than Facebook's does. If Twitter can make live video feel like a more natural part of its user experience than Facebook can, the company could gain the momentum and scale needed to trounce Facebook in this important area. But, until Twitter proves it can do this, Facebook's far greater resources and reach give it the upper hand over Twitter.
Find out why Facebook is one of the 10 best stocks to buy nowMotley Fool co-founders Tom and David Gardner have spent more than a decade beating the market. (In fact, the newsletter they run, Motley Fool Stock Advisor, has tripled the market!*)
Tom and David just revealed their 10 top stock picks for investors to buy right now. Facebook is on the list -- but there are nine others you may be overlooking.
Click here to get access to the full list!
*Stock Advisor returns as of November 7, 2016.
Daniel Sparks owns shares of Facebook. The Motley Fool owns shares of and recommends Facebook and Twitter. Try any of our Foolish newsletter services free for 30 days. We Fools may not all hold the same opinions, but we all believe that considering a diverse range of insights makes us better investors. The Motley Fool has a disclosure policy.