Twitter, Inc. Earnings: What to Expect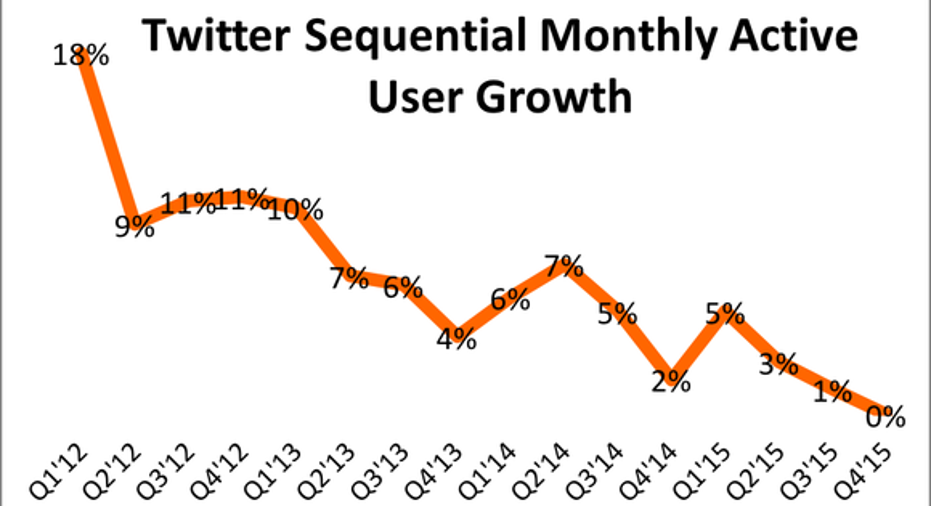 Ahead of Twitter's first-quarter earnings report, the pressure for the social network to post solid results is high. During the past 12 months, the stock is down 66% at the time of this writing. Even more, shares remain significantly below their 2013 IPO price of about $26.
When Twitter reports results, investors will be hoping the company can reinvigorate investor confidence now that the company's returned co-founder and CEO, Jack Dorsey, has had a few quarters at the helm. Here are some items to watch when Twitter reports results on April 26.
Twitter CEO Jack Dorsey. Image source: Twitter.
Financial performanceAs a growth company, Twitter's reported revenue and EPS growth for Q1 will be worth checking on. Analysts continue to expect fast growth from Twitter, forecasting revenue of $608 million, up 39.4% from year-ago revenue. Notably, however, while revenue of this level would represent significant growth, it would also represent a meaningful deceleration from the year-over-year revenue growth of 48% achieved in Q4.
Similarly, analysts expect Twitter's non-GAAP EPS to grow at a rapid clip. On average, analysts are predicting Twitter will report non-GAAP EPS of $0.10 for the quarter, up 43% from non-GAAP EPS in the year-ago quarter.
These consensus analyst estimates for Twitter's non-GAAP revenue and non-GAAP EPS seem conservative. Indeed, if Twitter's financial performance in the past is any indication of whether or not the company will outperform estimates, it likely will, yet again. But as investors familiar with the company's story know, it's user growth that investors are mostly concerned with right now -- not financial performance.
User growthI've written about Twitter's user-growth problem more extensively here, but the problem can be quickly summed up in this chart:
Data for chart retrieved from company SEC filings for quarters shown. Chart source: Author.
Basically, Twitter's recent sequential growth in monthly active users suggests the social platform's audience could be more limited than management and investors had anticipated. Even Twitter CEO Jack Dorsey acknowledges this is a problem. Responding to the slowing user growth, the company is attempting to attract and retain new users by simplifying its service, introducing compelling new facets on the platform, and better communicating Twitter's overall value to the world.
For Twitter's user base to return to sequential growth in Q1, the company will need to report more than 320 million monthly active users -- or more than 305 million monthly active users when excluding its SMS Fast Followers.
An update on video At the moment, one of Twitter's most-prominent catalysts for business growth is video. Facebook, which always seems to be way ahead of Twitter in monetizing its platform, has shown just how lucrative video ad products can be. And Twitter, which only introduced native video in 2015, is barely getting started with video. Even more, Twitter's opportunity in video is compounded by its live-streaming app, Periscope.
Investors should look for commentary from management on Twitter's confidence in its ability to roll out new video features for users, as well as its plans to monetize video across its native platform and on Periscope. Twitter reports first-quarter results after market close on Tuesday, April 26.
The article Twitter, Inc. Earnings: What to Expect originally appeared on Fool.com.
Daniel Sparks has no position in any stocks mentioned. The Motley Fool owns shares of and recommends Facebook and Twitter. Try any of our Foolish newsletter services free for 30 days. We Fools may not all hold the same opinions, but we all believe that considering a diverse range of insights makes us better investors. The Motley Fool has a disclosure policy.
Copyright 1995 - 2016 The Motley Fool, LLC. All rights reserved. The Motley Fool has a disclosure policy.