Twitter, Inc. Earnings: Revenue Growth Is Lagging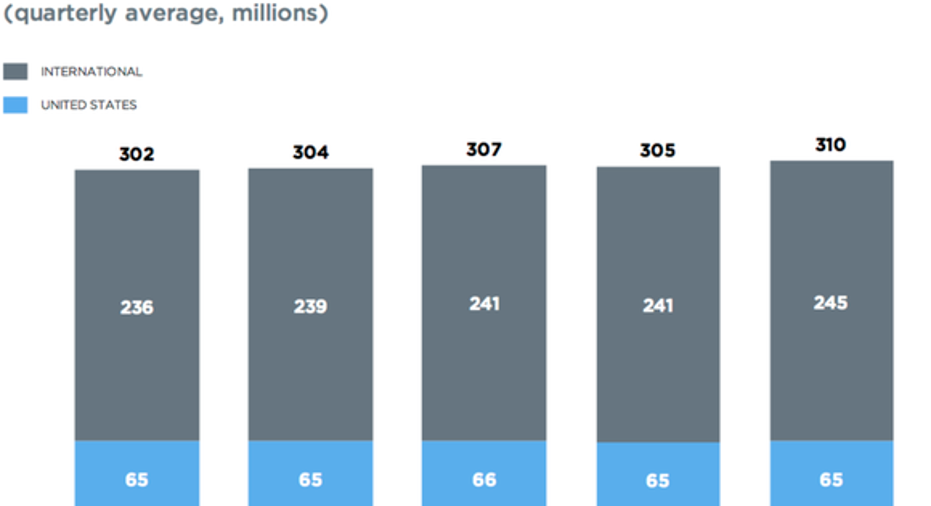 Twitter's first-quarter earnings report took place (after market close Tuesday) at a critical time for the company. With returned co-founder Jack Dorsey now having held the permanent CEO role for more than six months, the leader has had enough time to begin to have an impact on the company. Some investors may have hoped, therefore, that Q1 would begin to show signs of a revitalized Twitter. Unfortunately, the report failed to impress.
Twitter headquarters. Image source: Twitter. Photo by Aaron Durand (@everydaydude).
ResultsTo summarize Twitter's first quarter, investors should examine both the company's user growth and its financial performance.
User growth: Ahead of Twitter's first-quarter report, investors were arguably most interested in the company's reported users. Throughout the year leading up to the report, the company's sequential user growth in monthly active users rapidly decelerated. And, in Twitter's most recent quarter, its monthly active users actually declined sequentially.
Investors, therefore, were looking for Twitter to report some optimistic news for its user growth in Q1. Fortunately, monthly active users did increase during the quarter, reaching 310 million -- up from 305 million in Q4, and up from its previous all-time high for the metric of 307 million in Q3. Unfortunately, however, management said this sequential gain was only "driven by seasonality and marketing initiatives," and not because of any changes to its platform that make it more compelling; so, it's unclear if this user growth is sustainable.
Twitter monthly active users. Chart source: Twitter.
Twitter has been trying to simplify its service, improve the overall platform, and better communicate its value to help it appeal to a larger number of users. While it's looking like marketing may be paying off, its unclear yet if Twitter's ongoing efforts to simplify and improve the platform are paying dividends.
Financial performance:Twitter's first-quarter revenue and non-GAAP EPS was $595 million and $0.15, representing a 36% and 114% improvement from the year-ago quarter, respectively.
The company's non-GAAP EPS for the quarter was solid. For reference, the consensus analyst estimate for Twitter's first-quarter non-GAAP EPS was for $0.10 -- or $0.05 lower than actual results.
But Twitter's Q1 revenue begins to highlight the most likely reason the stock sold off about 15% on Wednesday. Not only was Twitter's revenue of $595 million below a consensus analyst forecast for $608 million, it was also at the bottom of the company's own guidance for the quarter; when Twitter reported fourth-quarter results, management said it expected first-quarter revenue in the range of $595 to $610 million.
Total revenue for the quarter was at the bottom of the company's guidance "due to slower than expected growth in brand advertising spend," the company explained in its first-quarter letter to shareholders. Management said larger brand-oriented online video budgets meant there was weaker-than-expected marketing spend toward Twitter's non-video promoted Tweets.
For Q2, management expects revenue growth to worsen. Twitter guided for revenue in the range of $590 to $610 million. Not only does the bottom of this range represent a sequential decline compared to Q1 revenue, but the guidance is also much lower than analyst expectations for Q2 revenue of $673 million. Further, this guidance implies year-over-year revenue growth of about 19% -- a significant deceleration from the company's 36% year-over-year revenue growth in Q1.
Management sees a "clear opportunity" for improvementFortunately, management explained in the company's first-quarter shareholder letter that it sees a path to address its rapidly decelerating revenue and to tap into marketers' growing budgets for brand videos.
Going forward, investors will want to watch to see just how well the company executes on this plan, and whether or not its efforts to simplify and improve its platform can begin to attract and retain new users.
The article Twitter, Inc. Earnings: Revenue Growth Is Lagging originally appeared on Fool.com.
Daniel Sparks has no position in any stocks mentioned. The Motley Fool owns shares of and recommends Twitter. Try any of our Foolish newsletter services free for 30 days. We Fools may not all hold the same opinions, but we all believe that considering a diverse range of insights makes us better investors. The Motley Fool has a disclosure policy.
Copyright 1995 - 2016 The Motley Fool, LLC. All rights reserved. The Motley Fool has a disclosure policy.