Twitter, Inc. Can Survive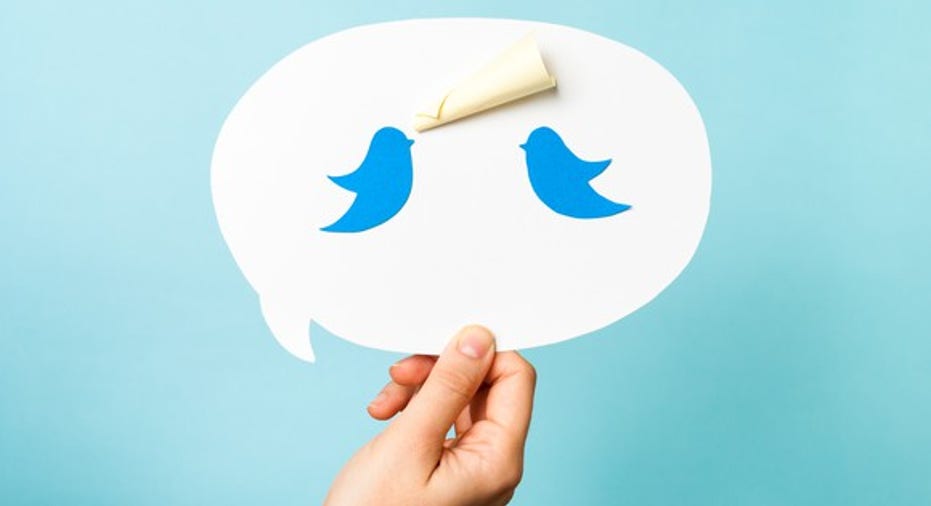 Shares of Twitter (NYSE: TWTR) remain near all-time lows in the wake of the company's fourth-quarter earnings release, which saw net losses widen to $167 million during the period. Amid continued red ink and nonexistent user growth, there's been some speculation as to whether or not Twitter can survive as a stand-alone company.
For instance, BTIG Research analyst Rich Greenfield thinks that Twitter's prospects of surviving on its own are remote, but firmly believes that someone will swoop in and acquire the struggling company. Those comments came just after upgrading shares to "buy" based in part on the Donald Trump factor. Naturally, the lower shares go, the higher the chances of an acquisition as the price comes down.
Image source: Getty Images.
But I still think Twitter can survive on its own.
Twitter's place in the world
The company has succeeded in carving out a niche place for itself within social media. It took a while for Twitter to find its identity, but it is a valuable service for high-profile users to broadcast messages directly to the public in real time. Rivals have attempted to replicate this value proposition with little success. Twitter wants to be a unique and irreplaceable tool in breaking news, and in that regard it has succeeded.
Other functions -- such as content distribution for publishers -- are table stakes for social media players.
Cash flow is strong
Twitter has long posted red ink at the bottom of its income statement, but an extremely significant contributing factor to that is Twitter's overreliance on stock-based compensation, which totaled $615.2 million last year. That alone is larger than Twitter's posted net loss of $456.9 million in 2016. This is common throughout Silicon Valley, an area notorious for an intensely competitive labor market given how many tech giants are located within a 20-mile radius. The intended retentive effects of that compensation are dramatically undermined by the cratering stock price, though.
Meanwhile, operating cash flow doubled last year to $763 million. That helped adjusted free cash flow soar to $444 million, up from just $5 million in 2015. It would make sense to reduce stock-based compensation in favor of regular old cash compensation.
Ramp down growth investments
Twitter spent $713.5 million on research and development last year, which is an awful lot of money compared to the few actual product improvements that Twitter implemented last year. Usernames wouldn't count toward the arbitrary 140-character limit any longer, for example, nor would links or media attachments. Abuse and harassment continue to be a problem, but Twitter appears intent to remain passive in enforcement despite its vows to address its trolls. There's also been very little done to actually make the service more user-friendly.
Sales and marketing expenses approached $1 billion as well, and there are now over 3,500 employees.
Set your expectations to "crazy low"
The point is that while Twitter may not thrive, it can survive if it scales back its -- and investors' -- expectations. This is already true in terms of valuation, with shares trading at just 4.4 times sales (about a third the price-to-sales ratio of its larger rival). Cash flow is healthy, and if the company reduced its costs (including stock-based compensation), it wouldn't be too hard to bring results close to breakeven in a few years.
It's highly unlikely that Twitter will ever return to meaningful user growth unless it acts aggressively to fix the problems in its service, but even if it doesn't, the existing user base can support the business. I don't think Twitter will ever be a compelling or promising investment, but I do think the company could make it on its own if it had to.
10 stocks we like better than TwitterWhen investing geniuses David and Tom Gardner have a stock tip, it can pay to listen. After all, the newsletter they have run for over a decade, Motley Fool Stock Advisor, has tripled the market.*
David and Tom just revealed what they believe are the 10 best stocks for investors to buy right now... and Twitter wasn't one of them! That's right -- they think these 10 stocks are even better buys.
Click here to learn about these picks!
*Stock Advisor returns as of February 6, 2017
Evan Niu, CFA has no position in any stocks mentioned. The Motley Fool owns shares of and recommends Twitter. The Motley Fool has a disclosure policy.