Twilio Stock Has a Lot to Prove on Tuesday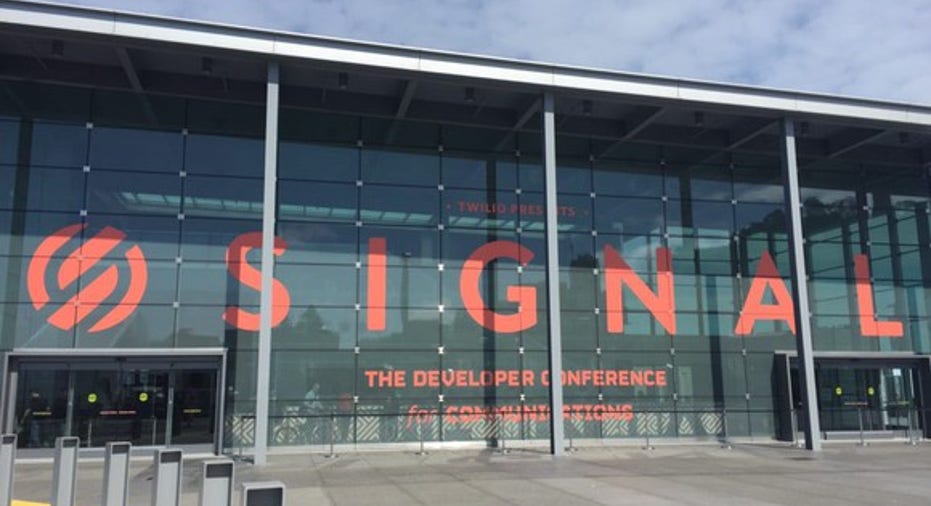 Twilio(NYSE: TWLO)stock has more than doubled since going public last summer, and it's next big test will be Tuesday, when it reports fresh financials after the market close. Analysts have set their expectations high for the provider of real-time communications within some of the country's most popular mobile apps.
Wall Street's holding out for $83.6 million in revenue for its first quarter, 41% ahead of where it landed a year earlier. Most companies would love to see that kind of get-up-and-go on the top line, but this is actually tame by Twilio's standards. Year-over-year revenue growth has clocked in between 66% and 88% in its first three quarterly reports since going public.
Analysts are forecasting a loss of $0.06 a share for the quarter. Wall Street has come to accept that red ink is the necessary baggage that comes with Truliio, given where it is on its growth trajectory. The good news is that Twilio has posted an adjusted deficit that's far less than what analysts have been targeting in each of its first three quarters.
Image source: Twilio
Making the right connection
Twilio plays an important role in many of the most popular apps. Whether it's Airbnb booking confirmations, password resets on your favorite streaming service, or Uber ETA alerts, Twilio's the company making real-time text and voice communications possible. Twilio's not the only player in its niche, but it's the undisputed top dog, and when you're running a high-volume application, you're not going to take a chance on a cheaper, unproven platform.
It's not just the big boys on Twilio. There were 25,347 active customer accounts at the start of 2016, but that figure rose to 36,606 accounts. Revenue is growing even faster, an encouraging sign all around.
There were mostly positive, but some negative, developments during the quarter. There was confirmation that Twilio was expanding its relationship with one of its biggest customers. There have also been rumblings of another major account tinkering with rival offerings. We'll naturally see how it all played out through the first three months of this year on Tuesday afternoon.
Recent analyst moves have been mostly bullish.J.P. Morgan upgraded the stock to "overweight" earlier this month, arguing that Twilio's unique position is worth a healthy valuation premium relative to its cloud-based peers. Canaccord analyst Richard Davis tapped Twilio as his favorite mid-cap growth stock recommendation earlier this year.
Twilio's stock has risen a modest 7% since its fourth-quarter report, so it's not as if there's a lot of helium in the stock ahead of next week's report. However, with the shares already trading at rich valuation multiples, it can't afford to fall short of expectations.
10 stocks we like better than TwilioWhen investing geniuses David and Tom Gardner have a stock tip, it can pay to listen. After all, the newsletter they have run for over a decade, Motley Fool Stock Advisor, has tripled the market.*
David and Tom just revealed what they believe are the 10 best stocks for investors to buy right now... and Twilio wasn't one of them! That's right -- they think these 10 stocks are even better buys.
Click here to learn about these picks!
*Stock Advisor returns as of April 3, 2017
Rick Munarriz has no position in any stocks mentioned. The Motley Fool recommends Twilio. The Motley Fool has a disclosure policy.