Twilio Snuggles a Little Closer to Amazon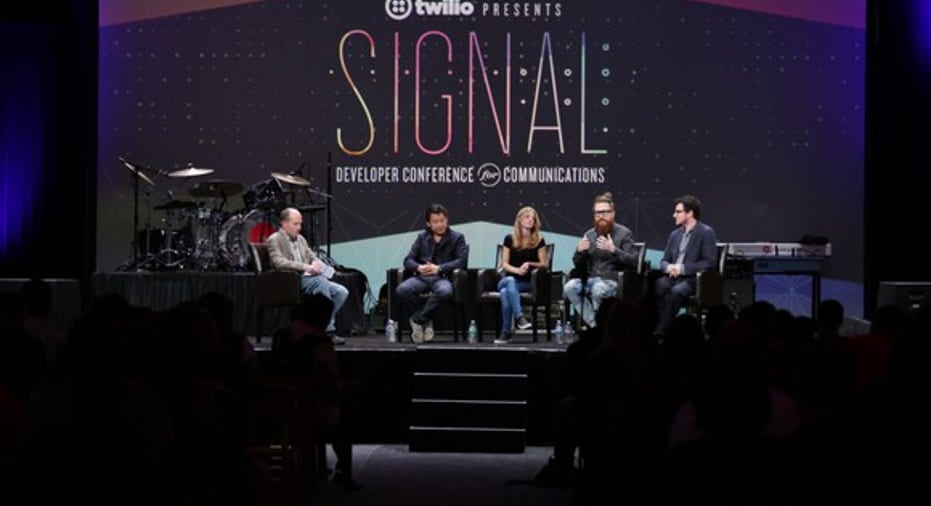 The bigger Amazon(NASDAQ: AMZN) gets, the more room there is on its coattails forTwilio (NYSE: TWLO)to keep riding. Twilio is announcing support for Amazon Connect, the new cloud-based contact center platform from Amazon Web Services (or AWS).
Twilio has carved out a cozy living enhancing the ways that companies can interact with their customers and users. WhatsApp, Airbnb, and AWS are among the heavy hitters that rely on Twilio to embed text messaging, voice chat, and video capabilities directly within their apps. Twilio may not be a household name, but if you've reset your streaming video site's password, received a text message when your pre-paid parking meter is running low, or hailed a ride on an Uber or Lyft, you've benefited from Twilio's offerings.
Twilio's platform supporting Amazon Connect gives AWS customers the ability to integrate phone intelligence lookup to personalize contact flows and serve up richer customer contact details and SMS-based post-call surveys. We're talking about an enhanced experience for the customer, but also neat perks for the companies leaning on Twilio to use improved contact flows to nip spam and fraud in the bud.
Image source: Twilio.
Disruptive news
Tuesday's announcement makes sense. Twilio is already integrated into several AWS features. Twilio itself is built and deployed on AWS.
Twilio stock has nearly doubled since going public at $15 last summer. The star value of its biggest customers light up the marquee, but Twilio's reach is getting wider and deeper with smaller upstarts. Twilio had 36,606 active customers at the end of last year, up 44% over the past year. Revenue is growing even faster, up 60% in its latest quarter. Profitability has been a thornier issue for Twilio, but the market's too impressed by its widening Rolodex to worry about near-term earnings.
There's no shortage of companies offering similar real-time in-app communications solutions, and Twilio certainly isn't the cheapest player. However, its growing account base affirms its superiority. There's validation in knowing that some of tech's biggest players are willing to pay Twilio for its best-in-class solution than develop an in-house alternative.
The stock may not seem cheap these days, even as it is well off last year's all-time highs. It trades at a lofty eight times trailing revenue, and you already know better than to figure an earnings multiple on a deficit-saddled speedster. However, as long as it keeps growing its client base and expanding its relationship with existing accounts, it's dangerous to bet against Twilio.
10 stocks we like better than TwilioWhen investing geniuses David and Tom Gardner have a stock tip, it can pay to listen. After all, the newsletter they have run for over a decade, Motley Fool Stock Advisor, has tripled the market.*
David and Tom just revealed what they believe are the 10 best stocks for investors to buy right now... and Twilio wasn't one of them! That's right -- they think these 10 stocks are even better buys.
Click here to learn about these picks!
*Stock Advisor returns as of February 6, 2017
Rick Munarriz has no position in any stocks mentioned. The Motley Fool owns shares of and recommends Amazon. The Motley Fool recommends Twilio. The Motley Fool has a disclosure policy.