Turkish central bank move raises questions over independence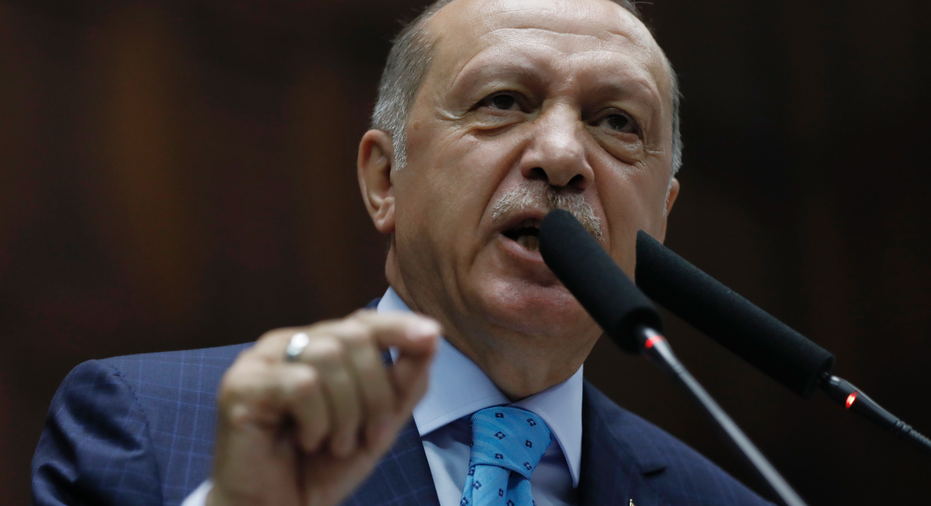 Turkey's currency plunged Tuesday amid growing questions over the central bank's ability to set policy without interference from the increasingly powerful office of President Recep Tayyip Erdogan.
The central bank decided to not raise rates, defying broad expectations in the markets for an increase of at least one percentage point to its one-week repo rate, from 17.75 percent.
That triggered a 3 percent drop in the Turkish lira, to 4.87 per dollar, as higher rates tend to support a currency. The lira has lost more than a fifth of its value against the dollar since the beginning of the year.
Erdogan has opposed high interest rates in order to boost economic growth. But higher rates, which do tend to weigh on growth, would help contain inflation and support the currency. A weaker lira makes it harder for companies to service debt held in foreign currencies.
Erdogan got sweeping new powers after a general election last month, when Turkey's ruling system transformed into an executive presidency, and has promised that he'd have greater influence over monetary policy.
In modern market economies, the central bank is meant to be independent of government policy to avoid it being manipulated for political reasons. The idea that Erdogan is bringing Turkey's central bank under his control is worrying investors that he could push for rates to remain lower than they should be to tame inflation, the central bank's main goal.
Jason Tuvey, senior emerging markets economist at Capital Economics, said the central bank decision showed Erdogan is "already using his strengthened position to influence monetary policy."
Speaking in parliament Tuesday, Erdogan said the new system would enable Turkey to reach its goals and that international investors would profit. "Big investors will directly be in contact with the Presidency," he said.
Following his inauguration, Erdogan appointed his son-in-law Berat Albayrak as the head of treasury and finance, raising further concerns over the independence of monetary and fiscal policy.
According to Turkish media on Sunday, Albayrak said the central bank would be more "effective" and had promised its independence earlier. He was in Argentina at a G-20 summit, arguing Turkey to be an attractive market for foreign investors.