Turkey's Erdogan in UK, praises country as 'real friend'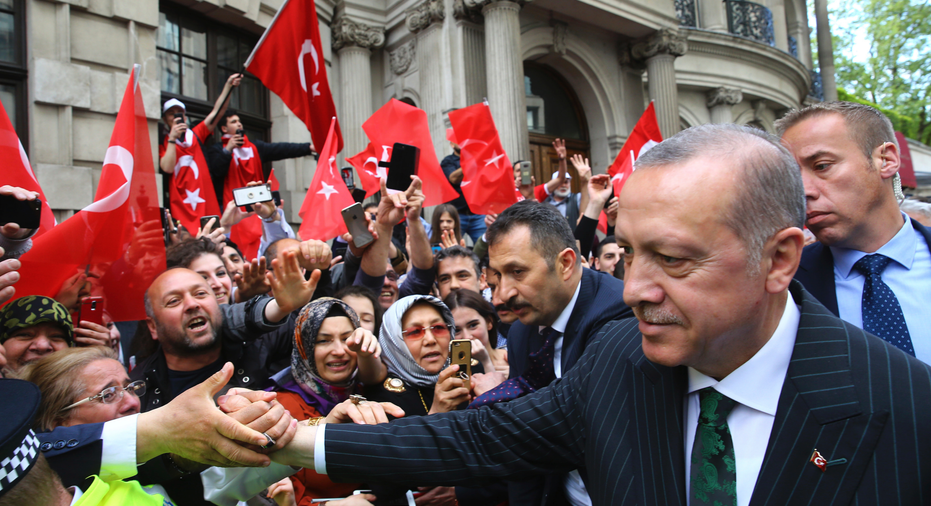 Turkish President Recep Tayyip Erdogan started a three-day visit to Britain by praising the country Sunday as "an ally and a strategic partner, but also a real friend."
The Turkish leader is scheduled to meet Queen Elizabeth II and British Prime Minister Theresa May on Tuesday.
Speaking at a forum on Turkish-British relations, Erdogan noted that in July 2016, the British government quickly condemned a coup attempt against him and said "we will never forget this solidarity."
The Turkish president said bilateral cooperation between the two countries has grown, especially since the referendums that changed Turkey's governing system to an executive presidency and paved the way for Britain's departure from the European Union.
The deepening ties are most evident in trade, Erdogan said, with a joint goal of increasing trade volume from $16 billion to $20 billion and a potential free trade agreement in the works. He cited British-Turkish cooperation in defense industries as an example for more new ventures.
"We want to continue our economic relations as the governments of Turkey and the United Kingdom without interruptions after Brexit," Erdogan said before leaving Istanbul for London earlier Sunday. Erdogan also said he also would be discussing regional and international issues with May. Topics include the latest developments in Cyprus, where Turkey and Britain both act as guarantors, and a "joint action plan" for the Middle East, especially Syria, Iraq and Iran.