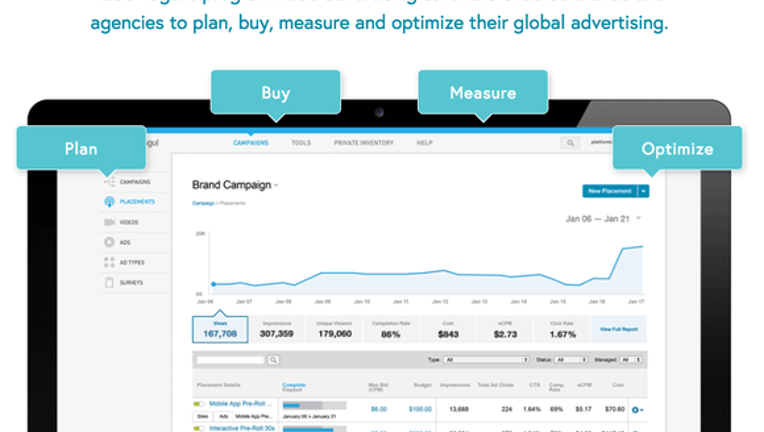 Image source: TubeMogul.
TubeMogul reported fourth-quarter results on Feb. 29. The company is benefiting from the rapid adoption of both its self-serve and managed brand advertising offerings, which is boosting revenue and improving profitability.
TubeMogul results: The raw numbers
| | Q4 2015 | Q4 2014 | Growth (YOY) |
| --- | --- | --- | --- |
| Revenue | $58.455 million | $36.082 million | 62% |
| Net Loss | $1.500 million | $4.044 million | N/A |
| Earnings Per Share | ($0.04) | ($0.14) | N/A |
Data source: TubeMogul Q4 2015 earnings press release.
What happened with TubeMogul this quarter?Total spend -- essentially the amount that TubeMogul's customers spend through its platform, including the cost of media purchases and TubeMogul's fees -- jumped 63% year over year to $134.5 million.
Spend on Tube Mogul's Platform Direct offering, which allows advertisers to run campaigns through a self-serve model, grew 56% to $98.2 million, representing 73% of total spend. And spend on the company's Platform Services offering, which allows advertisers to specify objectives and have TubeMogul's team execute the campaign on their behalf, surged 83% to $36.3 million.
That strong rise in total spend helped drive a 62% year-over-year increase in revenue to$58.5 million.
Gross profit rose 52% to$39.2 million, with gross margin falling to 67%. That was down from 71% in the fourth quarter of 2014, mostly because of the out-performance of Platform Services, which has a lower gross margin than Platform Direct.
Operating loss was$0.7 million, compared with an operating loss of$2.4 millionin the fourth quarter of 2014. Net loss also narrowed, decreasing to $1.5 million from $4 millionin the year-ago period. Looking forward Tube Mogul expects first-quarter total spend in the range of $108 millionto$110 million, and revenue in the range of $40 millionto$42 million. In addition, the company anticipates first-quarter gross profit of$28 millionto$30 million, and adjusted EBITDA (earnings before interest, taxes, depreciation, and amortization) of minus-$5 million to minus-$3 million. Management also issued its full-year 2016 outlook, which includes:
Total spend in the range of$569 millionto$577 million.
Revenue between $220 millionand$228 million.
Gross profit of$152 millionto$160 million
Adjusted EBITDA of$5 million.
"We finished 2015 with strong financial results overall, but more importantly our continuous innovation sets us up for another successful year in 2016," saidCEO Brett Wilson in a press release.
The article TubeMogul Inc. Revenue Surges on Strong Advertising Spending Growth originally appeared on Fool.com.
Joe Tenebruso has no position in any stocks mentioned. The Motley Fool owns shares of and recommends TubeMogul. Try any of our Foolish newsletter services free for 30 days. We Fools may not all hold the same opinions, but we all believe that considering a diverse range of insights makes us better investors. The Motley Fool has a disclosure policy.
Copyright 1995 - 2016 The Motley Fool, LLC. All rights reserved. The Motley Fool has a disclosure policy.