Trump's threat to end Cuba detente may rouse GOP opposition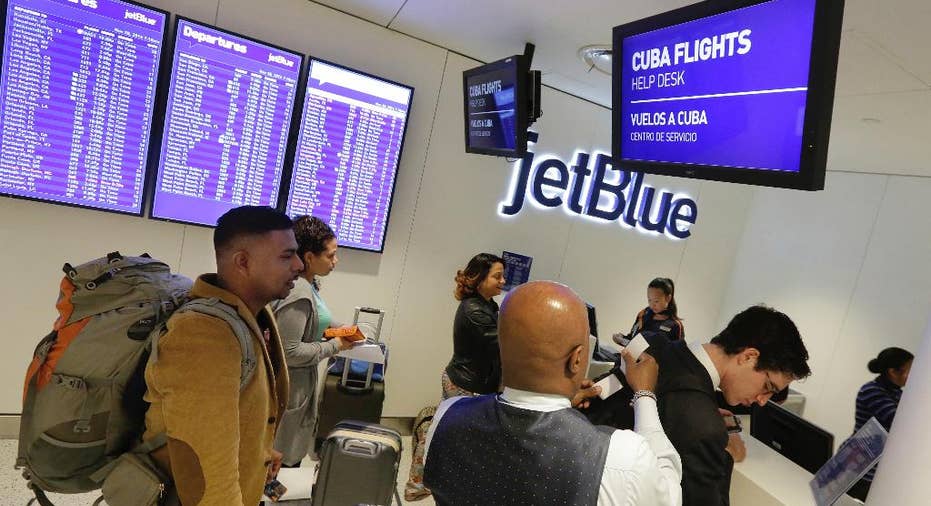 President-elect Donald Trump's threat Monday to "terminate" the U.S. detente with Cuba could trigger opposition from some Republican lawmakers and corporate leaders who favor continued engagement with Havana.
Since 2014, when President Barack Obama began to normalize relations with the island, the United States has taken numerous steps to increase commercial travel, commerce and the flow of information to Cuba. On Monday, the first regularly scheduled commercial flight in more than 50 years from the U.S. to Havana landed while passengers aboard the American Airlines jet cheered.
Following Fidel Castro's death Friday at age 90, top aides to Trump signaled that the Cuban government must move toward enacting greater freedoms for its people and giving Americans more in return if it wants to keep the warmer U.S. ties that Obama initiated. Castro's younger brother, 85-year-old Raul Castro, took control in 2006, and later negotiated with Obama to restore diplomatic relations.
Trump's aides said nothing on Cuba has been decided. But Trump tweeted Monday, "If Cuba is unwilling to make a better deal for the Cuban people, the Cuban/American people and the U.S. as a whole, I will terminate deal."
Sen. Jeff Flake, R-Ariz., a frequent critic of Trump during the presidential campaign, cautioned in a statement against returning to a "get tough" policy that isolates Havana and restricts travel and business activities. Such an approach, Flake wrote over the weekend, will hurt the Cuban people and make the U.S. government "a convenient scapegoat for failed socialist policies."
Flake, who accompanied Obama during a visit to Cuba in March, said "allowing more frequent and consequential ties between Cubans and Americans is more likely to accelerate the desired change in Cuba."
Several airlines began routes to other Cuban cities earlier this year. Monday morning's American Airlines flight was the first of the new Havana-bound service and the first of four daily flights the airline plans out of Miami International.
The travel industry is eager to capitalize on the recent detente with Cuba, which is 90 miles from Key West, Florida, and has the potential to be a top Caribbean destination.
The Miami Herald has reported Jet Blue will start twice-daily service from Orlando on Tuesday and Fort Lauderdale on Wednesday. On Thursday, Spirit Airlines and Frontier Airlines begin flying from Fort Lauderdale and Delta flights will take off from Miami, New York's JFK airport and Atlanta. Southwest starts daily service from Fort Lauderdale on Dec. 12.
Sen. John Boozman, R-Ark., has pushed for expanded trade with Cuba and in June backed an amendment to a government spending bill that would lift the ban on private banks and companies offering credit for the export of agricultural commodities to Cuba.
"We've had good intentions behind our isolation policy toward Cuba, but the results have not changed," Boozman said. "It's time to try a new approach." Boozman's office did not immediately respond to a request for comment on Trump's tweet.
Another Republican from an agricultural state, Sen. Jerry Moran of Kansas, has argued for easing U.S. restrictions that prohibit American farmers and ranchers from selling their products to Cuba. Moran said last year that Cuba imports the bulk of its food and is a natural market for U.S. agriculture, "especially the hard red winter wheat grown in Kansas."
Moran's office did not immediately respond to a request for comment on Trump's tweet.
But Trump's hard-line stance on Cuba strikes a chord with other GOP lawmakers, including Sen. Marco Rubio. And while Obama opened portions of U.S. investment and travel to Cuba through executive order, Republican leaders in Congress have staunchly opposed his calls to end the 55-year-old U.S. trade embargo of the island.
Rubio, whose parents were born in Cuba, told CNN's "State of the Union" on Sunday that the U.S. focus must be its own security and other national interests and encouraging Cuba to move toward democracy.
"We should examine our policy toward Cuba through those lenses," Rubio said. "And if there's a policy that helps that, it remains in place. And if it's a policy that doesn't, it's removed."
___
Associated Press writer Mary Clare Jalonick contributed to this report.
___
Follow Richard Lardner on Twitter: http://twitter.com/rplardner