Trump's Tax Plan May Still Impact Mega Tobacco Merger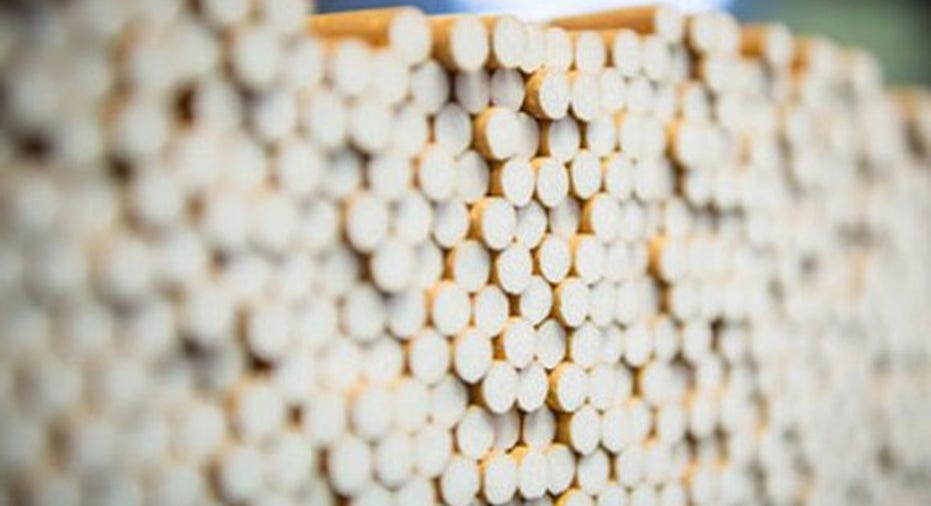 Even though the merger between U.S. tobacco giant Reynolds American (NYSE: RAI) andBritish American Tobacco (NYSEMKT: BTI)just cleared the antitrust hurdle, shareholders of bothcigarette makers still must approve the deal, and the success or failure of the combination may yet hinge on President Donald Trump's tax plan.
Smoking the competition
Because BAT already owns 42% of Reynolds, there was never much concern about the deal having to get over any antitrust hurdles; the two sides just needed to arrive at a mutually agreeable price, which they did when BAT revised its offer to $59.64 per share, or $49.4 billion. And when the deal is done, British American will vault over Philip Morris International (NYSE: PM) as the world's second-largest tobacco company.
Image source: British American Tobacco.
According to Euromonitor International, China National Tobacco is the global leader with a 44.2% share and production volumes of 2.5 trillion cigarettes annually, three times greater than current No. 2 Philip Morris, which has a 14.6% share. They're followed by British American, which has a 10.7% share of the market, Japan Tobacco, with an 8.9% share, and Imperial Brands at 4.9%.
Next-gen is the future
Determining a value for Reynolds electronic cigarette technology was one area thought to originally be holding up negotiations after a potential offer was first revealed last October. Although Philip Morris and British American have developed similar "heat not burn" platforms that could prove immensely popular in the U.S., Reynolds has more advanced technology that BAT wanted to get ahold of. It was one of the first to introduce a "smokeless" cigarette called Eclipse that proved too far ahead of its time to catch on with the public, just as its follow-up Revo product was.
But the time has finally arrived for cigarettes that heat tobacco to a point where it creates a vapor to deliver tobacco flavor and a potent nicotine hit. Philip Morris is pursuing a "reduced risk" classification for its iQOS device that is marketed under Altria's Marlboro brand as Heat Sticks, which could give it a hefty advantage in the marketplace, and BAT would certainly be keen on being able to match that.
Image source: British American Tobacco.
A taxing decision
But more important to the deal may be President Trump's corporate tax rate plans. On the campaign trail, Trump said he wanted to slash rates from their current 35% level -- some of the highest in the world -- to 15%.Because Reynold's earns most of its $6 billion here in the U.S., the tax cut would be a huge benefit to it, and thus to British American.
However, the House of Representatives has its own tax cut proposal calling for rate cuts to 25% and shifting from a "worldwide" system of taxation to a "territorial" one,with a "border adjustment" thatwould tax imports while exempting exports.
That's important because, on the issue of individual tax rates, Trump campaigned on a pledge of cutting the lowest rate to 10%, but the House again has slightly different plans that consolidate the current six individual income tax brackets into just two of 10% and 25%, while also repealing the hated Alternative Minimum Tax.Trump has reportedly agreed to endorse the House plan, signaling that he may also be willing to go along with the higher corporate tax rates Congress proposes.
A number of pundits thought Reynolds American could have demanded even more of a premium from British American Tobacco than it got because of the potential for the corporate tax cuts,but BAT CEONicandro Durante said the tax plan played no part in how the deal worked out. Rather, he said, "This is the right deal at the right time for both sides of shareholders."
Image source: Getty Images.
It's all talk now
Perhaps, but it's still possible that if the corporate tax rates are cut before the deal is consummated, BAT may have to adjust its purchase price for Reynolds since lower rates would mean it was buying a more profitable company, and Reynolds shareholders might demand more for theircompany As it is, the deal is expected to close in August, and that will put British American Tobacco in a better positionto take on Philip Morris in the increasingly important electronic cigarette market.
It was a deal BAT was almost required to make to gain great access to the U.S. market, and even if it has to pay for the opportunity down the road because of the president's tax plan, it will be a price worth paying.
10 stocks we like better than Reynolds American When investing geniuses David and Tom Gardner have a stock tip, it can pay to listen. After all, the newsletter they have run for over a decade, Motley Fool Stock Advisor, has tripled the market.*
David and Tom just revealed what they believe are the 10 best stocks for investors to buy right now...and Reynolds American wasn't one of them! That's right -- they think these 10 stocks are even better buys.
Click here to learn about these picks!
*Stock Advisor returns as of January 4, 2017.
Rich Duprey has no position in any stocks mentioned. The Motley Fool has no position in any of the stocks mentioned. The Motley Fool has a disclosure policy.