Trump's National Security Adviser Mike Flynn Resigns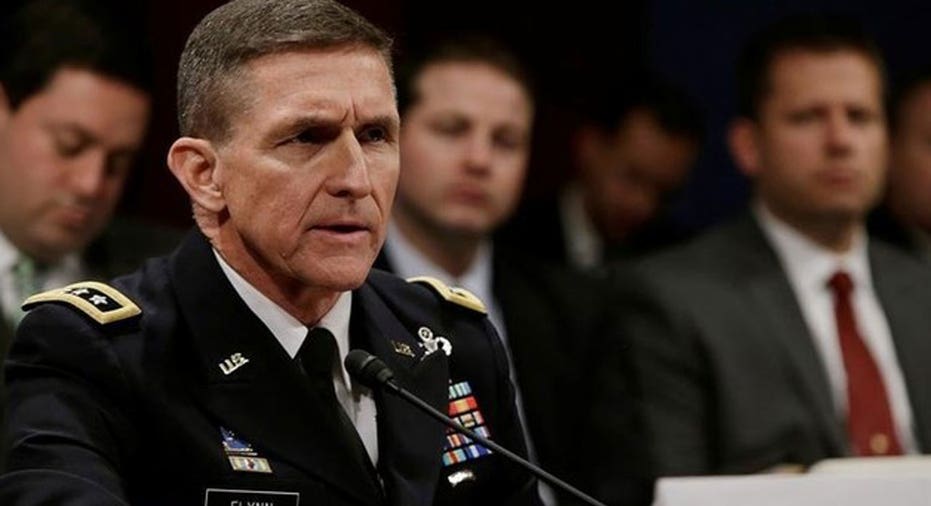 Mike Flynn, President Donald Trump's national security adviser, resigned Monday as he was under increasing fire over his conflicting statements about his contacts with Russian officials before the inauguration, the White House said.
Mr. Flynn's resignation was accepted by Mr. Trump after information about his Russia contacts continued to emerge while the president was "evaluating" whether to keep him in his post.
The move caps an unusually short tenure in the White House -- less than a month -- for one of Mr. Trump's earliest loyal campaign supporters.
The White House said in a statement late Monday that Keith Kellogg, the chief of staff at the National Security Council who advised Mr. Trump during the campaign, would serve as interim national security adviser.
Mr. Trump is considering Mr. Kellogg as a possible permanent replacement, as well as former Central Intelligence Agency Director David Petraeus and retired Vice Adm. Robert Harward.
Mr. Flynn said in a resignation letter released by the White House that during the transition before Mr. Trump's inauguration he had apologized to Mr. Trump and Vice President Mike Pence.
"Unfortunately, because of the fast pace of events, I inadvertently briefed the Vice President Elect and others with incomplete information regarding my phone calls with the Russian Ambassador," Mr. Flynn said in the letter. "I have sincerely apologized to the President and the Vice President, and they have accepted my apology."
For a White House that has been in nearly constant damage control, Mr. Flynn was a consistent flashpoint.
He clashed with several members of Mr. Trump's cabinet, including Homeland Security Secretary John Kelly and Secretary of State Rex Tillerson. The disagreements, particularly over some of Mr. Flynn's hires, grew so heated at one point that two of Mr. Trump's top advisers -- Jared Kushner and Steve Bannon -- flew from New York to Washington before the inauguration to meet with the incoming president's nominees, said two people familiar with the meeting.
The resignation is a blow to Mr. Trump just weeks into his time in office. It came just hours after White House press secretary Sean Spicer said Mr. Trump was evaluating whether to retain Mr. Flynn given he discussed the issue of U.S. sanctions against Moscow in phone calls with Russia's ambassador to the U.S., contrary to Mr. Flynn's earlier denials.
Mr. Flynn's contacts with the Russian envoy are part of a U.S. counterintelligence investigation into Russian government contacts with people close to Mr. Trump. Lawmakers in Congress also have begun investigations into U.S. intelligence agencies' conclusion that the Kremlin engaged in hacking Democratic Party organizations and individuals in an attempt to influence November's election in favor of Mr. Trump.
Senior Trump counselor Kellyanne Conway on Monday said Mr. Trump had "full confidence" in Mr. Flynn, but that changed amid new reports the White House was warned by the Justice Department that Mr. Flynn had made misled officials, including Mr. Pence, about his contacts with Russian officials.
The Justice Department warned the Trump administration last month that U.S. intercepts contradicted Mr. Flynn's denials that he had discussed sanctions with a Russian ambassador, according to a person familiar with the matter. The message was meant both to advise the administration of the apparent contradiction and to let them know that the discrepancy could, in theory, be used as blackmail by Russia against Mr. Flynn someday, according to this person.
The warning from the Justice Department came from Acting Attorney General Sally Yates, an Obama administration holdover who was later fired by Mr. Trump for her refusal to defend in court his executive order temporarily blocking visitors from some countries, this person said.
The warning was first reported by the Washington Post.
The turmoil comes as the new administration is trying to formulate its foreign policy and is just beginning to confront multiple global challenges.
The White House is in the midst of a review of its North Korea policy as Pyongyang launched a ballistic missile test over the weekend while Mr. Trump was hosting the prime minister of Japan at his Florida golf club.
Mr. Trump also is stepping up the pace of his meetings with foreign leaders, hosting Canadian Prime Minister Justin Trudeau on Monday and planning to meet with Israeli Prime Minister Benjamin Netanyahu on Wednesday. Mr. Flynn was on hand for Mr. Trudeau's visit.
Mr. Kellogg's name first surfaced as a Trump campaign adviser in March 2016, when the candidate, under pressure to name people he consulted for foreign policy advice, identified the retired general in a meeting with the Washington Post editorial board.
Mr. Kellogg has been serving on the National Security Council as chief of staff and executive secretary, a crucial position responsible for ensuring the timely and coordinated flow of memos, directives and briefing papers. That process has been beset by dysfunction, with key organizational responsibilities and lines of authority left undefined, said a U.S. official who has worked with Gen. Kellogg.
Mr. Kellogg was among the first American personnel sent into Iraq following the U.S.'s 2003 invasion. Then a contractor for Oracle Corp., he served in Baghdad as the chief operating officer of the Coalition Provisional Authority, set up to govern the country, for five months.
The CPA's tenure was marked by controversial policy decisions, including to disband the Iraqi army.
Mr. Petraeus commanded U.S. forces in Iraq and was credited with quelling an insurgency in 2007. He later served as director of the CIA but resigned his position in 2012 following revelations that he disclosed classified information to Paula Broadwell, who was writing an authorized biography of the general and with whom he was having an extramarital affair. Mr. Petraeus later pleaded guilty to a misdemeanor charge of mishandling government information after lying to federal investigators about the disclosures to Ms. Broadwell.
Retired Navy Vice Adm. Harward served as deputy commander of U.S. Central Command, which oversees all U.S. forces in the Middle East. He served on the NSC during the George W. Bush administration and has served in the National Counterterrorism Center.
The Wall Street Journal reported last month that Mr. Flynn's contacts with the Russian ambassador were under investigation by U.S. officials.
Mr. Spicer said Mr. Trump had "absolutely not" been aware Mr. Flynn was discussing sanctions with the Russian ambassador.
Other senior members of Mr. Trump's team, in addition to Mr. Pence, said publicly during the period between Mr. Trump's election in November and his inauguration in January that Mr. Flynn told them he didn't discuss the issue of U.S. sanctions against Russia in his call to Sergey Kislyak, the ambassador.
Current and former officials, however, have said transcripts of the calls, which the White House has reviewed, show sanctions were discussed in phone calls between Mr. Flynn and Mr. Kislyak on Dec. 29, the day the Obama administration adopted new sanctions against Moscow in response to its alleged use of cyberattacks to interfere in the U.S. election. Russia has denied the hacking.
Mr. Flynn had maintained there was only one phone call with Mr. Kislyak that day, and that it was solely focused on arranging a conversation between Mr. Trump and Russian President Vladimir Putin. White House officials now concede there was more than one phone call that day.
Write to Carol E. Lee at carol.lee@wsj.com, Michael C. Bender at Mike.Bender@wsj.com and Devlin Barrett at devlin.barrett@wsj.com