Trump's gyrations on NAFTA cause a flurry of head-scratching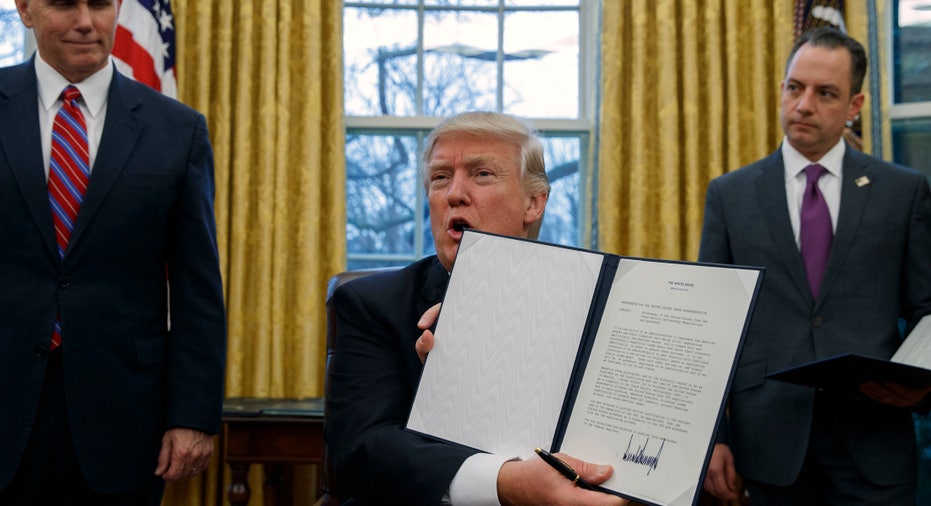 President Donald Trump campaigned on an "America First" trade policy of bracing clarity: Renegotiate or abandon NAFTA and crack down on China's trade practices.
Yet so far, his trade policy has produced mostly confusion and division, even among fellow Republicans. At stake may be the president's credibility over whether and how he will deliver on his campaign vow to undo decades of American trade policy and restore millions of manufacturing jobs lost to foreign competition.
The latest puzzler broke out Wednesday over the prospect that the Trump administration would simply abandon the North American Free Trade Agreement rather than start to renegotiate it. The White House leaked that possibility to reporters, rattling investors and drawing protests from business groups and Republican lawmakers.
Yet hours later, Trump called it all off. He would actually seek to revamp the trade pact with Canada and Mexico, he said, and pull out of NAFTA only if he couldn't secure a favorable deal.
The U-turn followed a reversal on his trade stance on China. Trump this month broke a campaign promise to label China a "currency manipulator." He had decided, he said, to instead reward Beijing for helping deal with a belligerent North Korea. Nor has he followed up on vows to punish American companies that move jobs overseas or on threats to tax Chinese and Mexican imports.
"Unquestionably, he's not delivered on his campaign promises," says Lori Wallach, a critic of NAFTA and other trade deals and director of Public Citizen's Global Trade Watch.
The president's gyrations over NAFTA have been especially puzzling. On the campaign trail, Trump called the trade deal a job-killing "disaster" that had encouraged U.S. companies to move factories to Mexico to take advantage of cheap labor. If he couldn't get Canada and Mexico to make concessions, he said, he'd pull America out of the deal.
Then, in March, the administration sent a draft letter to Congress spelling out plans to renegotiate NAFTA. The plan kept much of the existing agreement intact. Many critics of NAFTA said they were deeply disappointed.
So it came as a surprise Wednesday when word leaked that Trump was again taking a harsh stance: Aides said the president was considering a draft executive order to pull out of NAFTA within days. The Mexican peso fell against the U.S. dollar. American farm groups, which credit NAFTA with lifting U.S. agricultural exports to Mexico, howled.
"Mr. President, America's corn farmers helped elect you," Wesley Spurlock, president of the National Corn Growers Association, said in a statement.
Spurlock added: "NAFTA has been a huge win for American agriculture ... losing access to these markets will be a huge blow."
Many businesses complain that pulling out of NAFTA would disrupt the cross-border supply chain companies have built since the agreement took effect 23 years ago.
"The whole NAFTA structure is interwoven in our economy in a very close and important way," said Josh Bolten, former chief of staff for President George W. Bush and now head of the Business Roundtable, a trade association for CEOs. "Many of America's biggest, most successful businesses are highly dependent on North American supply chains and their goods may cross one or the other borders several times during the production process."
Republican lawmakers, who have typically supported free trade, weighed in, too. "Withdrawing from #NAFTA would be a disaster for #Arizona jobs & economy," tweeted Republican Sen. John McCain of Arizona. "@POTUS shouldn't abandon this vital trade agreement."
Then Trump announced that the leaders of Mexico and Canada had reached out to him Wednesday and that he would bow to their request to try to fix NAFTA through negotiations before abandoning it.
"I decided, rather than terminating NAFTA, which would be a pretty big, you know, shock to the system, we will renegotiate," Trump said. "Now, if I'm unable to make a fair deal, if I'm unable to make a fair deal for the United States, meaning a fair deal for our workers and our companies, I will terminate NAFTA. But we're going to give renegotiation a good, strong shot."
Mexico's top diplomat said the country learned only through media reports that the Trump administration was considering a draft executive order to withdraw from NAFTA.
Foreign Secretary Luis Videgaray said Mexican officials reached out to their counterparts in Washington to discuss the reports. At the end of the day Wednesday, President Enrique Pena Nieto called Trump, and the two leaders spoke for about 20 minutes.
Some trade policy analysts say the confusion reflects divisions within the administration between those who support Trump's tough campaign rhetoric on trade and those who take a more traditional Republican view favoring trade agreements.
"It likely reflects certain staff and structural problems in the White House, which are worsened by the ideological clash between competing factions," says Eric Shimp, a former U.S. diplomat and adviser on trade at the law firm Alston & Bird.
Alternatively, aides could have been trying to rack up a tough-sounding accomplishment before Trump's 100th day on the job.
Others see the threat to withdraw from the agreement as an attempt to jar Canada and Mexico into coming to the bargaining table ready to make concessions. Shimp notes, though, that they'd already said they were willing to negotiate changes to NAFTA.
Clyde Prestowitz, a U.S. trade official in the Reagan administration who supports a tougher U.S. trade policy, says Trump's modestly worded draft proposal for NAFTA in March probably suggests how negotiations will end:
"In the end, there will be some minor changes to NAFTA and victory will be declared."
"Trump has talked tougher than other presidents, but so far his actions are completely consistent with what they did," Prestowitz says. "Talking about it is much easier than actually doing it."
Then again, the administration has just slapped tariffs on Canadian softwood timber imports and launched investigations into whether steel and aluminum imports jeopardize U.S. national security.
And Congress has yet to approve Trump's nominee for U.S. trade representative: Robert Lighthizer, who has advocated using existing trade law more aggressively to combat unfair trading practices.
"While the president clearly has failed to deliver on his 100-day promises, the longer story is unwritten," Wallach says. "It could go either way."
___
AP writer Mary Clare Jalonick contributed to this report.
___
Follow Paul Wiseman on Twitter at https://twitter.com/PaulWisemanAP