Trumpeachment talk is costing investors money
There has been a steady drumbeat of calls for an investigation that the still-never-Trumpers claim could lead to the impeachment of President Donald Trump. Members of the Democratic Party have yielded the drum sticks and members of the mainstream media have been happy to play the part of the instrument which registers and magnifies the noise. As of this writing, 25 members of the House Democratic Caucus have signed onto the idea of a formal investigation.
But when the roles were reversed, and President Clinton was under threat, the media and Democratic politicians were arguing against impeachment. They warned America that removing Clinton would be bad for the financial markets, and place the global economy at risk. CNN Money published an article blaming GOP impeachment efforts for poor market performance. NPR warned about threats to the economy. Democratic members of the House rose to denounce the disruptions caused by impeachment and demanded that Republicans spare America the 'national agony' of punishing our President. Clinton supporters pointed to Dow 10,000, a new milestone reflecting capitalism at its best, and said let's leave well enough alone.
So does the economic effect of impeachment matter only when the president is a Democrat or do the costs of impeaching Republicans count too? I ask this because it's pretty clear that this effort to remove the president is hurting the economy.
Let's look at the data: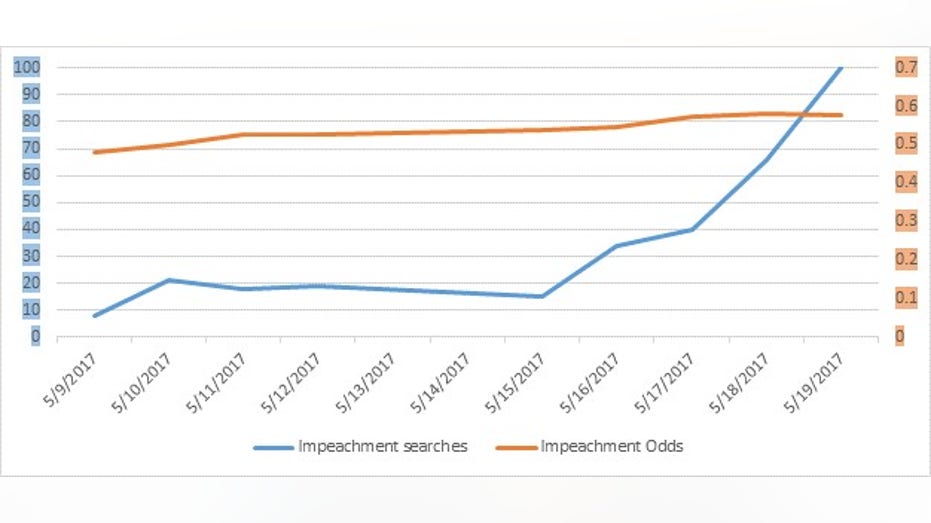 Last May a string of stories appeared in the media which gave support to the Democrats' claim that President Trump should be impeached.
During this time web searches for the word impeachment spiked up 12-fold and the London odds makers increased the chances that Trump would not finish out his 1st term by 21%.
From then to now roughly 7 weeks have gone by, and the Dow has been flat, going up only 1.5 percent. For a frame of reference, during the comparable  7 weeks after Trump was elected, markets exploded upward 8.3%.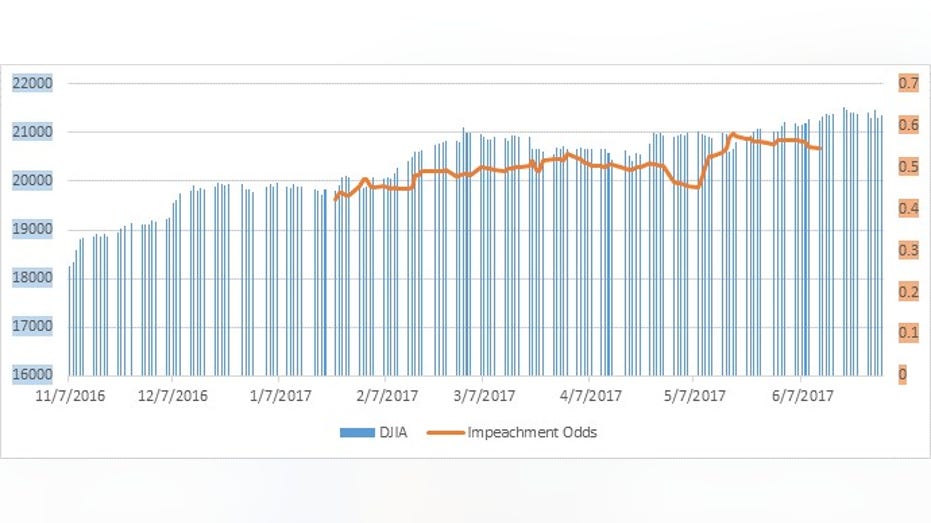 There is little doubt that efforts by the media and the Democratic Party to keep impeachment on the table are hurting market performance, which means it is hurting retirement, pensions and college savings programs. The impeachment crusade is costing you money.
Impeachment hysteria drains effort away from legislative progress. It diminishes the president's political capital. It distracts from the job of replacing Obamacare, and most importantly, it is slowing down the process of tax reform. The reason that delaying tax reform matters so much is that tax cuts deferred adds up to deferred business activity. If you tell an entrepreneur that next year she'll be able to deduct equipment purchases in full, she'll do her best to wait until next year before buying new equipment.  That means pushing tax reform off into the future and likely means slowing our slow economy down even further, perhaps even pushing it into recession.
If there were proof of wrongdoing, then of course, justice counts more than money. A president engaged in criminal activity should be impeached. But we have no evidence of a crime.  So Americans should not be forced to endure continued economic stagnation just so the anti-Trump coalition can score political points.
The bottom line is that if the economic cost of impeachment counts when a Democrat's in the White House, it should count when it's a Republican under threat too.
Jerry Bowyer is Chief Economist of Vident Financial. Vident produces the Vident Core U.S. Equity Fund Index (VCUSX) mentioned above and its affiliate WeatherStorm Capital produces the WeatherStorm Forensic Accounting Long-Short ETF Index (FLAGLSX). Other than the disclosed positions in the Vident Funds, Jerry has no separate personal stock holdings or shorts. He blogs here.
DISCLAIMER: THIS CONTRIBUTOR COLUMN CONTAINS STRONG OPINIONS WHICH ARE NOT A REFLECTION OF THE OPINIONS OF FOX BUSINESS NETWORK AND SHOULD NOT BE RELIED UPON AS INVESTMENT ADVICE WHEN MAKING PERSONAL INVESTMENT DECISIONS. READERS MUST TAKE RESPONSIBILITY FOR THEIR OWN INVESTMENT DECISIONS.