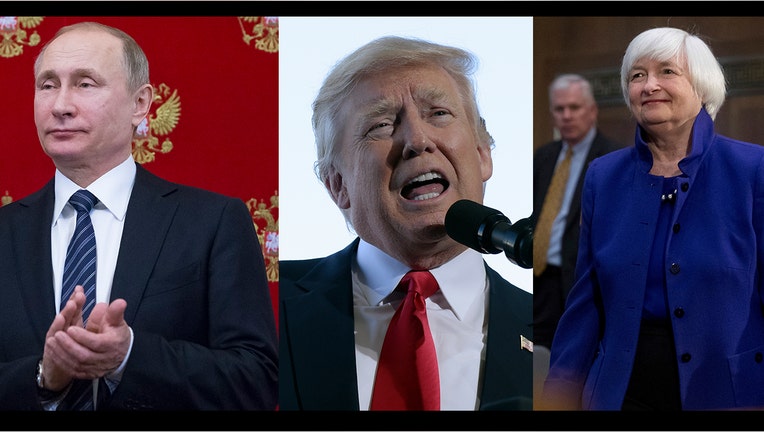 It seems as if U.S. stock investors are afraid of absolutely nothing. Not even a Russian submarine floating off the coast of Connecticut, nor a pugnacious president who lambasted and mocked the media during a chaotic press conference or a Fed Chair that talked candidly about a slow-growing U.S. economy.
"We are just totally perplexed about why the market is teflon," said Gary Kaminsky, former vice chairman at Morgan Stanley (NYSE:MS), during an interview with FOX Business.
The Dow posted its best week of the year with a gain of 1.75%. Along with the Dow, the S&P 500, Nasdaq Composite, Russell 2000 and Dow Transports are all at record levels. Since the election U.S. stocks have gained between 10% to 12%.
---
Trump Bump - Since Election Day
Dow Jones Industrial Average: +12% 
S&P 500: +10%
Nasdaq Composite: +12% 
---
Kaminsky, who hosts Wall Street Week for the network, blames the lack of reaction on index funds, which automatically track stocks and indices. "The average investor is not paying attention to the day-to-day which is a danger," he cautions. $30.6 billion dollars flowed into US Equity Index Funds, the highest January figure ever, according to Morningstar.
Investors did however get pockets of positive economic reports this week. Retail sales for January rose a better-than-expected 0.4% and the December number was revised higher to 1.0%. Separately, housing permits, which track future demand, rose nearly 5% in January to 1.29 million units, the highest since November of 2015.
Stock market hits new high with longest winning streak in decades. Great level of confidence and optimism - even before tax plan rollout!

— Donald J. Trump (@realDonaldTrump) February 16, 2017
Either way President Trump is using the positive stock and economic news to his advantage. He celebrated the market's record levels with a tweet Thursday morning. Later that day during an impromptu and unorthodox press briefing, he verbally touted it again as he complained about "inheriting a mess" from the Obama administration. Earlier in the week, during his meeting with retail CEOs, he also applauded the markets. "There is a lot of confidence in our economy right now, there is great confidence level. You've been seeing that in the stock market," Trump said from the White House.
Trump Takes Boeing By Storm...
The president's visit to Boeing's (NYSE:BA) Dreamliner factory in South Carolina on Friday, which focused on creating more jobs, caps off a busy week. He hosted Israeli President Benjamin Netanyahu and a group of the nation's retail CEOs, including Target (NYSE:TGT) and J.C. Penney (NYSE:JCP). He also pushed out National Security Advisor Mike Flynn and lost his Labor Secretary pick Andy Puzder, who he quickly replaced with Alexander Acosta.
Trump, to some extent, overshadowed Fed Chair Janet Yellen's semi-annual testimony on Capitol Hill mid-week. Yellen confirmed that policymakers are on track to raise rates several times this year, despite an economy that is growing below 2%. Yellen was also asked why U.S. stocks are on a tear.
"Market participants likely are anticipating shifts in fiscal policy that will stimulate growth and perhaps raise earnings, tax cuts that will boost earnings. We've seen longer term interest rates go up and the dollar strengthen," Yellen said.
Next week is promising to be just as busy for investors with corporate earnings on deck for Wal-Mart (NYSE:WMT), Home Depot (NYSE:HD), Toll Brothers (NYSE:TOL) and Foot Locker (NYSE:FL) to name a few.
And President Trump will continue doing his part as well.
"There has never been a presidency that's done so much in such a short period of time. And we have not even started the big work yet. That starts early next week," Trump said on Thursday. "Some very big things are going to be announced next week. So we are just getting started."
Suzanne O'Halloran is Managing Editor of FOXBusiness.com and a graduate of Boston College. Follow her on @suzohalloran