Trump ups US ante on Taiwan, but China has leverage too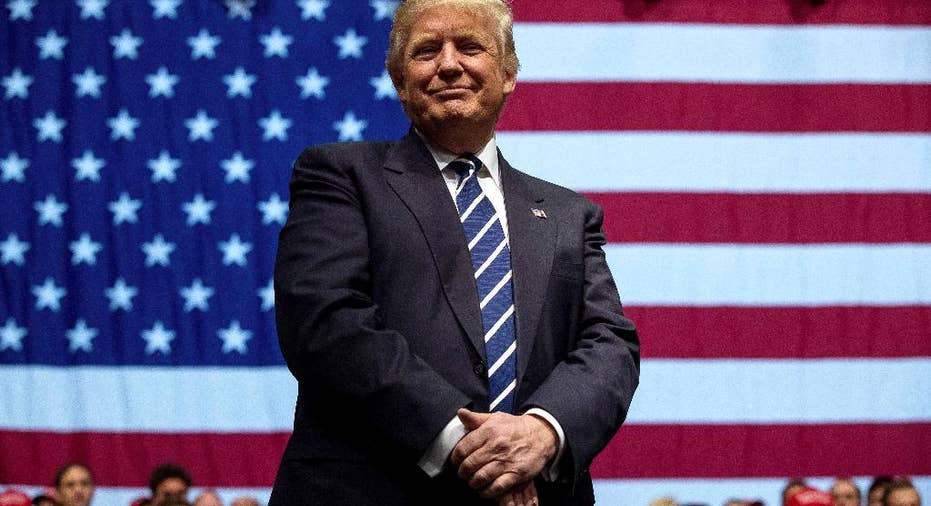 President-elect Donald Trump sounds ready to use U.S. policy toward Taiwan as a bargaining chip to extract concessions from China, but both of the world powers could play at that game.
China's rising economic and military clout means its communist leadership has leverage over Washington too. Beijing could erect more obstacles for U.S. companies working in China. It could ramp up tensions in the seas of East Asia. And if differences spike over Taiwan, the Trump administration could face tough choices on whether to send U.S. forces to defend the island that China regards as part of its territory.
There's been a delicate diplomatic balance since 1979 when the U.S. shifted formal recognition to China from Taiwan. Under the so-called "one China" policy, Washington acknowledges China's claim to Taiwan but retains close informal ties and supplies the self-governing island with weapons. Trump said Sunday that he didn't feel "bound by a one-China policy," drawing Chinese condemnation.
"This was the agreement that underpinned the normalization of U.S.-China relations. If you throw that out the window then China may very well see this as opening up every other issue," said Michael Fuchs, a former U.S. senior diplomat on East Asia.
A look at some of the areas in which China could make life difficult for the United States:
TAIWAN
If China saw its national interests were threatened by a Trump administration it could squeeze the U.S. ally economically, politically and militarily. China has far superior air and naval power to Taiwan and has hundreds of missiles arrayed against the island. China could ramp up military exercises in the 110-mile-wide Taiwan Strait to demonstrate its resolve to retake Taiwan by force if necessary.
The U.S. has no legal obligation to defend Taiwan but has previously flexed its muscles when the island was under threat. In 1996, the Bill Clinton administration permitted Taiwan's then-leader Lee Teng-hui, who was seen as challenging the one-China policy, to address his alma mater Cornell University. China reacted with missile tests in waters near Taiwan. The U.S. responded by sending two aircraft carrier battle groups and China backed down.
Twenty years on, and China is now much stronger and challenges American military pre-eminence. Patrick Cronin at the Center for a New American Security said it would seriously hurt U.S. credibility with its other allies if it failed to stand up for Taiwan after Trump encouraged its current leader Tsai Ing-wen to directly engage with him. It would also risk angering a strongly pro-Taiwan U.S. Congress.
TRADE AND INVESTMENT
U.S.-China trade in goods and services reached nearly $660 billion last year, heavily in China's favor. Trump has suggested imposing 45 percent tariffs on Chinese products to correct the imbalance. China, suffering a slowdown in its growth, could retaliate in kind, setting off a trade war that would also hurt the U.S. economy. The Chinese state has heavy involvement in the economy and has previously used trade to punish Japan and the Philippines over territorial disputes.
Bonnie Glaser, senior adviser for Asia at the Center for Strategic and International Studies, said China could choose to buy big-ticket products like airplanes from France-based Airbus instead of U.S.-based Boeing. It could also restrict imports of U.S. goods that it can obtain elsewhere and dial back growing Chinese investment in America.
MILITARIZATION IN EAST ASIA
Trump on Sunday accused China of building "a massive fortress" in the South China Sea — a reference to artificial islands Beijing has built in disputed waters there. China could expedite militarization of the islands over U.S. objections. Further north in the East China Sea, Beijing could step up operations by its boats and aircraft challenging Japan's control of other islands which are covered by a U.S.-Japan mutual defense treaty.
COOPERATING ON NORTH KOREA
Trump also said China was "not helping us at all with North Korea." That's a familiar refrain in Washington. Pyongyang depends on its trade with China for its economic survival. While China has supported stiffer U.N. sanctions and won't endorse a nuclear North Korea, it remains reluctant to impose economic costs that could threaten the survival of Kim Jong Un's government.
Mark Fitzpatrick of the International Institute of Strategic Studies said Beijing still holds the key to applying the kind of pressure that might get Kim to scale back his nuclear and missile programs. "Persuading Beijing to cooperate will be all the more difficult if Trump causes problems over Taiwan," he said.
China won't necessarily change tack on other global issues like climate change because of a rift with Washington. But Glaser said there could be a deeper Chinese alignment with Russia in international affairs. She said that would depend upon the evolution of U.S.-Russia relations under Trump, who appears to want warmer ties with Moscow.
CYBERSECURITY
The U.S. has long complained that China steals U.S. corporate information to help its own companies. Fuchs said that's "another pressure point" with Washington. Tensions on this issue have ebbed since President Barack Obama and Chinese President Xi Jinping agreed in September 2015 that neither government will support commercial cyber-theft, although U.S. officials have not conclusively determined that it has led to a decline in hacks against U.S. companies.