Trump tariffs set off industry scramble for exemptions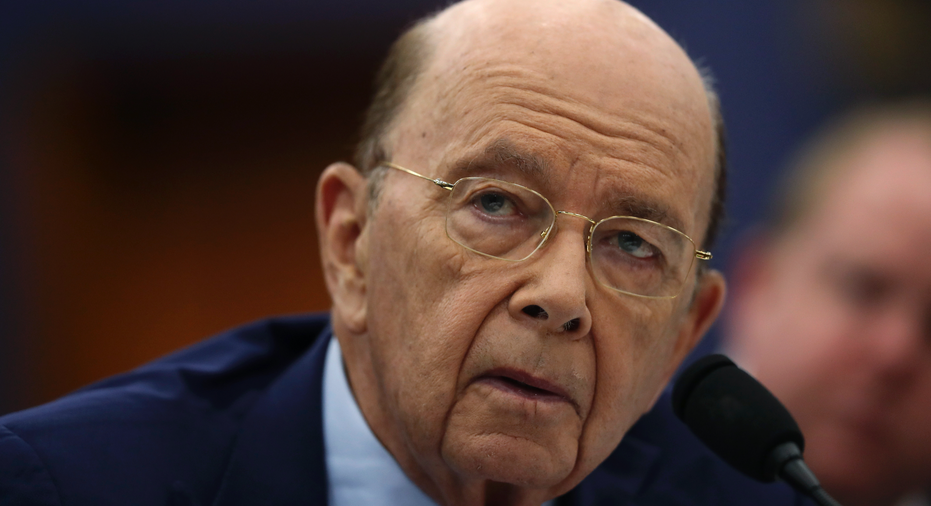 When Commerce Secretary Wilbur Ross held up a can of Campbell's soup in a CNBC interview to make the case that the Trump administration's steel and aluminum tariffs were "no big deal," the canning industry begged to disagree — and they were hardly alone.
President Donald Trump's strong-armed trade policies have set off an intense scramble among industry groups, companies and foreign countries seeking exemptions from tariffs of 25 percent on steel imports and 10 percent on imported aluminum. The push comes ahead of an upcoming round of new penalties expected to be slapped on China by week's end.
The Can Manufacturers Institute, which represents 22,000 workers at manufacturers across the nation, estimates the steel and aluminum tariffs would harm their industry and consumers alike. The institute says there are 119 billion cans made in the U.S., meaning a 1 cent tariff would lead to a $1.1 billion tax on consumers and businesses.
"Secretary Ross has made cans a poster child to dispel concerns about the costs of tariffs," said Robert Budway, the institute's president. He said his organization was concerned Ross "is already predisposed to deny our petitions."
Trump's one-two punch on trade has set in motion a deluge of requests to the Commerce Department for exclusions for certain steel and aluminum products. Foreign countries, meanwhile, complain the U.S. Trade Representative's office has not provided specific guidance on gaining exemptions before the steel and aluminum tariffs are implemented on Friday.
"Typically, the countries are determined before tariffs are announced," said Josh Zive, senior principal at the law firm Bracewell LLP. This time, countries don't know whether they will end up being targeted or exempted — "that's weird and no one knows what to make of it."
The Trump administration, which has said steel and aluminum imports threaten U.S. national security, has already given Mexico and Canada a reprieve — provided they agree to a revamp of the North American Free Trade Agreement. The European Union, South Korea, Australia and Brazil are among the countries seeking the exemptions.
Sen. Ron Wyden of Oregon, the ranking Democrat on the Senate Finance Committee, said tariffs are "sometimes necessary tools" to protect national security or fight unfair trade practices. But he said the administration's approach is producing "chaos, uncertainty, and an alienation of our closest allies."
Emily Davis, a spokeswoman for U.S. Trade Representative Robert Lighthizer, said the U.S "is engaged in discussions with several countries to determine if means other than tariffs can be arranged to address our national security concerns."
Companies that buy imported steel and aluminum can request tariff relief from the Commerce Department, especially if they rely on types of imported steel and aluminum that aren't available from domestic U.S. producers.
Expect a deluge: Steel and aluminum producers have 30 days to object to the exemption requests. Commerce expects 4,500 requests for relief and 1,500 objections — and it is supposed to reach decisions in 90 days.
Commerce has said it intends to reach decisions on a company-by-company basis, not by making across-the-board exemptions for individual steel and aluminum products. That decision has created anxieties that certain companies could get tariff relief while others would be forced to pay tariffs on the same product — perhaps because in the time between the two requests domestic U.S. production has ramped up to fill shortages.
"The big thing is, it's arbitrary," said Mary Lovely of the Peterson Institute for International Economics. "The government is becoming the matchmaker between the purchaser and the supplier."
"It's a real question to me whether they understand the magnitude of the requests they are going to get," Zive said of Commerce. "How they're going to get through them in 90 days is difficult to understand."
Industry officials said other aspects of the exemption process will burden companies. Manufacturers are unclear whether companies will qualify for refunds if they end up getting exemptions after they've begun paying the tariffs. And since Trump set no timeline for ending the tariffs, the companies will need to reapply for the exemptions on an annual basis.
Companies, meanwhile, have been trying to beat the tariffs by stocking up on imports. Steel imports rose 15 percent last year and another 17 percent in January.
The steel and aluminum tariffs may only be the opening salvo.
Administration officials said Trump is expected to announce $60 billion in tariffs on Chinese imports by Friday on a wide array of consumer goods, from apparel to electronics, and even on imported parts for products made in the U.S.
Ross, appearing before a House budget panel on Tuesday, faced questions about the trade moves, with lawmakers warning the tariffs could lead to retaliation from foreign countries and wreck economic havoc for consumers.
"I worry that now we're engaged in a trade war which is further going to alienate us from our adversaries," said Rep. Rodney Frelinghuysen, R-N.J., chairman of the powerful House Appropriations Committee.
Rep. Derek Kilmer, D-Wash., noted that the decision to exclude aluminum and steel producers on a company-by-company basis — rather than by individual products — could create the possibility that some companies will gain a huge advantage over their competitors if they win exemptions.
Ross vowed that "the process will be open and transparent" and Commerce was working to "minimize the amount of inconvenience that any of the affected parties will suffer as a result of the process. We're gearing up to be fast, to be fair and to be practical."
____
This story has been corrected to show that steel and aluminum producers have 30 days to object to requests for exemptions from forthcoming tariffs, not 30 days to seek the exemptions.
____
On Twitter follow Thomas at https://twitter.com/KThomasDC and Wiseman at https://twitter.com/paulwisemanAP