Trump reports weigh on global stocks and the dollar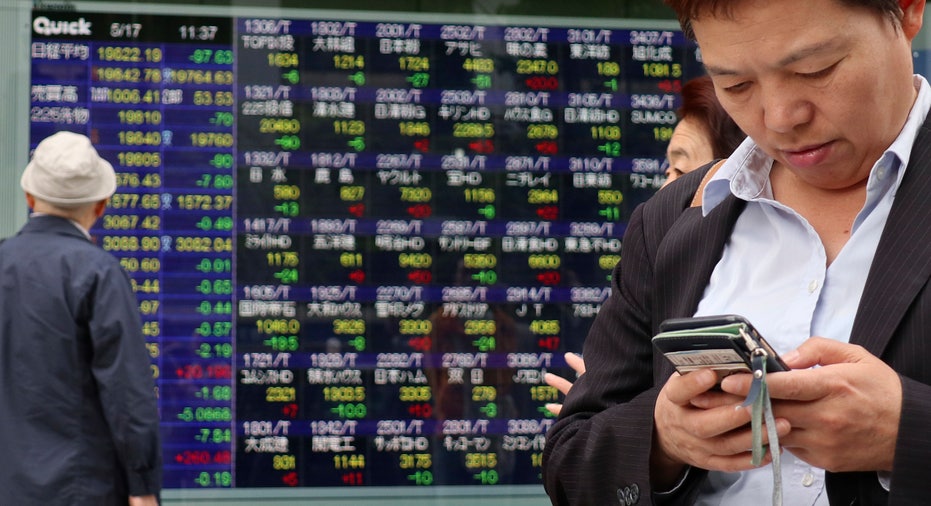 Global stock markets and the dollar drifted lower Wednesday as traders fretted over reports that President Donald Trump appealed to ex-FBI Director James Comey to ditch an investigation into ousted national security adviser Michael Flynn. Though the White House has denied the allegation, there's mounting unease in markets over the developments in the U.S. government.
KEEPING SCORE: In Europe, Germany's DAX was down 0.3 percent at 12,768 while the CAC 40 in France fell 0.4 percent to 5,387. The FTSE 100 index of leading British shares was 0.1 percent lower at 7,519 and near all-time highs. U.S. stocks were poised for a lower opening with Dow futures and the broader S&P 500 futures down 0.4 percent.
TRUMP UNEASE: Traders appear to be growing concerned over the outlook for the Trump administration both politically and economically. A day barely passes without some new report about the president and his team. The latest centers on a memo that Comey wrote that showed the president asking him to shut down an FBI investigation into Flynn. That allegation was preceded by news that the president had disclosed highly classified information to the Russian foreign minister and the country's ambassador to the United States. Trump tweeted Tuesday that he had "an absolute right" as president to share "facts pertaining to terrorism" and airline safety with Russia.
ANALYST TAKE: "This adds to a darkening cloud of controversy and disarray hovering over the White House," said Mike van Dulken, an analyst at Accendo Markets. "It also means more questions about the administration's ability to garner enough Republican, let alone bipartisan support, for the policy pledges for which investors are growing increasingly impatient."
DOLLAR DROPS: The dollar has borne much of the fallout from the Trump disclosures. The euro was up 0.2 percent against the dollar at $1.11, the first time it's breached that level since November, when Trump surprisingly won the U.S. election. Against the yen, the dollar was down 0.6 percent to 112.42 yen. "The greenback's surprising gains that were made right after the U.S. elections have completely evaporated now, really making a mock of all those 'The Mighty Dollar' headlines that we saw this winter," said Stefan Koopman, market economist at Rabobank International.
ASIA'S DAY: Asian markets mostly fell. Japan's Nikkei 225 dropped 0.5 percent to 19,814.88 as the yen gained against the U.S. dollar. South Korea's Kospi dipped 0.1 percent to 2,293.08. Hong Kong's Hang Seng index slipped 0.2 percent to 25,293.63. The Shanghai Composite Index edged 0.2 percent lower to 3,104.44. Australia's S&P/ASX 200 sank 1.1 percent to 5,786.00. Taiwan's benchmark index fell but markets in Southeast Asia were mixed.
OIL: Benchmark U.S. crude rose 13 cents to $48.79 per barrel in electronic trading on the New York Mercantile Exchange while Brent crude, used to price international oils, was up 24 cents to $51.89 per barrel in London.