Trump family drops access offered for charity donations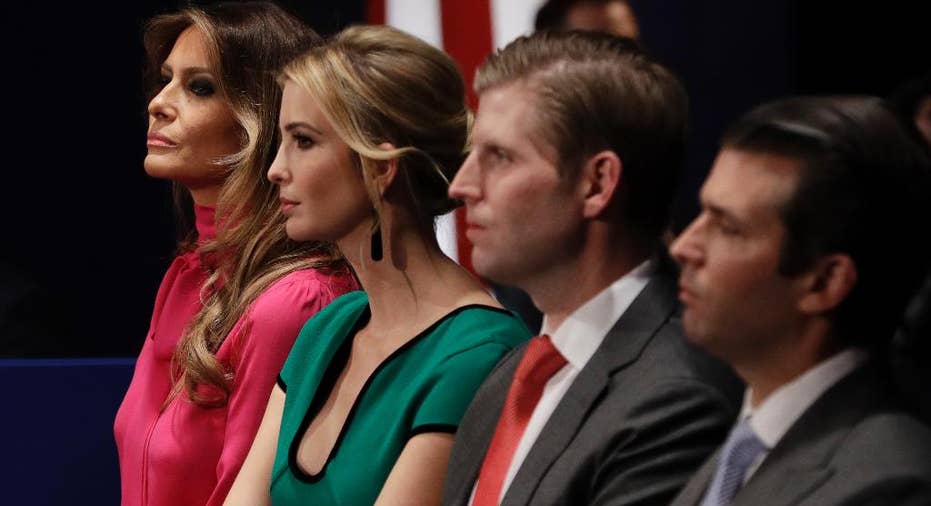 Donald Trump's children may see his move to the White House as a way to raise money for their favorite causes.
Two recent fundraising pitches featuring the incoming first family were meant to benefit charities, but they also raised questions among ethics experts that the Trumps might be inappropriately selling access.
Last week, Eric Trump tried auctioning a coffee date with his sister Ivanka to raise money for a children's hospital. Now, Eric and Donald Trump Jr. are part of a venture that initially offered a private reception with their father during inauguration weekend in exchange for $1 million donations that would go to conservation charities. Some of those contributors could later go hunting or fishing with one or both of the sons, the invitation promised.
These events are dissolving as quickly as they become public, suggesting the family is learning on the fly what's acceptable.
Trump aides say the Trump family has been focused on resolving the perception of conflicts when it comes to Trump's business; how to handle their charitable endeavors has been a secondary concern. But in light of recent events, the Trump team is looking more quickly for solutions, said a Trump transition official, speaking on condition of anonymity to share internal discussions.
Eric Trump canceled the coffee with Ivanka after The New York Times reported that some of the bidders were doing so to gain insight about the Trump administration.
Hope Hicks, a Trump spokeswoman, said the hunting and fishing events reflected "initial concepts that have not been approved or pursued by the Trump family." She added that the sons "are not involved in any capacity. Additionally, the president-elect is not aware of the event or the details pertaining to it."
The two previous presidents, Barack Obama and George W. Bush, expressly forbade immediate family members from such fundraising activities to avoid the appearance of selling access.
"We kept it simple. We did not allow the first family to be auctioned off, which is what is happening here," said Norman Eisen, who served as White House chief ethics counselor as Obama took office in 2009.
Richard Painter, who filled a similar role for Bush, said the White House "strongly discouraged" the president, his family and top aides from fundraising for charities, and avoided altogether charity fundraising that came with any access to those people.
Both said that while there's nothing explicitly illegal about the charity fundraising, it diverges from the best practices of previous White House administrations.
In an invitation that began circulating last week when the entertainment site TMZ posted it, Eric and Donald Trump Jr. were listed as honorary co-chairmen for a group seeking up to $1 million donations for a Jan. 21 inauguration event dubbed "Opening Day."
Top donors could enjoy other perks such as a "private reception and photo opportunity for 16 guests with President Donald J. Trump" and "a multi-day hunting and/or fishing excursion for 4 guests with Donald Trump Jr. and/or Eric Trump and team," according to the invitation.
A few days before the invitation went out, a new nonprofit called Opening Day Foundation was registered in Texas. Paperwork filed with the state lists the two adult Trump sons and their Texas-based friends Gentry Beach and Tom Hicks Jr. as the nonprofit's directors. The documents were first reported by the Center for Public Integrity.
But Eric and Donald Trump Jr. had no idea they were named in the new nonprofit and have asked the Texas secretary of state to amend the filing to delete them, according to the Trump transition official. Mark Brinkerhoff, a spokesman for the event planners, also said Tuesday that the Trump sons should not have been listed as directors of the nonprofit.
On Tuesday, the inauguration venture put out a new invitation, which stripped out all references of access to the incoming president and his immediate family, although Eric and Donald Trump Jr. remain listed as honorary co-chairmen.
The $1 million donors can attend a private reception "with VIPs and celebrities associated with the event," the invitation now says. And in place of the Eric and Donald Trump Jr. hunting and fishing trip, there's more generic mention of a "multi-day excursion for four guests."
The walk-back follows a turnabout on the Ivanka Trump coffee after the Times report last week.
"Today, the only people who lost are the children of St. Jude," Eric Trump said after canceling the fundraiser for the children's hospital.
Painter and Eisen — the former White House counselors, who have been critical of Trump's business entanglements and failure to publicly address them so far — said part of the problem with these charity fundraisers is that the president-elect has yet to explain which of his family members will be involved in the government and which will stay at the helm of his international business empire.
They praised the Trumps for making quick adjustments after seeing bad press about the fundraising but said that doesn't eliminate the need for Trump to develop and follow hard-and-fast rules as previous presidents did.
"How many times are they going to have to stub their toe?" Eisen said. "If you continually have to reverse course and improvise, what is the point at which it becomes a sign of recklessness instead of willingness to do good will?"
__
Associated Press writers Catherine Lucey in Des Moines, Iowa, and Jonathan Lemire in Palm Beach, Florida, contributed to this report.