Trump EPA moves to roll back more clean air and water rules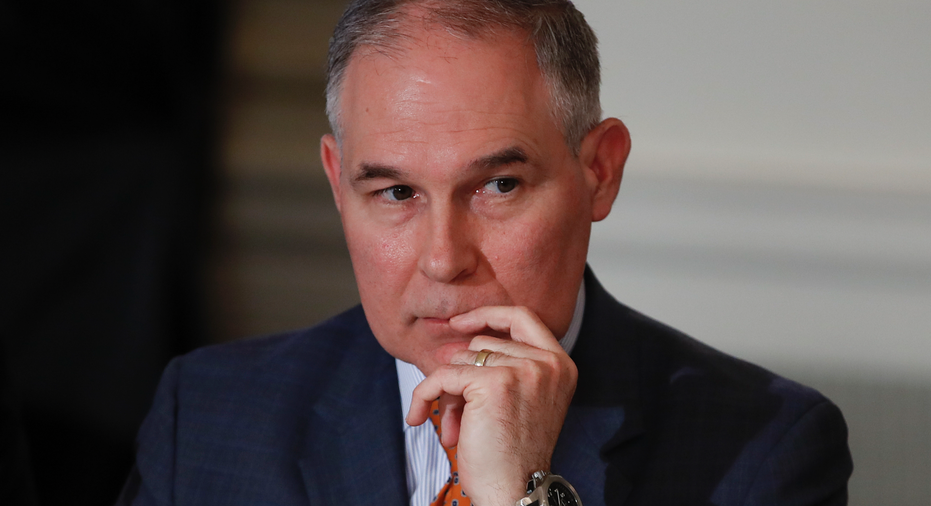 The Trump administration said Thursday it is rewriting Obama-era rules governing pollution from oil and gas operations and coal ash dumps, moves that opponents say will significantly weaken protections for human health and the environment.
The changes proposed by the Environmental Protection Agency are the latest in series of actions taken over the last year to roll back regulations opposed by the fossil-fuel industry. The agency said the revisions would save electric utilities $100 million per year in compliance costs, while oil and gas operators would reap up to $16 million in benefits by 2035.
Environmental advocates predicted the revisions would lead to dirtier air and water.
The 2016 standards governing leaks and emissions from oil and gas drilling operations sought to reduce the amounts of methane and volatile organic compounds, or VOCs. Methane is a potent greenhouse gas that traps heat in the atmosphere, contributing to climate change. VOCs are a component of ground-level ozone, air pollution that can aggravate asthma and contribute to early deaths from respiratory disease.
In a statement, EPA Assistant Administrator for Air and Radiation Bill Wehrum said the changes will "provide regulatory certainty to one of the largest sectors of the American economy and avoid unnecessary compliance costs to both covered entities and the states."
Prior to joining the Trump administration in November, Wehrum worked as a lawyer representing fossil fuel and chemical companies regulated by the EPA office he now leads.
Environmental groups said the Trump rollbacks would let large-scale polluters off the hook.
"This move would put an estimated 25 million people who live in counties with dangerously unhealthy air at even greater risk from oil and gas related air pollution by rolling back measures that are flexible, cost-effective and that have been proven to work by leading states and responsible companies," said Matt Watson, a spokesman for the Environmental Defense Fund.
The EPA also proposed amending rules to give state regulators more authority over how utilities dispose of the ash left behind when coal is burned to generate electricity. The gray ash, typically dumped near coal-fired power plants in unlined pits, contains toxic heavy metals such as lead and arsenic that over time can leach into groundwater or nearby rivers, potentially contaminating sources of drinking water.
"Today's coal ash proposal embodies EPA's commitment to our state partners by providing them with the ability to incorporate flexibilities into their coal ash permit programs based on the needs of their states," EPA Administrator Scott Pruitt said.
The announcement came on the eve of a deadline for utilities to release reports documenting coal ash contamination of water supplies at hundreds of power plants across the United States. The pollution reports were intended as a first step toward cleaning up the contamination leaking from the ash pits.
EPA said it will be taking comment on whether future deadlines for ash pollution cleanup efforts will remain in place or be pushed back. Agency representatives did not immediately respond to questions about whether Friday's deadline still stands.
A spokeswoman for American Electric Power said the company still intends to post its pollution reports even as it begins reviewing the proposed changes. The Ohio-based utility has 14 coal plants in eight states that are covered by EPA's coal ash rule.
"We support EPA's efforts to partner with the states," AEP spokeswoman Melissa McHenry said. "We are complying with the existing federal rules, but have worked closely with our states at many sites regulated under the (coal ash disposal program) for years."
Frank Holleman, a senior attorney at the Southern Environmental Law Center who has spent years pressing utilities to clean up coal ash, said the changes would hand over too much responsibility to state officials often too deferential to lobbyists from big utilities.
"Instead of protecting American communities and rivers from coal ash, EPA is trying to bail out utilities polluting our waterways and drinking water supplies," he said. "These proposals will weaken rules that protect our groundwater from arsenic and mercury, and continue to extend the use of unlined, leaking coal ash pits next to our waterways. America's families and clean water deserve better."
__
Brown reported from Billings, Montana. Associated Press reporter Sarah Rankin contributed from Richmond, Virginia.
___
Follow Biesecker at http://www.twitter.com/mbieseck