Trump Cracks Down on Trade Ahead of China Visit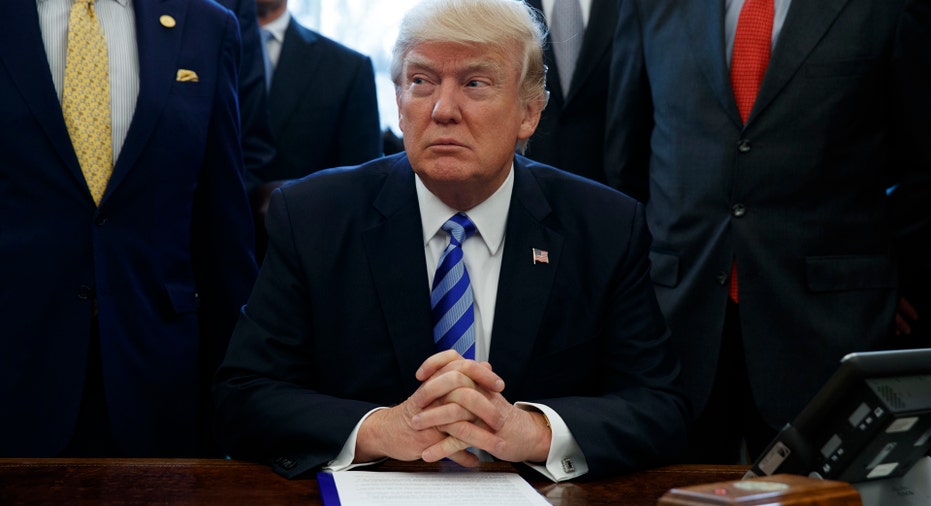 President Donald Trump signed two executive orders on Friday that the White House says will combat global trade abuses and protect U.S. workers.
"Thousands of factories have been stolen from our country...Under my administration the theft of American prosperity will end," Trump said Friday.
The directives come less than one week before Trump is scheduled to meet with the president of China–the largest contributor to the U.S. trade deficit.
One of the executive orders signed into law Friday calls for a full-scale 90-day investigation into every form of trade abuse that contributes to the U.S. deficit, which totaled more than $502 billion in 2016. The probe will examine the nation's economic relationship with every country on a product-by-product basis, according to U.S. Commerce Secretary Wilbur Ross.
Peter Navarro, director of the White House National Trade Council, told FOX Business Friday the White House intends to look into all of the ways the U.S. is being taken advantage of in the global economy.
"We are the freest trading nation in the world. On balance, we have the lowest tariffs and the lowest non tariffs. We run these enormous trade deficits…Wilbur Ross and his team are going to…look comprehensively at all of the different ways that we are getting that deficit," Navarro said.
The second executive order aims to enforce anti-dumping duties on imports from "forty countries that are cheating the American people," according to Navarro. Navarro said the U.S. is owed $2.8 billion that hasn't been collected from these types of trade abuse cases over the past fifteen years alone.
"This executive order…basically [provides] Customs and Border Protection with all the tools it needs to collect this money," Navarro said. "It's also about the fact that if we don't collect the revenues, our industries [will] continue to remain at a disadvantage."
One of the countries candidate-turned-President Trump has been the toughest on regarding unfair trade practices is China. Last year that deficit totaled more than $347 billion, according to U.S. government data. The Chinese president is scheduled to visit the U.S. next week and Trump said he anticipates it will be a "difficult" conversation.
...and job losses. American companies must be prepared to look at other alternatives.

— Donald J. Trump (@realDonaldTrump) March 30, 2017
Still, Navarro insists the timing of the executive orders is purely coincidental.
"These two orders have nothing to do about the China trip, nothing to do with China," Navarro said. "Wilbur Ross is going to look at about sixteen different countries with which we run significant trade deficits. China is just one of them."