Trump boosts industrial stocks but most don't need him to win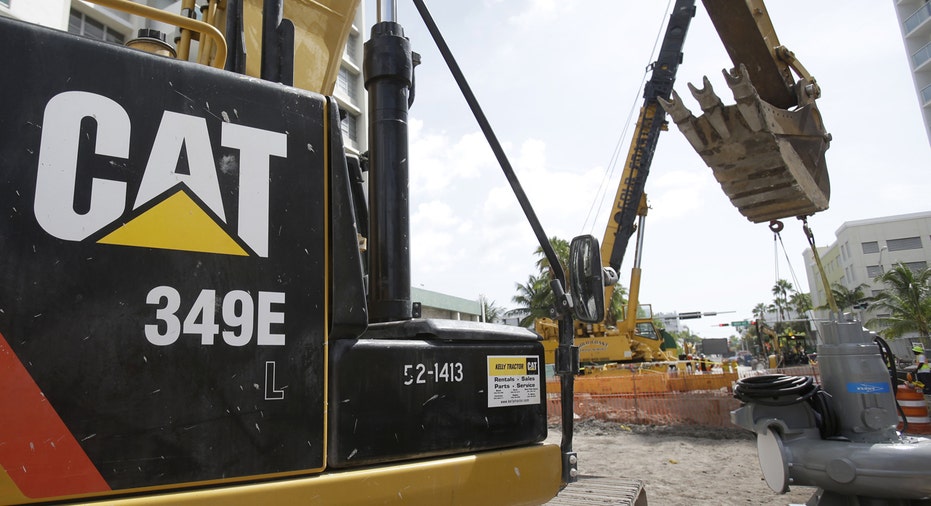 Industrial stocks have been on a tear since Donald Trump won the 2016 presidential election. Wall Street figured pro-business stances and deregulation would aid everything from construction to infrastructure. While those ambitions may have taken a hit in the first six months of the new administration, investors should remember that most companies aren't dependent on campaign promises coming true.
For instance, heavy machinery company Caterpillar (NYSE:CAT) has nearly tripled the year-to-date returns of the S&P 500. Top infrastructure stock US Concrete (NASDAQ:USCR) has doubled the broader index in the same span. Meanwhile, chemical manufacturer Chemours Co. (NYSE:CC) has already more than doubled shareholders' investments in 2017 and run laps around the broader market.
Despite the impressive gains through the first eight months of the year, are any of these scorching-hot industrial stocks buys right now?
Caterpillar continues to impress with earnings
Many industrial stocks have proceeded cautiously in the past 24 months. Several international economic indicators -- slowing energy production and construction trends -- have suggested the sector was and is near the top of the current cycle. That pushed Caterpillar management to express caution with full-year 2017 earnings expectations and suggest that Wall Street was too optimistic.
Turns out, management was a little too pessimistic. Caterpillar recently increased its full-year 2017 revenue guidance for the second straight quarter. The new range for sales is $42 billion to $44 billion, compared with the original forecast of $36 billion to $39 billion. Earnings are now expected to come in at around $3.50 per share at the midpoint, compared with the originally forecast midpoint of $2.10 per share.
Underpromising and overdelivering have done wonders for the stock in 2017.
While that's always a good thing, the stock's valuation is relatively high right now. Some of this is due to future earnings that have yet to factor into current valuations. Indeed, Caterpillar stock trades at just 17 times future earnings.
But that still doesn't change the fact that several cyclical markets the company depends on look a bit exhausted. Maybe current cycles will end up being 12 months or 18 months longer than originally expected -- seemingly the case judging by the company's earnings -- but eventually there will be another slowdown. At that point, Caterpillar stock will likely adjust to a more reasonable valuation. Given that it's currently at all-time highs, I would pass on this stock right now, although you can make a solid case for buying the stock if you believe in long-term trends for construction and infrastructure.
Concrete and cement sales are booming
US Concrete management seconds the idea that the construction cycle has been extended. The company's business is generally a good indicator of such things, especially considering projects being completed today were bid on quarters or years ago. Now, the planning of major construction projects today doesn't guarantee there won't be an economic downturn before the project is completed, but that's why the trend is only an indicator and not a crystal ball.
The ready-mix concrete leader also performed well during the second quarter of 2017. It didn't post an earnings surprise, but it did grow total revenue 24% compared with the year-ago period. US Concrete also cut its net loss 35% from the second quarter of 2016. These results suggest that the acquisition binge and growth investments from recent quarters are paying off -- especially considering that historically wet weather in a major market disrupted business.
Is US Concrete stock a buy right now? Well, the stock hasn't shown any signs of slowing down. Share gains have mirrored growth in operating cash flow since its IPO in 2010.
Similar to Caterpillar, investors considering buying this stock need to consider whether or not the construction market is headed for a downturn. However, given the impressive growth and ample opportunities for acquisitions in major urban centers, I would consider US Concrete stock a buy right now.
A boost from titanium dioxide
Chemours Co. is dependent on the cyclical nature of the construction and housing markets, although a little more indirectly than Caterpillar and US Concrete. That's because it's a leading global producer of titanium dioxide, which is a pigment used in everything from sunscreen to paint. A major pricing recovery for titanium dioxide in recent quarters has provided a significant boost to the stocks of other leading producers that have suffered from an onslaught of lower quality production capacity expansion in recent years.
That's not to say that Chemours Co. is a one-trick pony, however. The company is also the world's leading manufacturer of fluoroproducts, which make up non-stick coatings in products such as Teflon. That business has also achieved year-over-year growth for the first half of 2017.
Impressive operational performance, and the recent settlement of a major environmental toxicity lawsuit stemming from fluoroproducts manufacturing, have pushed the stock to record levels this summer.
While the business certainly has momentum and trades at a ridiculously low 10 times future earnings, I wouldn't consider buying the stock for one important reason: future potential lawsuits.
Unfortunately, manufacturing fluoroproducts results in the production of super-toxic byproducts that persist in the environment for, well, forever. Chemours Co. has a poor history of properly managing waste at its global production facilities -- it even probably used a banned chemical in North Carolina as recently as this spring. That's four years after it supposedly stopped using it in the United States.
Worse yet, the processing agent it developed to stop using the aforementioned banned chemical is likely just as toxic as the predecessor. While Chemours Co. announced it would no longer dump the new chemical into the environment, that doesn't change the fact that it has done so since 2013. Even if future lawsuits don't arise (but I think it's likely they will), I personally can't invest in a company that willfully ignores the health of communities as it chases profits.
What does it mean for investors?
Several well-known industrial stocks are on a tear right now after several cyclical markets appear to have been extended. That's all good news for growing revenue and earnings in the near future, but it's important for investors to remember that it won't avoid the next downturn. If you think Caterpillar is a good long-term buy at current prices, then have at it. Meanwhile, I think there's a strong case for buying US Concrete and avoiding Chemours Co.
10 stocks we like better than Caterpillar When investing geniuses David and Tom Gardner have a stock tip, it can pay to listen. After all, the newsletter they have run for over a decade, Motley Fool Stock Advisor, has tripled the market.*
David and Tom just revealed what they believe are the 10 best stocks for investors to buy right now... and Caterpillar wasn't one of them! That's right -- they think these 10 stocks are even better buys.
Click here to learn about these picks!
*Stock Advisor returns as of August 1, 2017
Maxx Chatsko has no position in any stocks mentioned. The Motley Fool has no position in any of the stocks mentioned. The Motley Fool has a disclosure policy.