Trump adviser says he nearly quit over president's remarks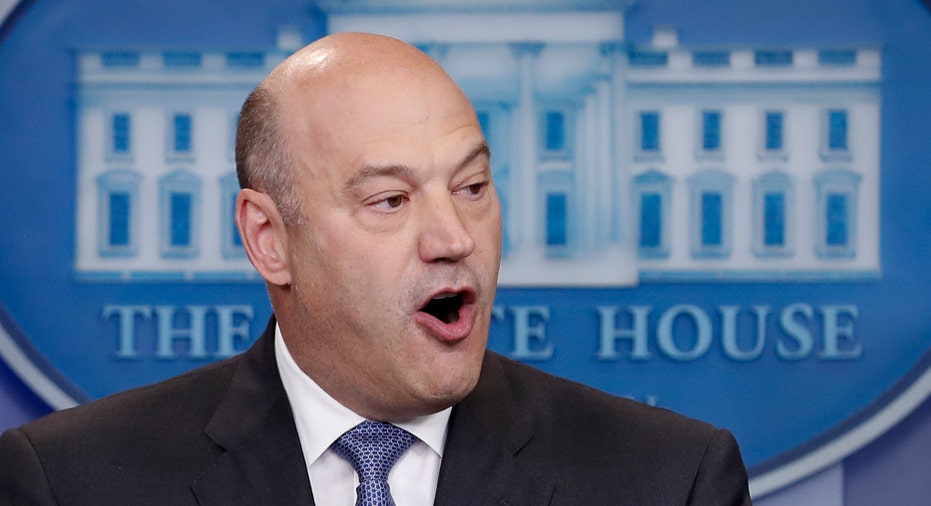 President Donald Trump's top economic adviser sharply denounced the president's response to the racial violence in Charlottesville, saying in an interview that he felt "compelled" to speak out. Gary Cohn, who is Jewish, was so upset by Trump's comments that he wrote a letter of resignation but never submitted it.
"Citizens standing up for equality and freedom can never be equated with white supremacists, neo-Nazis, and the KKK," Cohn told The Financial Times in an interview published Friday. "I believe this administration can and must do better in consistently and unequivocally condemning these groups and do everything we can to heal the deep divisions that exist in our communities."
It was an extraordinary public rebuke of the president by a senior adviser, and came just as Cohn will be a key figure in the administration's fall push for sweeping tax reforms. It also played out as Cohn emerged as a candidate to replace Janet Yellen as chairman of the Federal Reserve when her term ends in February.
Cohn told associates he expressed his unhappiness to Trump in a conversation a week ago at the president's New Jersey golf club and considered stepping down, according to a person familiar with the conversations but not authorized to speak publicly about private talks. Two people familiar with his thinking said he'd written a resignation letter but then pocketed it.
"As a Jewish American, I will not allow neo-Nazis ranting 'Jews will not replace us' to cause this Jew to leave his job," Cohn said in the Financial Times interview.
Cohn said he had come under "enormous pressure" both to resign and to remain in his position with the administration. He told the Financial Times, "As a patriotic American, I am reluctant to leave my post as director of the National Economic Council because I feel a duty to fulfil my commitment to work on behalf of the American people."
Financial markets were rattled last week by rumors that Cohn would resign, and U.S. stocks dropped until the White House put such talk to rest. In the interview, Cohn aired publicly what he had been telling those close to him for more than a week: that he was upset by Trump's remarks that "many sides" were to blame for the violence in Charlottesville.
The White House had signed off on Cohn's interview, which was meant to outline the administration's plans for overhauling the tax code, according to officials.
White House press secretary Sarah Huckabee Sanders said Cohn has spoken often with the president and that "Gary has not held back how he feels about the situation."
"He's been very open and honest, so I don't think anyone was surprised by the comments," Sanders said.
Nonetheless, longtime Trump associate Roger Stone said on Twitter that Cohn "should be fired immediately for his public attack on the president."
Cohn was one of three aides who appeared with Trump last Tuesday at the president's free-wheeling news conference in the lobby of Trump Tower. It was there that Trump defended his original assessment that "both sides" were responsible for the violence and suggested that some of those who marched with the KKK and neo-Nazis were "fine people."
Cohn was then left to field questions about infrastructure and did not address the president's remarks. But Cohn told people close to him that he was dismayed at the president's comments and that many friends had urged him to quit.
Cohn, a former Goldman Sachs executive who left with a $285 million payout, has been motivated to stay because he feels he is providing an important public service and is concerned that no one capable is poised to step into his role if he leaves, said one outside White House adviser with knowledge of his thinking.
Others in the administration have privately expressed displeasure at the president's remarks, but Cohn is among the first to go public.
Treasury Secretary Steve Mnuchin, who also is Jewish, earlier put out a statement defending Trump's response. On Friday, Mnuchin said that "under no circumstances was I going to resign."
Cohn is viewed as part of a moderate faction within the White House, along with Jared Kushner, the president's son-in-law and senior adviser; top aide and daughter Ivanka Trump; and deputy national security adviser Dina Powell. They have been derided as "'globalists" by ousted chief strategist Steve Bannon, a preacher of populism who frequently clashed with the "New Yorkers."
There has been widespread speculation that Cohn wants to be the next chair of the Federal Reserve, though he has dismissed the talk publicly. With Yellen's four-year term ending in six months, Trump has made clear he is considering replacing her, though he hasn't ruled out asking her to remain.
Cohn's chances for the Fed job could be harmed if he were to resign from his current position.
Cohn said in the Financial Times interview that a tax overhaul is the White House's "No. 1 focus right now" and that the president will begin a big push on it next week, including an appearance in Missouri on Wednesday.
___
Lemire reported from New York. Associated Press writers Josh Boak in Rochester, New York, Martin Crustsinger in Jackson Hole, Wyoming, and Ken Thomas and Mary Claire Jalonick in Washington contributed to this report.