Trump administration weighs health insurance 'stabilization'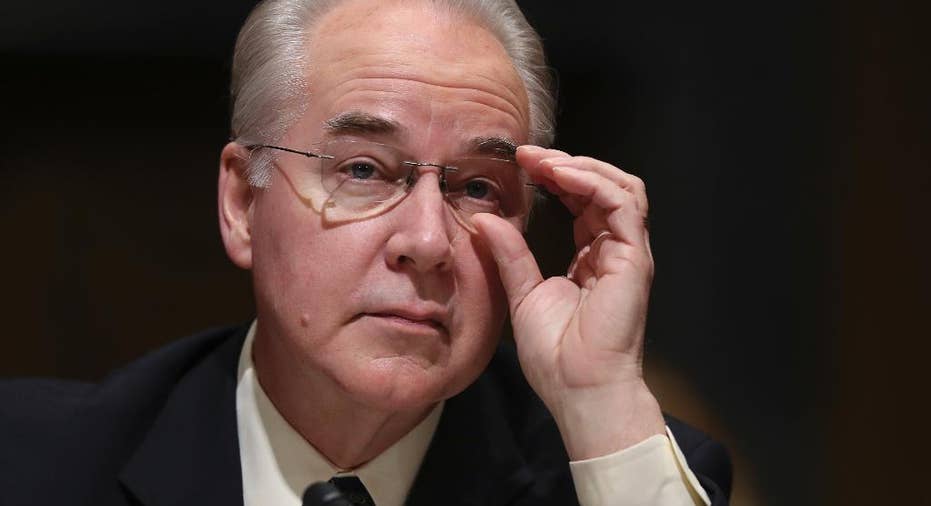 Worried about the nearly 20 million people who buy their own health insurance policies, the Trump administration and congressional Republicans are weighing how to stabilize a wobbly market, government and industry officials say.
The goal is to soothe jittery insurance companies that may bolt next year, while reassuring consumers anxious about the future. That could also buy time for more ambitious GOP attempts to rework the health care law.
Some of the changes can be carried out single-handedly by the new administration, but others may require congressional action or cooperation.
The measures would affect not just those consumers on the subsidized marketplaces under "Obamacare," but also people purchasing directly from an insurer or through an independent agent. The two groups have become intertwined. This year's sharp premium increases in the health law markets also hit consumers buying individual policies on the outside, but they are not eligible for financial assistance from the government.
No final decisions appear to have been made. Trump administration officials would not comment ahead of an expected Senate vote on confirming Georgia Rep. Tom Price as the new health secretary.
But a Republican congressional aide familiar with the internal discussions said the regulatory changes that the administration is considering include:
— Tightening rules for "special enrollment periods" that allow consumers to sign-up outside of the standard open enrollment window. Insurers have complained that some people take advantage of such opportunities to get coverage when they need care and later drop out, raising costs for everyone else.
— Loosening a provision of the Affordable Care Act that prevents insurers from charging older customers more than three times the premium for young adults. It's unclear how this would happen, since the limitation is specified in the law. But the GOP aide said the administration might be able to find wiggle room. Before the Obama health law, insurers routinely charged older customers five times or more what younger people paid. The ACA has made insurance more affordable for older adults, but critics say that's pricing out the young and healthy. AARP is already mobilizing to try to head off any attempt to make older customers pay more.
— Shortening the 90-day grace period to pay premiums for consumers who get subsidized coverage. Insurers complain this makes it easier for people to game the system.
— Shortening the current health law sign-up season, which runs about 90 days.
— Relaxing rules on how insurers structure their networks of hospitals and doctors. Republicans tend to think those should be set by states.
The GOP aide spoke on condition of anonymity to discuss internal deliberations. Another person familiar with the administration's thinking said the points were on target. The regulatory changes mirror requests by insurers, who argue they would help check premiums.
A White House regulatory website lists a health insurance market stabilization rule as "pending review."
Along with the administration, congressional Republicans would have a role to play in stabilizing the markets, by stepping back from several previous efforts to block "Obamacare" financing.
Chief among them is the fate of billions in subsidies that help low- and moderate-income people cover high insurance deductibles and copayments. More than half of the consumers in the government marketplace get these subsidies, and insurers say they are essential. House Republicans have questioned their legality.
Other financing issues involve the health care law's complicated internal system for stabilizing premiums. It has not worked as intended, partly because of GOP efforts to deny financing to the Obama administration.
After promising to quickly shred Obama's law and replace it with a conservative approach, Republicans seem to be slowing down and thinking things over. Every lawmaker has thousands of constituents potentially affected.
At a hearing last week, House Energy and Commerce Committee Chairman Greg Walden, R-Ore., answered critics by saying it's "beyond the pale" to suggest that Republicans just want to cut coverage.
He said the country isn't going back to the days when "through no fault of your own (if) you have some disease that keeps coming at you ... sorry, you're on your own and you're destitute.
"That's not the choice here," said Walden. "The choice is how we get it right."
About 12 million people have signed up for coverage this year through the health law's subsidized markets, according to federal and state figures.
Congressional experts estimate that another 8 million buy individual policies outside the government markets. Consumers in this group get no federal subsidies, but they have also seen their premiums shoot up. Many are self-employed business people or early retirees, constituencies considered receptive to Republicans.