Trump, Abe confirm will increase pressure on North Korea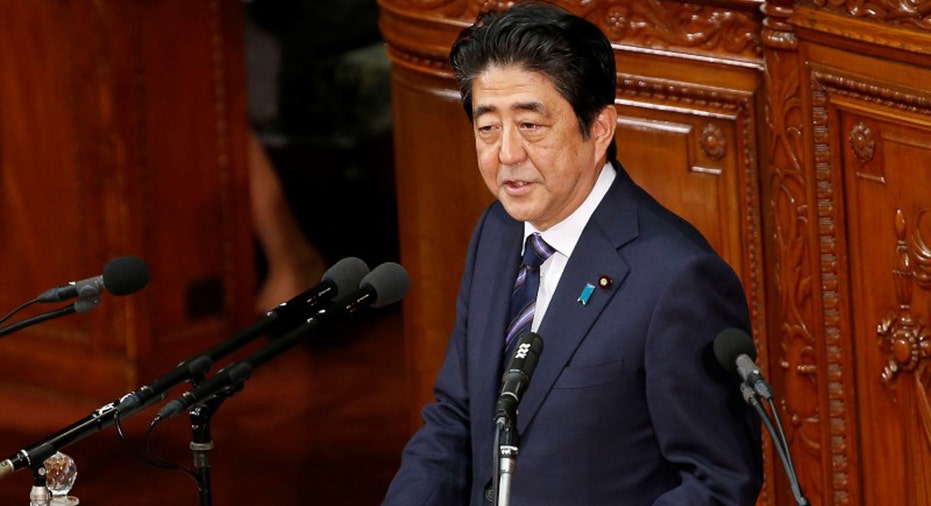 U.S. President Donald Trump and Japanese Prime Minister Shinzo Abe confirmed in phone talks that they would step up pressure on North Korea in cooperation with South Korea, a Japanese government spokesman said on Monday.
The bilateral talks were aimed at confirming close cooperation among the United States, Japan and South Korea before a Group of 20 summit meeting to be held in Hamburg, Germany, later this week, the spokesman said.
Trump was also scheduled to talk by phone with Chinese President Xi Jinping, the White House said on Saturday.
Trump held a summit with Xi in April. The U.S. president has been focused on trying to work with China to ratchet up pressure on North Korea over its nuclear and ballistic missile programs, which are a threat to the United States and allies South Korea and Japan.
He met with South Korean President Moon Jae-in at the White House on Friday, and is slated to hold bilateral meetings with Xi, Abe and Moon at the G20 summit.
After the talks with Moon, Trump said the United States was renegotiating what he characterized as a "rough" trade deal with South Korea agreed to five years ago by his predecessor, Barack Obama. He also reiterated that an era of "strategic patience" over North Korea's nuclear and ballistic missile programs had ended.
Despite the tough rhetoric, it remains unclear how Trump will find a way forward on North Korea, which is working to develop a nuclear-tipped missile capable of hitting the United States.
Trump has recently taken a tougher line with China about Beijing's need to rein-in North Korea.
On Sunday, a U.S. warship sailed near a disputed island in the South China Sea claimed by China, Taiwan and Vietnam in an operation meant to challenge the competing claims of all three nations, a U.S. Defense Department official said.
The USS Stethem, a guided-missile destroyer, sailed within 12 nautical miles of Triton Island, part of the Paracel Islands in the South China Sea, the official said.
It was the second "freedom-of-navigation operation," or "fonop," conducted during the presidency of Donald Trump, following a drill in late May in which a U.S. warship sailed within 12 nautical miles of an artificial island built up by China in the South China Sea
(Reporting by Takaya Yamaguchi; Writing by Kaori Kaneko; Editing by Bill Tarrant)