Trudeau: Canada could stop dealing with Boeing over dispute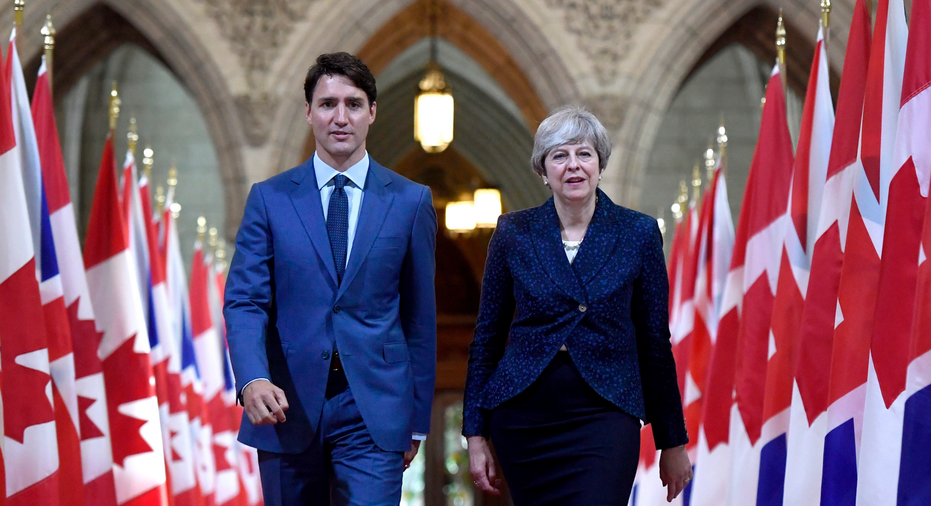 Prime Minister Justin Trudeau said Monday his government could stop doing business with Boeing if the U.S. company doesn't drop a trade complaint against Canadian plane maker Bombardier.
Trudeau said Canada "won't do business with a company that's busy trying to sue us and put our aerospace workers out of business."
Canada had been in talks to purchase 18 Super Hornet fighter jets from U.S. aerospace giant Boeing, but those have been on hold because of the Bombardier dispute. Trudeau's comments are Canada's strongest yet.
Chicago-based Boeing's complaint claims Bombardier's new C Series passenger aircraft receives Canadian government subsidies that give it an advantage internationally.
The complaint prompted a U.S. Commerce Department anti-dumping investigation that could result in penalties for Bombardier. A preliminary decision is expected next week and a final decision could include financial penalties.
Boeing spokesman Scott Day took issue with Trudeau, saying Boeing is not suing Canada.
"This is a commercial dispute with Bombardier, which has sold its C Series airplane in the United States at absurdly low prices, in violation of U.S. and global trade laws. Bombardier has sold airplanes in the U.S. for millions of dollars less than it has sold them in Canada, and millions of dollars less than it costs Bombardier to build them," Day said in an emailed statement.
"This is a classic case of dumping, made possible by a major injection of public funds."
Trudeau spoke during a news conference with British Prime Minister Theresa May.
Bombardier is also a major employer in Northern Ireland, with over 4,000 workers in Belfast. May said she brought up the issue with U.S. President Donald Trump in a telephone call recently and said she'll reiterate Bombardier's importance to Northern Ireland when she meets with Trump this week.
Boeing petitioned the U.S. Commerce Department and the U.S. International Trade Commission to investigate subsidies of Montreal-based Bombardier's C Series aircraft. Boeing says Bombardier has received more than US$3 billion in government subsidies that let it engage in "predatory pricing."
Brazil has also launched a formal complaint to the World Trade Organization over Canadian subsidies to Bombardier. Sao Paolo-based Embraer is a fierce rival of Bombardier's.
The Quebec government invested US$1 billion in exchange for a 49.5 percent stake in the C Series last year. Canada's federal government also recently provided a US$275 million loan to Bombardier, which struggled to win orders for its new medium-size plane.
Bombardier won a 75-plane order for the C Series from U.S.-based Delta Air Lines in 2016. Bombardier said its planes never competed with Boeing in the sale to Delta.
The Canadian government said late last year it would enter into discussions on buying 18 Super Hornet jet fighters from Boeing on an interim basis and hold an open competition to buy more planes over the next five years. Canada remains part of Lockheed Martin's F-35 Joint Strike Fighter program.
Canadian Defense Minister Harjit Sajjan previously said Boeing's action against Bombardier is "unfounded" and not the behavior of a "trusted partner." He said buying the Super Hornet fighter jets "requires a trusted industry partner."