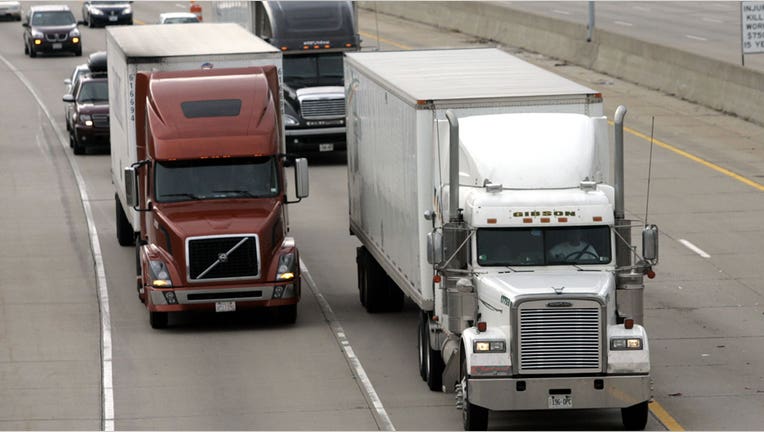 Swift Transportation is merging with Knight Transportation in a stock swap that would combine two of the biggest operators in a wavering U.S. trucking sector, which together are worth more than $5 billion.
As part of the deal, announced Monday, each Swift share would be converted into 0.72 share of the new entity through a reverse stock split. Knight shares would be exchanged one-for-one. Swift shareholders would own 54% of the new company, with Knight holders owning the rest.
The Wall Street Journal had reported the deal overnight.
The new group is to be named Knight-Swift Transportation Holdings Inc. and each company's brands and operations would remain distinct. The deal values Swift shares at $22.07, about a 10% premium to their closing price Friday.
Swift's market value stood at $2.7 billion Friday and Knight's at $2.5 billion.
Swift is the fifth-largest trucking company in the U.S. in terms of revenue and Knight is 22nd, according to industry researchers SJ Consulting Group -- behind competitors including United Parcel Service Inc. and FedEx Corp.
Swift and Knight, both based in Phoenix, are among the top carriers in the highly fragmented market for truckload services, in which customers including retailers and manufacturers buy space on entire trucks for long transport runs, typically more than 500 miles.
The deal would be the biggest acquisition in the trucking business since XPO Logistics Inc. agreed to buy Con-way Inc. for $3 billion in 2015.
The profits and share prices of both Knight and Swift, which ranks as the country's biggest truckload carrier, have stumbled since last year as truckers cope with weak pricing, excess capacity, tepid demand and changing shipping patterns brought about by the growth of e-commerce. Knight in January lowered its earnings guidance for the first quarter, saying trucking supply still outpaces demand, although the company expects improvements later this year.
Each company's shares have fallen more than 20% since early December, with Knight ending Friday at $30.65 while Swift finished at $20.02.
Swift's closest competitor in the truckload sector, Schneider National Inc., last week launched an initial public offering on the New York Stock Exchange, bringing Schneider new backing for an aggressive growth strategy.
Besides offering a similar array of basic truckload, refrigerated-transport and freight-brokerage services, Swift and Knight share history.
Randy Knight, who founded Knight Transportation in 1990 with three cousins, was a former part-owner of Swift under then-Chairman Jerry Moyes. Mr. Moyes, who started Swift in 1966, retired at the end of last year, leaving Richard Stocking as chief executive.
Mr. Moyes, a director and controlling shareholder of Swift, is to be on the combined company's board but will have a diminished role, with 24% of the new company's shares. He will be allowed to name another board member, Swift will name two and up to 10 will come from the current Knight board.
Although they are close in market capitalization, Swift's $4.0 billion in operating revenue last year was nearly four times Knight's top line.
The combined business would own 23,000 truck-tractors and have 28,000 employees. The companies will maintain their separate branded operations but will work under a holding company structure that adds new corporate controls.
Write to Paul Page at paul.page@wsj.com