TripAdvisor Follows the Online Travel Industry Lower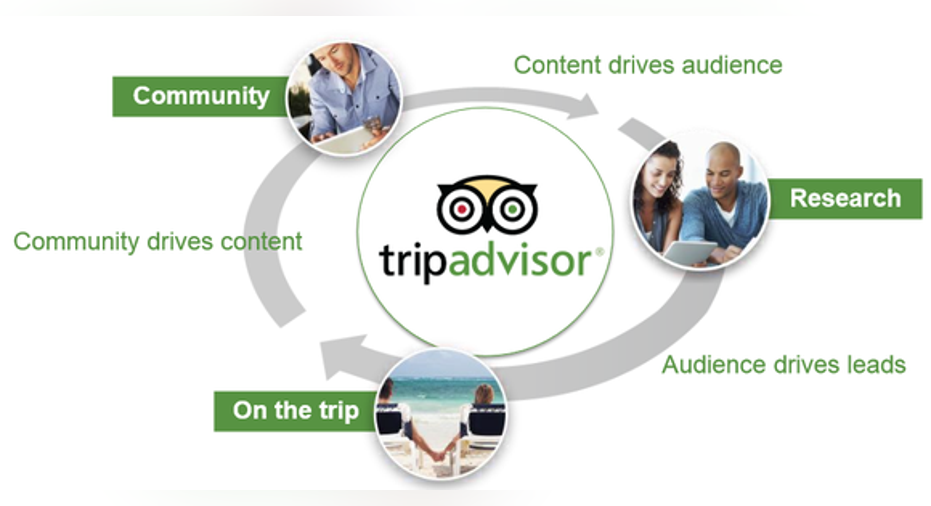 Image: TripAdvisor.
Online travel company TripAdvisor has done a good job of reinventing itself since it became an independent company, moving beyond its review business to create an instant-booking service and make its impression in the hotel and travel services arena. Yet the industry has come under pressure recently, and coming into Wednesday's first-quarter financial report, TripAdvisor shareholders were bracing for only modest sales growth and a sizable decline in earnings. What TripAdvisor said was arguably even more alarming, because sales dropped from year-ago levels and net income was down much more sharply than most had expected. Let's take a closer look at TripAdvisor's latest results to see whether investors should draw any conclusions about the future of online travel.
TripAdvisor hits an air pocketTripAdvisor's first-quarter results failed to meet expectations on all major fronts. Revenue was down 3% to $352 million, leaving far below the $370 million consensus forecast among those following the stock. Net income also struggled, falling more than 40% on an adjusted basis to $47 million and producing adjusted earnings of $0.32 per share, which was $0.14 less than investors had expected.
Looking more closely at TripAdvisor's numbers, some of the headwinds that have held back growth actually let up during the quarter. The strong dollar weighed on TripAdvisor's results, for example, but it only cost the company about two percentage points of potential sales growth.
Yet some of the past trends that investors have seen at TripAdvisor remained squarely in place. For instance, click-based advertising revenue continued to slump, falling 13% from the year-ago quarter. However, display-based advertising revenue rose by 11%, and similar double-digit percentage gains in the other hotel category and from non-hotel sources pointed to a sizable disparity among core revenue-generating areas.
Similarly, geographic regional performance was consistent with past trends. The company didn't directly report figures, but the share of revenue TripAdvisor got from North America rose by four percentage points, coming primarily at the expense of the Europe/Middle East/Africa segment. Shares of revenue from the Asia-Pacific and Latin American segments also fell slightly.
Even with the headwinds, CEO Steve Kaufer looked ahead to the long-term impacts of the company's recent work. "With the global launch of instant booking now substantively complete," Kaufer said, "users around the globe can now seamlessly book hotels on TripAdvisor." The CEO put that feat in context, calling it "an imperative step as we continue navigating the path toward creating the best user experience in travel."
Can TripAdvisor bounce back? The value of TripAdvisor's network is still increasing, given its rising levels of traffic and activity. Average monthly unique visitors hit 340 million during the quarter, with 350 million reviews covering more than 1 million hotels, 4 million restaurants, 775,000 vacation rentals, and hundreds of thousands of attractions and other experiences. The mobile space has become an increasingly important part of TripAdvisor's business, hitting more than half of overall unique users and driving more downloads of TripAdvisor's apps.
With its recent moves, TripAdvisor has now finished half of its four-phase strategic roadmap. With hotel partners onboard and the global rollout of the instant booking launch complete, TripAdvisor now expects to help more users book on the site and make that booking experience optimal for users regardless of device. The final step will be to establish the TripAdvisor brand as a preferred booking site for customers, building loyalty and encouraging repeat visits.
Even with the company's strong hopes for the future, TripAdvisor shareholders didn't seem so share, pushing the stock down another 3% after-hours following a poor showing in the regular trading-day session immediately before the afternoon announcement. TripAdvisor will need to keep looking for ways to break out of the malaise that many travel websites are suffering from right now before it can start thinking about long-term success.
The article TripAdvisor Follows the Online Travel Industry Lower originally appeared on Fool.com.
Dan Caplinger has no position in any stocks mentioned. The Motley Fool owns shares of and recommends TripAdvisor. Try any of our Foolish newsletter services free for 30 days. We Fools may not all hold the same opinions, but we all believe that considering a diverse range of insights makes us better investors. The Motley Fool has a disclosure policy.
Copyright 1995 - 2016 The Motley Fool, LLC. All rights reserved. The Motley Fool has a disclosure policy.