Treasury Secretary Steven Mnuchin: 3 Things to Know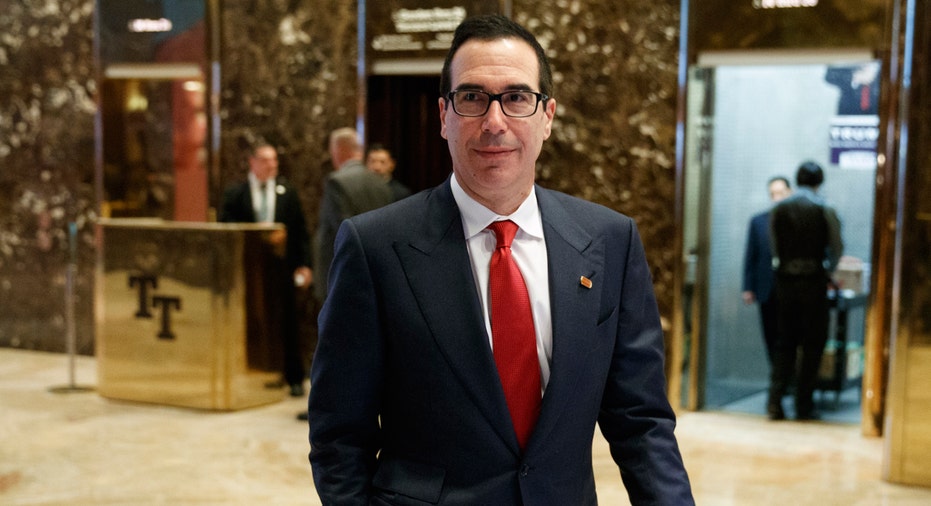 Steven Mnuchin, who was confirmed Monday night as the nation's new secretary of the Treasury, is looking for major reforms in housing and other areas under the Trump administration.
The hedge fund manager is a former executive and partner at Goldman Sachs (NYSE:GS), where he spent 17 years before founding Dune Capital Management. The firm has invested in Trump International projects.
Mnuchin is also a well-known figure in Hollywood. In partnership with RatPac Entertainment, Dune Capital Management has bankrolled dozens of Hollywood films. Mnuchin has served as executive producer of "American Sniper" and new release "The LEGO Batman Movie," among other movies. He also had a cameo in Warren Beatty's 2016 film  "Rules Don't Apply", playing a Merrill Lynch banker.
Here's what you need to know about Mnuchin's priorities as head of the U.S. Treasury:
Housing Reform
Mnuchin has backed the idea of privatizing Fannie Mae (OTC:FNMA) and Freddie Mac (OTC:FMCC), the mortgage buyers that were bailed out by the U.S. government and put into conservatorship in 2008.
"We've got to get Fannie and Freddie out of government ownership. It makes no sense that these are owned by the government and have been controlled by the government for as long as they have," Mnuchin told the FOX Business Network's Maria Bartiromo in November.
He added, "So let me just be clear. We'll make sure that when they're restructured they're absolutely safe and they don't get taken over again. But we've got to get them out of government control."
However, Mnuchin tempered those remarks during his confirmation hearing in front of Senate lawmakers. He suggested that Fannie and Freddie can remain under government control, but changes are necessary to avoid "completely limiting housing finance."
"What I've said and I believe is we need housing reform. So we shouldn't just leave Fannie and Freddie as is for the next four or eight years under government control without a fix," he said.
Tough on Tax Inversions
Mnuchin voiced his support for actions taken by the U.S. Treasury Department during the Obama administration to curb tax inversions—a strategy used by domestic corporations to capitalize on lower corporate taxes overseas.
As Treasury secretary, Mnuchin will seek to incentivize the repatriation of U.S. corporate cash and "stop things like inversions because it makes economic sense for U.S. companies to do business here," he told the Senate Committee on Finance.
Tax inversions are carried out when a U.S. company moves their headquarters outside the country after acquiring a company in the U.K., Ireland, Canada or another nation with lower tax rates. Currently, the U.S. corporate tax rate is among the highest in the world, at nearly 40%, according to the Tax Foundation.
Mnuchin said tax reform, including tax cuts for individuals, shouldn't add to the deficit. President Donald Trump's plan calls for reducing tax rates and eliminating deductions for higher earners. Trump said Thursday an outline of the plan will come in "two or three weeks."
Consumer Financial Protection Bureau
The CFPB, an independent bureau born out of the Dodd-Frank law, was created as a consumer watchdog charged with overseeing banks, credit unions, mortgage lenders and other financial institutions. Critics say the CFPB has overstepped its authority granted by Congress in 2010. Some Republicans on Capitol Hill are leading an effort to oust the CFPB's head, Richard Cordray.
Mnuchin believes the CFPB should no longer operate under the Federal Reserve.
"The biggest issue I have with the CFPB is that I don't believe that they should be funded out of profits from the Federal Reserve. I think they should be funded out of an appropriations process," he said.
Last month, supporters of the CFPB stepped up legal efforts to save the bureau, as reported by FOX Business, likely preparing to take on Mnuchin in his new role.