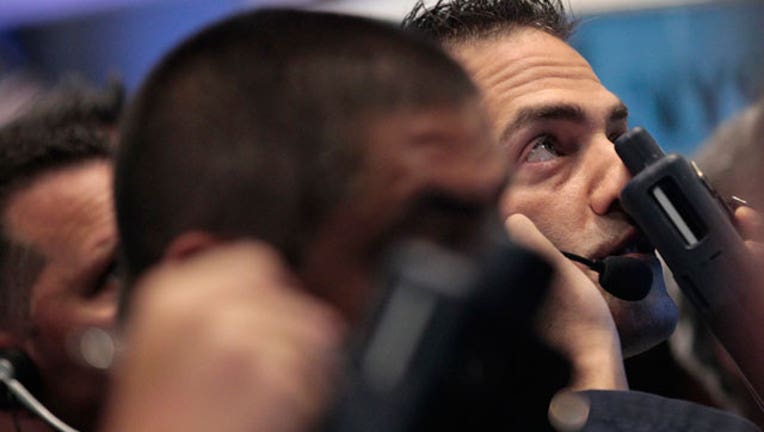 As America tumbles to the brink of the fiscal cliff, Wall Street has embarked on a rocky year-end retreat. Traders say to expect the intense volatility to persist into Monday as last-minute negotiations drag on.
The major market averages dropped for the fifth day in a row Friday, ending right at session lows on news President Barack Obama failed to offer a fresh plan at a White House meeting with congressional leaders. The losing streak was the longest since July for the Dow and September for the broader S&P 500. The selling has put a dent into annual gains, with the S&P 500 now pointing to year-to-date gains of 11.5%.
The focus is expected to remain squarely on Capitol Hill during the final trading session of the year Monday. Market participants said it is difficult to predict which direction the markets will move when the opening bell rings in New York given the fluidity of the situation. One thing is for sure, though, most are expecting a tumultuous ride.
"Wall Street traders are already on edge this weekend as we enter the final trading day of 2012," said Todd Schoenberger, managing partner at LandColt Capital. "Investors should prepare themselves for a violently volatile trading session on Monday."
Schoenberger expects a relatively calm open, but said volatility is likely to ramp up as the day progresses, particularly if no deal is forged.
One of the first indications market participants received was early trading in U.S. stock-index futures. The benchmark contracts rose modestly, but still pointed to an open at a steep discount to Friday's close as a result of selling in futures markets after the bell Friday. Dow futures traded at 12808, compared to Friday's close of 12938. Generally, trading volumes are low at that time, which can lead to overnight volatility.
Another gauge traders will be keeping a close eye on is the VIX, sometimes referred to as Wall Street's fear gauge. The measure jumped above the 20 mark for the first time since July last week, closing at 22.7 after taking a big jump on Friday.
As of Sunday afternoon, lawmakers in the Senate were still struggling to make a deal. A democratic Senate aide told Fox News there was a "major setback" in discussions. Senate Majority Leader Harry Reid later said lawmakers were "making progress" but cautioned that "we don't have a deal." House Speaker John Boehner has repeatedly called on the Senate to act first.
If a deal can't be crafted in time, a slew of painful spending cuts and tax hikes are set to kick in early next year. Wall Street has been paying particularly close attention since many economists reckon triggering the fiscal cliff could lead to a mild recession in the first quarter of next year. Indeed, a report from the Conference Board last week noted the specter of the fiscal cliff weighed heavily on consumer confidence in December.
Chad Pergram contributed reporting from Washington, D.C.