Trade war fears stalk global markets ahead of G20 meeting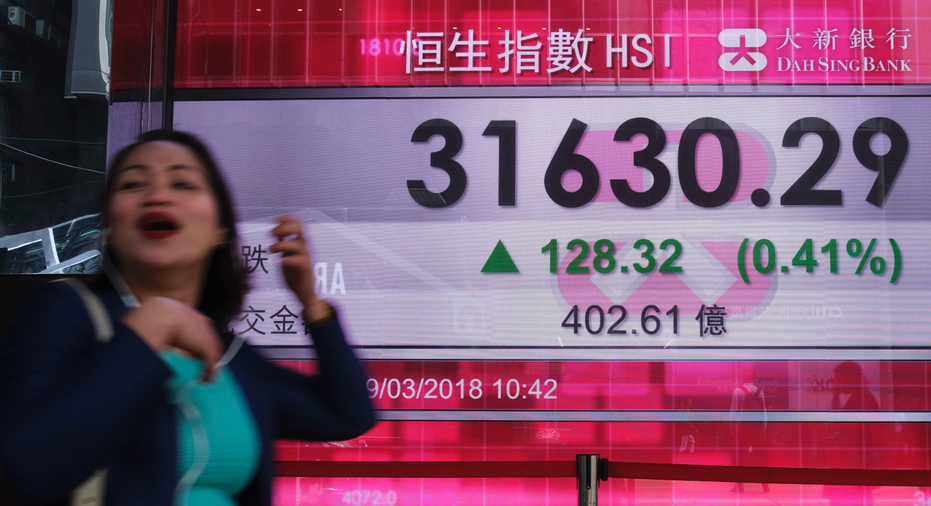 Global stock markets have started the new week on a soft note, weighed down by worries about a trade war.
KEEPING SCORE: In Europe, the FTSE 100 index of leading British shares was down 1.2 percent at 7,078 while Germany's DAX fell 0.6 percent to 12,314. France's CAC-40 was 0.5 percent lower at 5,255. U.S. stocks were poised for a soft opening, with Dow futures and the broader S&P 500 futures 0.5 percent lower.
TRADE WORRIES: With finance ministers and central bankers from the Group of 20 leading industrial and developing nations meeting in Buenos Aires Monday and Tuesday, there is mounting concern that a global trade war may be looming following the decision of U.S. President Donald Trump to slap tariffs on imported steel and aluminum. The European Union, for example, has already published a list of American products it plans to tax if it is not exempted from the tariffs announced by Trump. They are worth around 2.8 billion euros ($3.4 billion) in trade annually, but the list could grow to the equivalent of 6.4 billion euros once the full extent of the impact of U.S. tariffs is known.
ANALYST TAKE: "It's been a rocky start to trading at the start of the week, as the prospect of a trade war becomes ever more real," said Craig Erlam, senior market analyst at OANDA. "Despite what he says, I'm not sure that a trade war is what Trump actually wants from these tariffs or that he'll find much support for one within his party."
FED WATCH: Investors will also be closely monitoring this week's first meeting of the U.S. Federal Reserve's rate-setting committee under newly appointed Fed chairman Jerome Powell. Another quarter-point increase in the Fed's benchmark rate is anticipated. More important for investors is what the Fed says about the U.S. economic outlook and in particular its forecasts for inflation. "Jay Powell's first meeting as chairman will end with a rate hike, but the accompanying statement's tone and forecast update will be key for markets," said James Knightley, chief international economist at ING.
CHINA'S NEW FACES: A U.S.-trained economist was named to succeed longtime Chinese central bank governor Zhou Xiaochuan as part of a slate of new economic officials. The appointments come as Beijing tries to rein in surging debt and reduce financial risk. The new governor of the People's Bank of China, Yi Gang, is a 20-year veteran of the bank and known to foreign investors and regulators as head of China's foreign exchange regulator.
ASIA'S DAY: The Shanghai Composite Index added 0.3 percent to 3,279.25 while Tokyo's Nikkei 225 fell 0.9 percent to 21,480.90. Hong Kong's Hang Seng added 12 points to 31,513.76 and Seoul's Kospi lost 0.8 percent to 2,475.03. Sydney's S&P-ASX 200 advanced 0.2 percent to 5,959.40.
ENERGY: Benchmark U.S. crude fell 9 cents to $62.32 per barrel in electronic trading on the New York Mercantile Exchange while Brent crude, used to price international oils, rose 5 cents to $66.26 per barrel in London.
CURRENCIES: The euro was up 0.2 percent at $1.2314 while the dollar rose 0.4 percent to 106.29 yen.