Total System Services Stock Upgraded: 3 Things You Need to Know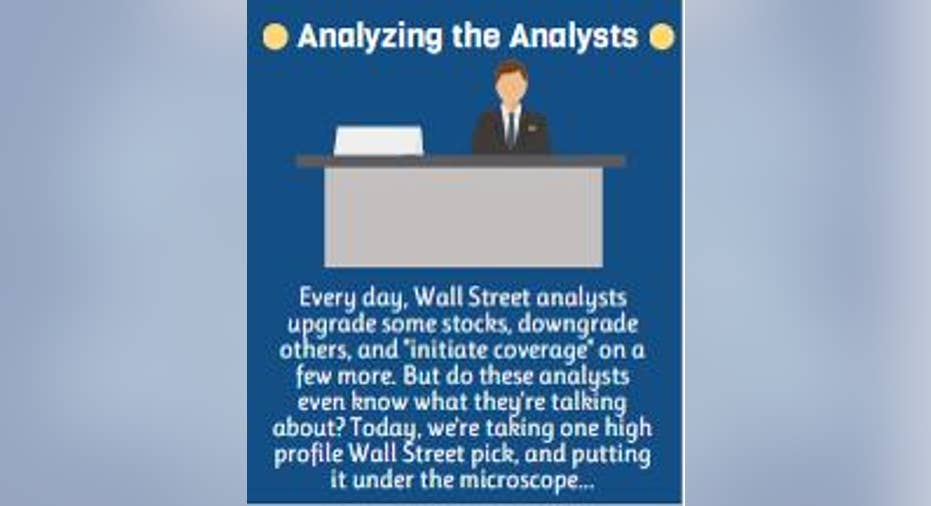 It's another red day for the stock market, with the Dow off by a fraction of a percent, and the Nasdaq down more than one full percentage point.But over at Total System Services stock, the ticker is glowing a warm and lovely shade of green.
The newsMuch of the credit for this goes to Total System Services itself, which yesterday reportedan earnings beat of pleasing proportions -- $0.66 per share in profits, where only $0.61 had been expected. Revenue at the card payments processor likewise exceeded expectations, where $739 million in sales exceeded expectations by about 4%.
What's really getting investors excited today, though, is the new guidance that Total System Services has released -- and the analyst upgrade it sparked. Here are three things you need to know.
TSYS Tablets make it easy for merchants to accept credit and debit card payments. Image source: Total System Services.
Thing No. 1: Wells Fargo says all's well with TSYSWells Fargo is one of the better analysts we track here at Motley Fool CAPS, outperforming 90% of the investors on the planet. And as reported this morning on TheFly.com, Wells Fargo is responding to Total System Services' strong performance by upgrading the stock to outperform -- and raising its price target nearly 20%, to somewhere between $60 and $62 a share.
Thing No. 2: "Strong momentum"What's got Wells feeling so bullish about Total Systems Services stock? Well, the earnings beat certainly doesn't hurt. But more importantly, Wells Fargo seesTSYS building on Q1's strong performance, and showing "strong momentum" in the year ahead.
At last report, analysts saw Total System Services earning perhaps $2.61 through the end of this year, and raking in revenue of $2.94 billion. New guidance out of the company, however, shows management now predicting$2.78 to $2.85 per share in profit on more than $3 billion in revenue.
Thing No. 3: Buy the numbers?What does this mean to investors? Analyst projections for Total System Services stock still call for just 6% earnings growth this year, 8% in 2017, and perhaps 11% long-term. And yet, TSYS just reported better than 22% earnings growth in Q1, and now says it will grow (adjusted) earnings 13% to 16% this year.
That's more than twice the growth analysts were expecting.
The most important thing: ValuationBut does all this make Total System Services stock a buy? Let's consider:
According to data from S&P Global Market Intelligence, over the last 12 months, Total System Services earned $377 million and generated just under $533 million in positive free cash flow. Weighed against the company's $9.7 billion market capitalization, that works out to a P/E ratio of 25.6, but a price-to-free-cash-flow ratio of only 18.1.
Combined with Total System Services' modest 0.8% dividend yield, the top growth rate management is projecting (16%) might be fast enough to justify the stock's 18 P/FCF ratio. But before rushing ahead, joining the crowd, and buying the stock, let's be cautious and take a more conservative view.
S&P Global data show that over the past year, TSYS has spent $149 million on the acquisition of intangible "software assets." The company has spent similar sums on similar assets in each of the past three years, so it's safe to say this is now a part of Total System Services' business strategy -- it's an ongoing expense, and thus must be deducted from free cash flow. Were we to do that, Total System Services' free cash flow number would fall to $384 million. Additionally, TSYS carries a large debt load, amounting to about $1 billion after offsetting cash.
So...valuing Total System Services conservatively, were we to compare $384 million FCF to its debt-adjusted market cap (its enterprise value) of $10.7 billion, that would give us an EV/FCF ratio of 27.8 on the stock.
And here's the question you need to ask yourself as an investor: Is 11% long-term growth fast enough to justify paying nearly 28 times free cash flow to own Total System Services stock? What about the 13% to 16% growth than management is projecting? For that matter, is even the 23% growth management produced in Q1 fast enough to justify paying 28 years' worth of cash profits today, to buy a share of Total System Services?
Wells Fargo thinks yes. But I vote no.
The article Total System Services Stock Upgraded: 3 Things You Need to Know originally appeared on Fool.com.
Fool contributorRich Smithdoes not own shares of, nor is he short, any company named above. You can find him onMotley Fool CAPS, publicly pontificating under the handleTMFDitty, where he's currently ranked No. 297 out of more than 75,000 rated members.The Motley Fool owns shares of and recommends Apple. Try any of our Foolish newsletter services free for 30 days. We Fools may not all hold the same opinions, but we all believe that considering a diverse range of insights makes us better investors. The Motley Fool has a disclosure policy.
Copyright 1995 - 2016 The Motley Fool, LLC. All rights reserved. The Motley Fool has a disclosure policy.