Toshiba Expects $6.3B Write-Down, Chairman Resigns, Shares Plummet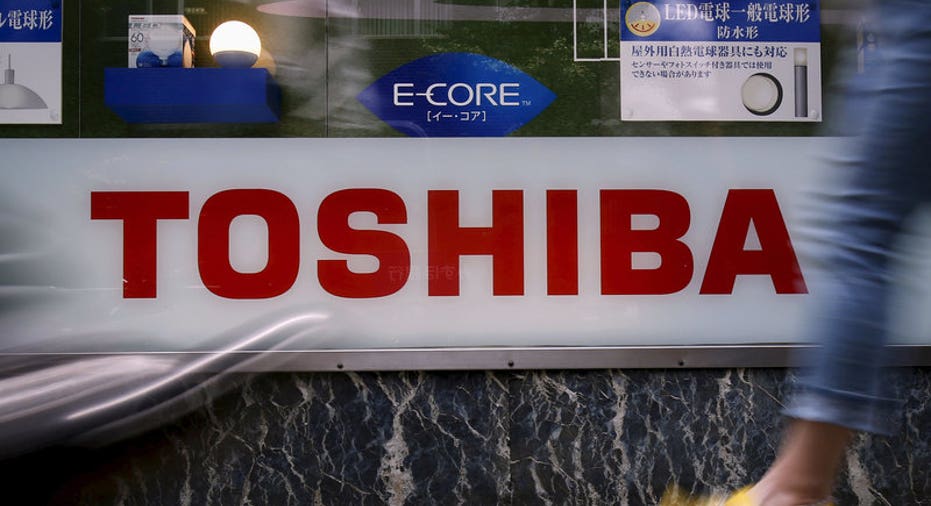 Toshiba said Tuesday it expected to book a $6.3 billion write-down on its nuclear business because of cost overruns in U.S. projects, but it postponed issuing its official earnings results after a whistleblower warned of possible improprieties at the nuclear unit.
The delay in releasing results sent Toshiba shares down 8% in Tokyo trading and deepened the turmoil at the 140-year-old Japanese electronics giant, which barely survived an accounting scandal in 2015.
Toshiba said it was studying a sale of a majority stake in its main remaining crown jewel, a memory-chip business that supplies smartphone makers such as Apple. The company said its shareholder equity fell into negative territory as of Dec. 31, leaving just a month and a half to find ways to get back above zero before its fiscal year ends March 31.
The company had been scheduled to announce its April-December results at noon local time on Tuesday, the final day for companies to release quarterly results under Tokyo Stock Exchange rules. But after that hour came and went with no release, Toshiba said it was asking for a one-month delay.
It said an internal whistleblower had raised suspicions that management at its U.S. nuclear subsidiary, Westinghouse Electric Co., had exerted inappropriate pressure over the unit's accounting. It said a law firm hired by Toshiba had interviewed those involved in the issue and found multiple inconsistencies in their stories.
Toshiba said it couldn't release official results while the investigation continued, so it was asking for a one-month delay. It didn't give details about the alleged pressure.
Later Tuesday, the company released a presentation containing many of the numbers that would normally go in an official results release. That is where the company said it expected to take a Yen712.5 billion ($6.3 billion) write-down on the nuclear business. Toshiba also said it expected to record an operating loss of Yen544.7 billion during the April-December period owing to the impairment charge.
Toshiba said it would overhaul its nuclear business. The company's chairman, Shigenori Shiga, an executive long involved in nuclear matters, will resign effective Wednesday, while Danny Roderick, former head of Westinghouse Electric, will give up his executive position at Toshiba's Tokyo headquarters and focus on resolving Westinghouse's problems, Toshiba said.
The company confirmed reports that it would stop building nuclear power plants and focus on selling reactor designs as well as nuclear services.
The nuclear losses stem from cost overruns at two U.S. facilities still under construction--reactors in Georgia and South Carolina commissioned by utilities Southern Co. and Scana Corp., respectively.
To end litigation over cost overruns, Toshiba's Westinghouse unit in 2015 made a deal to acquire Stone & Webster, its construction partner on the U.S. nuclear projects. Westinghouse and its parent became the only guarantor on the projects, meaning that if the reactors couldn't be completed in a timely manner, Toshiba would shoulder the costs.
Toshiba provided some details Tuesday on the cost overruns, saying labor costs were expected to run $3.7 billion more than earlier calculations, while contractors and materials were responsible for $1.8 billion in cost overruns.
Investors said the turmoil left them uncertain whether Toshiba had a viable survival plan. "They are losing trust," said Ichiro Yamada, general manager of the equities department at Fukoku Mutual Life Insurance Co. He said it wouldn't be easy for Toshiba to recover quickly because it has already sold several of its healthier businesses.
Kosaku Narioka contributed to this article.
Write to Takashi Mochizuki at takashi.mochizuki@wsj.com