Top Tech Stocks for Growth Investors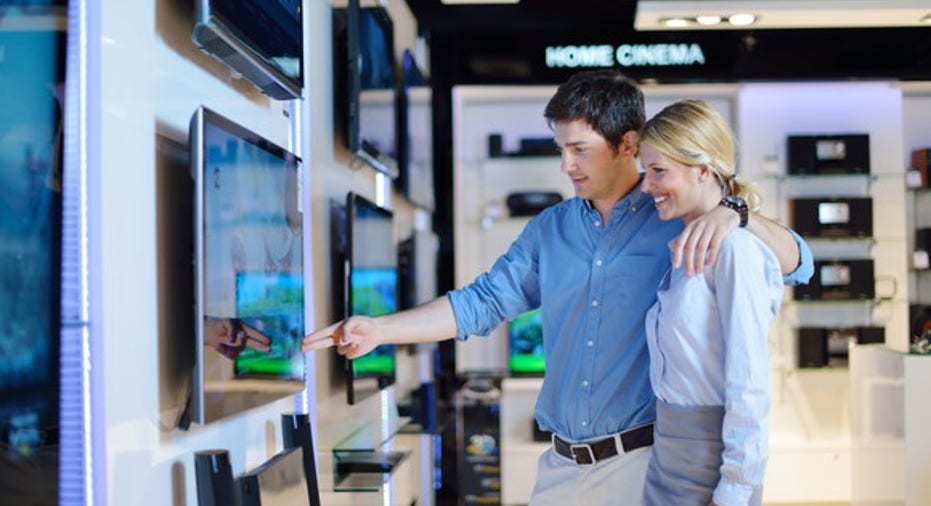 Few things excite investors more than market-thumping sales growth. With that in mind, we asked three Motley Fool contributors to highlight a few promising tech companies that boast unusually bright prospects for the coming years.
Read on to find out why salesforce.com (NYSE: CRM), Universal Display (NASDAQ: OLED), and Netgear (NASDAQ: NTGR) make the cut.
Image source: Getty Images.
Big is beautiful
Demitri Kalogeropoulos (Salesforce.com): In the enterprise software industry, size isn't as much an impediment to growth as it is a catalyst for it. That helps explain why Salesforce, the leading customer relationship management (CRM) company, has seen its revenue double over the last three years.
Phenomenal gains in cloud-based services and platforms have been key to that spike, and the good news is that Salesforce hasn't had to sacrifice its financial strength to soak up market share in this area. Annual cash flow has almost tripled since fiscal 2014 even as non-GAAP profit margin jumped 4 full percentage points to 13% of sales.
Salesforce faces strong competition, especially from large rivals like Oracle. Yet the company is still on track to pass $10 billion of annual revenue this fiscal year for what executives project will be a 22% gain over last year's result.Operating cash flow should improve at about the same heady pace. "No other software company of our size and scale is growing at this rate," Chief Operating Officer Keith Block told investors in late February.
Yes, investors have to pay up for that level of growth. The stock has more than doubled over the last five years and is priced at a hefty premium to both Oracle and IBM. Its price-to-sales ratio is 7, compared to 5 for Oracle and 2 for IBM. However, given its recent track record, and the fact that deferred revenue grew at a near-30% clip last quarter, I believe this CRM specialist will earn that premium as its industry segment expands dramatically over the next few years.
Bigger screens, brighter future
Anders Bylund (Universal Display): If you like your growth stocks to come from the "slow and steady" school of thought, Universal Display might not be for you. On the other hand, it's a great ticker for those of us who can shrug off long periods of relatively small gains -- followed by short bursts of intense growth.
Universal Display does the basic research behind technologies that put OLED screens on your Samsungsmartphones and high-end TV sets today. Tomorrow, OLED is moving into larger markets such as mainstream televisions and lighting panels.
Image source: Getty Images.
The literal size of the target device matters a lot to Universal Display's top and bottom lines. The company collects revenue through a combination of technology licenses, royalties on manufactured devices, and OLED material resales. Many of these income streams are tied directly to the total area of OLED materials the client uses, so a single 50-inch TV screen or OLED lighting panel is worth about as much to the company as 80 5.5-inch smartphone screens.
As OLED smartphones became commonplace in recent years, Universal has tripled its annual sales and bottom-line earnings in five years. Meanwhile, share prices have barely outperformed the S&P 500 market barometer.
With big-screen OLED TVs moving closer to an affordable price point, and OLED specialists poking and prodding at brand new markets for their favorite light-emitting materials, Universal Display is poised for another breakthrough in revenue and earnings growth.A share price jump should not be far behind.
A growth tech stock in disguise
Steve Symington(Netgear): I'll admit Netgear doesn't seem like much of a "growth" stock at first glance. The network hardware specialist saw revenue in the fourth quarter of 2016 climb just 1.9% year over year, to $367.9 million. Meanwhile, adjusted earnings grew just 8.6%, while adjusted net income per share increased 6%, to $0.88.
However, those results are skewed by Netgear's service provider business unit, which the company restructured in 2015 to reduce costs as service providers began a transition away from making wireline investments and toward wireless infrastructure. As such, service provider revenue fell 48.3% year over year last quarter, to $51.4 million. That's near the $55 million average run rate management has told investors to expect from the segment going forward, primarily as Netgear wisely opts to protect margins rather than chasing commoditized revenue growth.
Meanwhile, Netgear's retail and commercial businesses continue to thrive. Revenue from the latter climbed 17.9%, to $75.3 million last quarter thanks to high demand for Netgear's switching products. And sales from the former last quarter jumped more than 22%, to $241.2 million, due to strength in its popular high-margin Nighthawk routers, Orbi networking hardware, and Arlo wireless security cameras.
That's also not to say Netgear is giving up on its service provider business. Late last year, management told investors it plans to push for service providers to consider its latest proprietary wireless technology including Orbi and Arlo. Any upside here could further fuel investors' gains.
But as Netgear works to sustain the momentum of its two strongest segments going forward, and as its service provider business settles into its new normal, the company's runway for growth will only become more evident to the market. And I think investors willing to buy before that happens stand to be handsomely rewarded.
10 stocks we like better than Universal DisplayWhen investing geniuses David and Tom Gardner have a stock tip, it can pay to listen. After all, the newsletter they have run for over a decade, Motley Fool Stock Advisor, has tripled the market.*
David and Tom just revealed what they believe are the 10 best stocks for investors to buy right now... and Universal Display wasn't one of them! That's right -- they think these 10 stocks are even better buys.
Click here to learn about these picks!
*Stock Advisor returns as of February 6, 2017
Anders Bylund owns shares of IBM and Universal Display. Demitrios Kalogeropoulos has no position in any stocks mentioned. Steve Symington owns shares of Universal Display. The Motley Fool owns shares of and recommends Universal Display. The Motley Fool owns shares of Oracle. The Motley Fool recommends Netgear and Salesforce.com. The Motley Fool has a disclosure policy.