Top Stocks to Buy in Media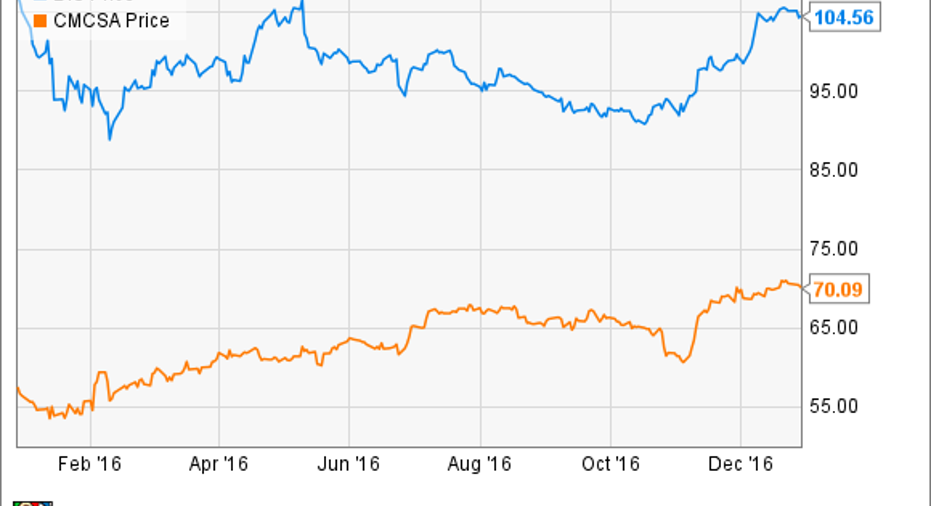 While media companies have to navigate a tricky landscape as cord-cutting is causing distribution uncertainty, two companies have so far done an excellent job in a difficult environment.
Both Comcast (NASDAQ: CMCSA) and Walt Disney (NYSE: DIS) have ridden big-name content to continued success. The two companies don't have the exact same formula, but both have ended the year on an upswing largely because they have a system in place to weather the ongoing storm of changed distribution.
People may opt for streaming services over cable or choose digital-only cable-like services going forward, but both Disney and Comcast seem to be well-positioned for whatever happens. It's an uncertain future for many media companies, but Disney and Comcast remain as close to sure things as it gets.
Going into 2017, both companies appear to have bright, stable futures. Here's a look at why each one seems to be set up for continued success.
Disney and Comcast both will end the year on an uptick. Image source: YCharts.com.
A big year for the mouse
Disney set a box-office record in 2016, topping $7.5 billion in box office andproducing a 28% year-over-year gain in revenue in its studio entertainment segment. In addition, the company's theme parks posted a 5% increase in revenue while its media networks were up 2%. Only its smallest segment, consumer products and interactive media, dropped, losing 3% in total revenue. All of that added up to a 6% increase in companywide revenue, good for an increase in diluted earnings per share (EPS) of 17%, to $5.73 from $4.90 in the prior year.
Those are great numbers, but it's what's driving them that's most important. Disney owns a stellar array of properties that has been greatly bolstered by its purchases of Pixar, Lucasfilm, and Marvel. In 2016, those properties gave Disney six of the 10 top-grossing films for the year, according to Box Office Mojo, but that only tells part of the story.
Every single film Disney had in the top 10 -- Finding Dory,Captain America: Civil War,The Jungle Book, Rogue One: A Star Wars Story, Zootopia, and Doctor Strange-- has potential to drive revenue beyond film. In fact, of those six, only The Jungle Book and Rogue One don't have direct sequel potential, but they will still drive merchandising, television, and licensing money well beyond their box-office numbers.
Essentially, Disney has become a delivery-agnostic content machine. The company can release at least two Marvel movies, a Star Wars film, a Pixar movie or two, and an animated film under its own banner each year with near-guaranteed success. That content fuels the rest of the company's business, whether it be theme parks, television networks, licensing, or future products like streaming networks.
Disney owns content that people seek out from a young age, properties for all ages, and some of the most iconic characters in the universe. That puts the company in an enviable position so that, while it will suffer losses with its ESPN brand due to cord-cutting, it has more than enough assets to weather that storm.
Comcast has content and delivery
Comcast has followed a similar path to Disney, with properties that are not quite as strong but are backed by the company controlling its own distribution. The company set its own box-office record in 2015 driven by Jurassic World, Furious 7 (of TheFast and the Furious franchise), andMinions. Unlike Disney, however, Comcast does not own enough properties that can produce sequels each year in order to dominate box office year after year.
What it does have is a steady revenue stream from its cable and broadband business to keep it afloat in years when its box office does not deliver as strongly. Year to date, through three quarters, Comcast saw a 7.4% increase in overall revenue and an EPS of $2.62, a 6.9% increase from the $2.45 reported in the prior year.
Broken down by segment, the company's cable communications group -- which includes its internet and pay-television services -- saw revenue rise by 6.5%. The NBCUniversal segment, which includes its broadcast and cable networks, its films division, and its theme parks, saw a 5.8% increase. That's an impressive gain because coming off the comps from 2015, the film business saw a 20.5% decline. Theme parks helped cover for that, posting a 55.2% gain (largely due to the Harry Potter attractions at the company's Florida and California parks).
The most notable thing the company has reported all year may be that it has slightly increased its pay-television subscriber count year to date. That's impressive because the rest of the industry has been losing customers at a steady clip.
Comcast is well-positioned for 2017 because, even if it does lose cable customers, it has been adding broadband subscribers at a rate that should more than cover any future shortfalls.
Set up for 2017 and beyond
Essentially, Disney has the hit properties that it can exploit across all its channels, which should keep it healthy for a long time to come. Comcast has some of that, but it also has subscriber revenue, which can buttress its results against any box-office shortfalls.
It's hard to see either of these companies taking a step backward in 2017. Disney may struggle to equal its box-office take, but with more Marvel and Pixar films slated, along with the next Star Wars sequel, the drop should not be very significant. Comcast should have a bounce-back box office year, and any cord-cutting woes -- if it even experiences them -- will be more than covered by broadband gains.
10 stocks we like better than Comcast When investing geniuses David and Tom Gardner have a stock tip, it can pay to listen. After all, the newsletter they have run for over a decade, Motley Fool Stock Advisor, has tripled the market.*
David and Tom just revealed what they believe are the 10 best stocks for investors to buy right now... and Comcast wasn't one of them! That's right -- they think these 10 stocks are even better buys.
Click here to learn about these picks!
*Stock Advisor returns as of Nov. 7, 2016
Daniel Kline has no position in any stocks mentioned. He enjoyed Rogue One. The Motley Fool owns shares of and recommends Walt Disney. The Motley Fool has a disclosure policy.