Top Stocks to Buy in Cloud Computing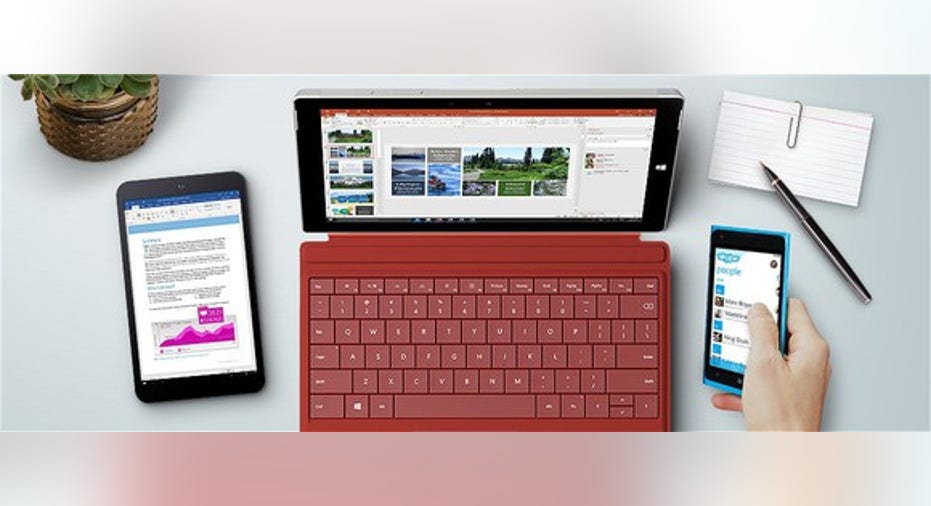 Many tech companies are expanding into cloud-based services to improve the growth and scalability of their businesses. As a result, global spending on public cloud services could more than double, going from $70 billion in 2015 to $141 billion in 2019, according to IDC.
However, the term "cloud computing" may seem vague to some investors, who might not understand the differences between various cloud platforms. To gain a better insight into this market, let's take a closer look at three well-known cloud leaders -- Amazon (NASDAQ: AMZN), Microsoft (NASDAQ: MSFT), and Salesforce (NYSE: CRM).
Image source: Getty Images.
Amazon
Amazon's AWS (Amazon Web Services) is the market leader in the cloud infrastructure market, which includes IaaS (infrastructure-as-a-service) and PaaS (platform-as-a-service) solutions. IaaS offers customers storage and processing power from virtual data centers, and PaaS gives developers a framework for creating apps in the cloud, as well as remote administration tools for network administrators.
Amazon hosts these platforms in its own data centers, which were originally built to host its e-commerce site. Through AWS, it lends out that computing power to a wide variety of customers, including NASA, theCDC,Salesforce, and Airbnb. AWS' first mover's advantage and scalability have made it the biggest "best in breed" player in the IaaS/PaaS market, with an annual run rate ofover $11 billion.
AWS is now Amazon's fastest growing and most profitable unit. Last quarter, its revenues rose 55% annually to $3.23 billion and accounted for 10% of the company's top line, while operating income more than doubled to $861 million. That bottom line growth offset an operating loss at its international marketplace, and boosted Amazon's operating income 14% to $575 million. Analysts expect AWS to help boost Amazon's earnings by42% annually over the next five years.
Microsoft
AWS' only meaningful competitor in the cloud infrastructure market is Microsoft's Azure. Last quarter, Microsoft reported that Azure revenue rose116% annually, and that its computer usage more than doubled, but didn't offer concrete revenue figures. Last year, Forrester Research estimated that Azure had a run rate of $1.6 billion. Based on Azure's 100% growth overthe past few quarters, it's likely that the platform now has a run rate of over $3 billion.
Azure is included in Microsoft's "commercial cloud" business, which had an annual run rate of over $13 billion last quarter. Most of those revenues come from Office 365, Outlook, Skype, and Dynamics CRM (customer relationship management) -- which are all SaaS (software as a service) solutions. The SaaS market usually grows at a much slower rate than the IaaS/PaaS one, sinceit's heavily saturated and has lower entry barriers.
Image source: Microsoft.
Microsoft CEO Satya Nadella plans to grow that$13 billion figure to $20 billion by 2018, by leveraging the dominance of Windows 10 to expand Office 365, Dynamics, and Azure-linked services to more consumers and enterprise users. Its purchase ofLinkedIn will drive more data on employers and employees to its cloud, while new cloud-based collaboration services like Skype Teams couldtether more employees to its cloud-based ecosystem.
Salesforce
However, Microsoft's Dynamics faces a tough opponent -- Salesforce, the biggest CRM platform provider in the world. Salesforce, which pioneered the idea of companies maintaining customer relationships through cloud services, controlled 19.7% of the global CRM market in2015, according to Gartner. SAP controlled 10.2% andOracle controlled 7.8%, while Microsoft held a mere 4.3%.
Salesforce and Microsoft have been enterprise partners for years, but Microsoft's plans to expand Dynamics and its purchase of LinkedIn (which Salesforce had also been eyeing) have drivena wedge between the two companies. However, Salesforce's robust enterprise presence, "best in breed" reputation, and its new Einstein AI platform (for analytics-driven predictive customer experiences) should help maintain its lead against smaller rivals like Dynamics.
The key takeaway
Amazon, Microsoft, and Salesforce all represent different ways to invest in the cloud computing market. Amazon's AWS dominates the IaaS/PaaS market, and is offsetting the lower margins of its marketplace business as it supports the growth of its ecosystem.
Microsoft is invested heavily in the SaaS, IaaS, and PaaS markets, but most of its cloud revenue comes from productivity solutions that use SaaS revenue models. That growth is expected to eventually offset waning sales of Windows licenses. Salesforce is a "pure play" on cloud-based CRM solutions, but it's also much less profitable than Amazon or Microsoft.
Therefore, "the cloud" should never be used as a catchall term -- investors should clearly understand the differences between the IaaS, PaaS, and SaaS markets before buying into any company's promises of "long-term cloud growth".
A secret billion-dollar stock opportunity The world's biggest tech company forgot to show you something, but a few Wall Street analysts and the Fool didn't miss a beat: There's a small company that's powering their brand-new gadgets and the coming revolution in technology. And we think its stock price has nearly unlimited room to run for early in-the-know investors! To be one of them, just click here.
Leo Sun owns shares of Amazon.com and Salesforce.com. The Motley Fool owns shares of and recommends Amazon.com and Gartner. The Motley Fool owns shares of LinkedIn, Microsoft, and Oracle. The Motley Fool recommends Salesforce.com. Try any of our Foolish newsletter services free for 30 days. We Fools may not all hold the same opinions, but we all believe that considering a diverse range of insights makes us better investors. The Motley Fool has a disclosure policy.