Top States for New Home Buyers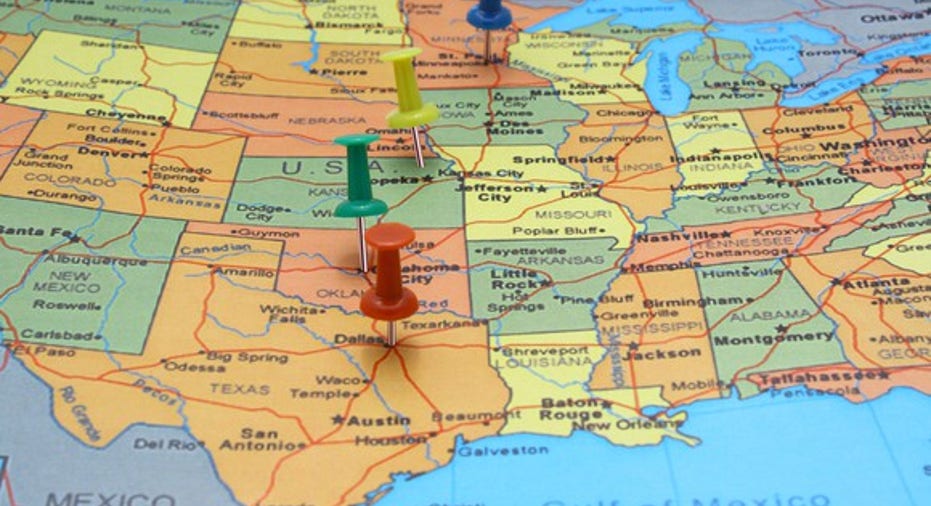 Owning a home is part of the classic American dream, but it doesn't come easy. We typically have to save a lot of money for a long time before we buy our first home. How easy it is to buy your first home will depend to some degree on that old real estate mantra: "location, location, location." Here are the top states for new home buyers.
Image source: Getty Images.
Indicators for success
Let's assume you've figured out how much house can you afford, you've saved a lot of money for a down payment, you've compared mortgage rates, and you've gotten pre-approved for a mortgage. Depending on where you live, though, you may find it easy or not so easy to transform from renter to homeowner.
The folks at Bankrate.com recently studiedall 50 states and ranked them according to how easy or hard it is in each to buy one's first home. They based their rankings on the following key factors:
Housing affordability: This is an obvious one, because if you live in a region where homes have steep values, it will be harder to save up a down payment, and your monthly payments will likely be high, too. The Portland, Oregon, region, for example, had a mediansale price for existing homes of $355,000 at the end of 2016 (up a whopping 11% over the year-earlier level!). Image source: Getty Images.
Credit availability: It's also helpful if your loan application is likely to be approved. According to the folks at NerdWallet, for example, the average mortgage approval rate nationwide was recently88.2%. It topped 91% in Alaska and Minnesota and was only 83% in Florida.
The job market: New home buyers are often young adults who are developing their careers. Thus, regions with a booming job market are welcome places in which to buy homes -- though a booming economy can also lead to steep property values. At the very least, though, high unemployment levels in a region will make it less suitable for new home owners.
Home ownership among folks younger than 35: This is a good indicator of how successful new home buyers are in a given region.
The tightness of the housing market: If there simply aren't a lot of homes for sale, relative to the number of people seeking them, it will be harder to land that new home. Prices will likely be driven up, as well.
The top states for new home buyers
So then, which states came out on top of the rankings? Here are the top 10:
Iowa
Utah
Minnesota
Kansas
Missouri
North Dakota
South Dakota
Wyoming
Vermont
Nebraska
Image source: Getty Images.
Each of these states ranked high due a different combination of positive attributes. Among the top five, for example, Iowa stood out in housing affordability and home ownership among millennials. (Its recent median home value was$138,200.) Utah's homes were less affordable, but its job market and millennial home ownership scores were high. Minnesota excelled in credit availability and home ownership, and it also scored relatively well in housing affordability. Kansas scored generally well -- but not outstanding -- in all measures. And Missouri did best in housing affordability and housing market tightness, despite a somewhat lackluster job market.
You may not be able to choose exactly where to seek your first home, but if you do have some flexibility, you might consider the top 10 states above. If not, know that a strong financial condition will likely lead you to a mortgage loan approval, and that the best job markets for you might be in other regions. Also, if you're willing to live a little further away than the center of the action, you may score a less pricey home.
Becoming a homeowner is a worthy goal -- not necessarily because a home will make you rich, but because it can give you a dependable roof over your head with fixed payments -- and the chance to build home equity along the way.
5 Simple Tips to Skyrocket Your Credit Score Over 800!Increasing your credit score above 800 will put you in rare company. So rare that only 1 in 9 Americans can claim they're members of this elite club. But contrary to popular belief, racking up a high credit score is a lot easier than you may have imagined following five simple, disciplined strategies. You'll find a full rundown of each inside our FREE credit score guide. It's time to put your financial future first and secure a lifetime of savings by increasing your credit score. Simply click hereto claim a copy 5 Simple Tips to Skyrocket Your Credit Score over 800.
The Motley Fool has a disclosure policy.