Top GOP leaders back congressional probes of Russia hacking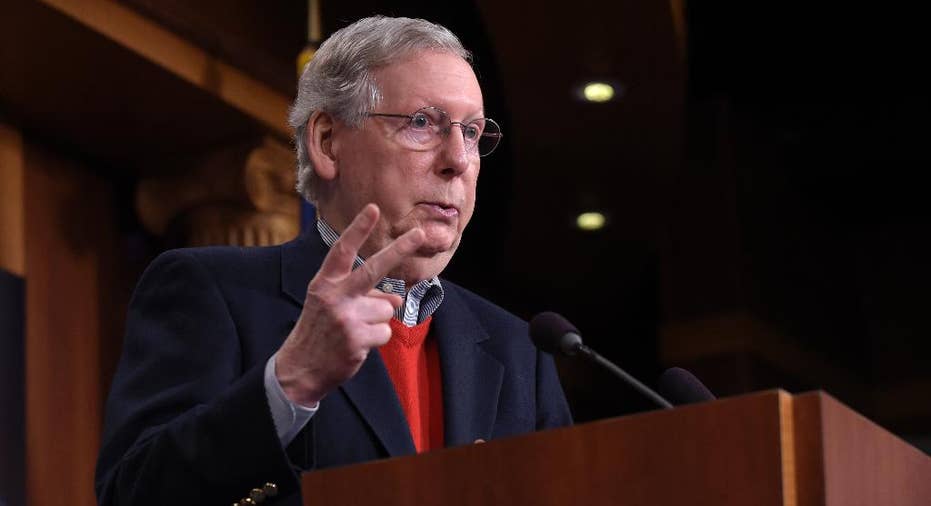 Congress' top Republicans on Monday endorsed investigations into the CIA's belief that Russia meddled in last month's election to help Donald Trump win, suggesting potential battles ahead with the incoming commander in chief over Moscow and U.S. intelligence.
"The Russians are not our friends," declared Senate Majority Leader Mitch McConnell as GOP leaders steered toward a path contrasting starkly with the president-elect's belittling dismissal of the spy agency's assessment and his past praise for Russian President Vladimir Putin.
The Senate's intelligence panel, led by Richard Burr, R-N.C., will conduct a bipartisan inquiry, according to McConnell, who also expressed support for a related probe by the Armed Services Committee, chaired by Sen. John McCain, R-Ariz. Though declining to say whether he believes Russia tried tilting the election toward Trump, McConnell said, "I hope that those who are going to be in positions of responsibility in the new administration share my view" about Moscow.
Shortly afterward, House Speaker Paul Ryan, R-Wis., released a statement backing an investigation the House Intelligence Committee has already started on cyber threats posed by foreign countries and extremist groups. He called any Russian intervention "especially problematic because under President Putin, Russia has been an aggressor that consistently undermines American interests."
Underscoring the possible collisions ahead between Trump and the men leading his party in Congress, McConnell and Ryan struck tones markedly more confrontational toward Russia than he has.
Trump on Sunday called the CIA's contention "ridiculous" and blamed the disclosures concerning its assessment on Democrats who he said were embarrassed over losing last month's election.
The GOP leaders expressed their views after a weekend in which Trump also said he would not need daily intelligence briefings, a staple of presidents' days for decades and a flouting of a convention common for presidential transitions.
Meanwhile, Trump continued his cavalcade of meetings in his Trump Tower offices in New York on Monday with potential appointees for his new administration and other leading GOP, congressional and corporate figures. Among them was Carly Fiorina, who unsuccessfully vied with Trump this year for their party's nomination.
Fiorina, the former Hewlett-Packard CEO, was there to discuss national security issues and is seen by some Trump advisers as a candidate to be director of national intelligence, overseeing the government's 17 intelligence agencies. She chaired an external CIA advisory board under President George W. Bush but has not worked for the federal government.
Fiorina said her conversation with Trump included "hacking, whether it's Chinese hacking or purported Russian hacking."
Others meeting with Trump included moderate Democratic Sen. Joe Manchin of West Virginia, No. 3 House GOP leader Steve Scalise of Louisiana and former Texas Gov. Rick Perry, another GOP presidential contender whom Trump defeated.
The campaign chairman for defeated Democratic presidential candidate Hillary Clinton urged the Obama administration Monday to reveal what it knows about any Russian efforts to help Trump win. John Podesta, whose emails were stolen and posted online, said the administration "owes it to the American people" to release details of the intrusions, which included the hacking of Democratic Party files.
Podesta said the Clinton campaigns also supports a call by 10 of the 538 members of the Electoral College for National Intelligence Director James Clapper to provide information that intelligence agencies have gathered on the subject.
All 10 are unlikely to vote for Trump when the Electoral College meets next Monday. Nine are Democrats, and Texas Republican Chris Suprun has said he won't vote for Trump.
Other Democrats calling for congressional investigations of Russia's role in the elections include House Minority Leader Nancy Pelosi of California.
"There must be no equivocation or ignoring the seriousness of the intelligence community's conclusion about Russia's actions," she said.
McConnell said he has "the highest confidence" in U.S. intelligence agencies and said it "defies belief" that Senate Republicans would be reluctant to scrutinize Russian tactics. He recounted Russia's annexation of Crimea from Ukraine in 2014, said Baltic nation leaders are nervous about Moscow and pointedly praised NATO, the alliance that Trump criticized repeatedly during his campaign.
"I think we ought to approach all of these issues on the assumption that the Russians do not wish us well," McConnell said.
In a nod to the Trump assertion about Democrats' motives, Ryan said the congressional inquiries "should not cast doubt on the clear and decisive outcome of this election."
As expected, Trump's transition team formally announced he would name Goldman Sachs president Gary Cohn, 56, to head the White House National Economic Council. The council provides policy advice to the president.
Trump's team also said he'd picked Gen. John Kelly to head the Department of Homeland Security. Kelly is a former commander of U.S. Southern Command.
___
AP White House Correspondent Julie Pace and reporter Catherine Lucey contributed to this report.