Top Gaming Stocks to Buy in 2017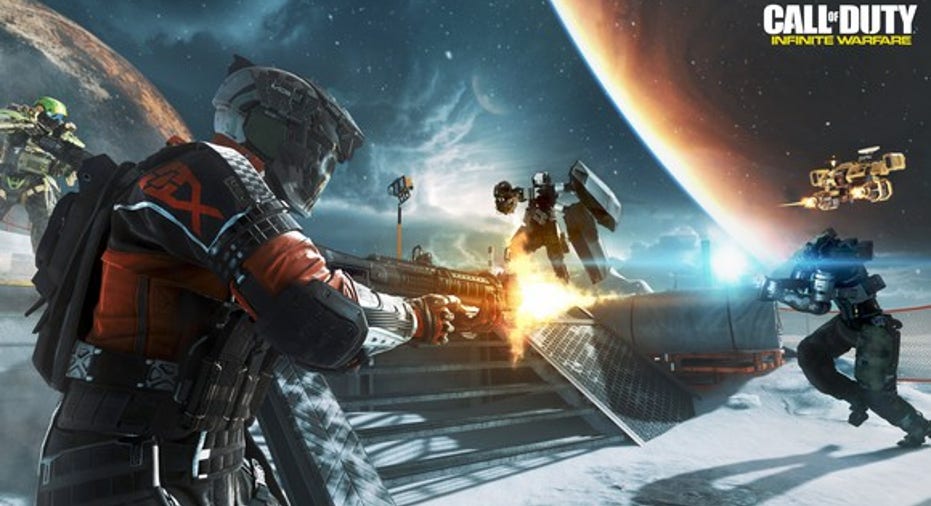 Star Wars BattleFront, a high-performing franchise by EA. Image source: Electronic Arts.
According to analysts at SuperData,2016 has been the best year yet for video games, with the total market value hitting $91 billion this year. Driving this growth is exciting new technology and expanding platforms bringing in new gamers worldwide.
Gaming stocks have had quite a year as well, with some of the biggest names in the industry underperforming, such asActivision Blizzard(NASDAQ: ATVI),and some companies out of left field rising to the top, such as Nintendo (NASDAQOTH: NTDOY). Looking to the year ahead, here are the top gaming stocks to buy now.
New technology, platforms drive demand
By far the biggest story of 2016 has been mobile gaming, led in large part by the cult-like following for Pokemon Go. This augmented-reality game has started the whole industry thinking of new ways to serve content to gamers. Pokemon Go, created by Niantic Labs in partnership with Nintendo, has helped Nintendo's stock to surge as much as 80% before a mid-December sell-off that resulted from a less-favorable launch of Nintendo's attempt at follow-up success with Super Mario Run.
Images source: Nintendo / Super Mario Run
Another exciting technology shift in 2016 has been the increased focus on virtual reality (VR), led in large part by Sony (NYSE: SNE) and its new VR gaming bundle for the PlayStation 4 console. VR has been somewhat of a pipe dream, as high costs and limited content has made it a novel concept but without mass-market appeal. Sony's new VR equipment, along with new VR-specific games, could change that situation.
Top gaming stocks to buy in 2017
For the year to come, it's important to recognize which companies performed especially well in 2016, but also to look at what these companies are doing now, along with their valuations, in an attempt to decide which are in the position to growth the most this year.
| Company | Market Cap | P/E(TTM) | Forward P/E | 2016 Share Price % Change |
| --- | --- | --- | --- | --- |
| Activision Blizzard | $27 B | 32 | 17 | -6% |
| Electronic Arts | $24.2 B | 23 | 19 | 17% |
| NetEase | $29.4 B | 20 | 15 | 24% |
| TakeTwo Interactive | $4.3 | 2,583 | 19 | 41% |
| NVIDIA | $58.9 | 72 | 41 | 231% |
P/E = price-to-earnings ratio. TTM = trailing 12 months. Data source: Yahoo! Finance.
While 2016 hasn't been a big year for Activision Blizzard shares, it has been a transitional year in which it has expanded itsfootprint in mobile, including a changing business model to more digital in-game purchases and subscription revenue. Electronic Arts(NASDAQ: EA) has gone on a similar journey that should continue to pay off in 2017.These two companies consistently make up many of the top games in the industry, and now that their stocks have come down in valuation (especially true for Activision, which in months past was trading above 45 times earnings), 2017 could prove to be a year in which their stock prices see impressive gains.
Image source: Activision Blizzard.
NetEase(NASDAQ: NTES)is one of the best plays on the thriving Chinese gaming market.This Chinese internet services company offers online gaming packs and also partners with companies such as Activision Blizzard to distribute many of their games throughout China. NetEase recently announced a slew of new PC and mobile games, 29 in total, and has promised to continue releasing new games in 2017. By valuation, NetEase is also the cheapest company on the list despite its great showing in 2016.
One of the best performing stocks in the game content space in 2016,Take-Two Interactive(NASDAQ: TTWO), could certainly keep its momentum going in 2017 with fresh new content and an increased focus on digital and mobile growth. Take-Two's sales rose 21% in the most recent quarter, year over year, though its growth strategy has left earnings still relatively low, which is the cause of its absurdly high P/E ratio. Still, its forward P/E is just 19, and the company seems in a great position for continued long-term growth.
Image source: NVIDIA
This past year has shown the importance of the behind-the-scenes power generators -- such as graphics-chip makers -- that are benefiting from the rise in the gaming industry.NVIDIA(NASDAQ: NVDA) is an example of a company that has made some of the exciting growth in things like VR possible. Gaming makes up only part of this company's total revenue, so it's not a pure play on gaming growth like Activision Blizzard, but its success in this industry made it a top gaming stock of 2016, pushing its stock up 220% during the year.
Going into 2017, NVIDIA continues to look like a best bet on the gaming industry growth, especially as one of the prime makers ofVR-ready laptops and some of the important gaming hardware in the market. Apart from gaming, NVIDIA's growth in connected cars, artificial intelligence, and data centers make it a top stock for some of the most exciting tech around.
Two other things to watch in 2017 are the new gaming consoles expected to launch at Nintendo and Microsoft (NASDAQ: MSFT). Switch is meant to be a hybrid between a console and portable gaming system and will replace Nintendo's older systems like the Wii. Microsoft's "Project Scorpio" console won't be released until late 2017, and very little has been released about its specifications, but it's almost certainly going to include some VR components.
While these two consoles look like wild cards in the gaming industry in 2017, the growth of the industry itself looks solid going into this year.
10 stocks we like better than Nvidia When investing geniuses David and Tom Gardner have a stock tip, it can pay to listen. After all, the newsletter they have run for over a decade, Motley Fool Stock Advisor, has tripled the market.*
David and Tom just revealed what they believe are the 10 best stocks for investors to buy right now... and Nvidia wasn't one of them! That's right -- they think these 10 stocks are even better buys.
Click here to learn about these picks!
*Stock Advisor returns as of Nov. 7, 2016
Seth McNew has no position in any stocks mentioned. The Motley Fool owns shares of and recommends Activision Blizzard, Nvidia, and Take-Two Interactive. The Motley Fool recommends Electronic Arts and NetEase. Try any of our Foolish newsletter services free for 30 days. We Fools may not all hold the same opinions, but we all believe that considering a diverse range of insights makes us better investors. The Motley Fool has a disclosure policy.