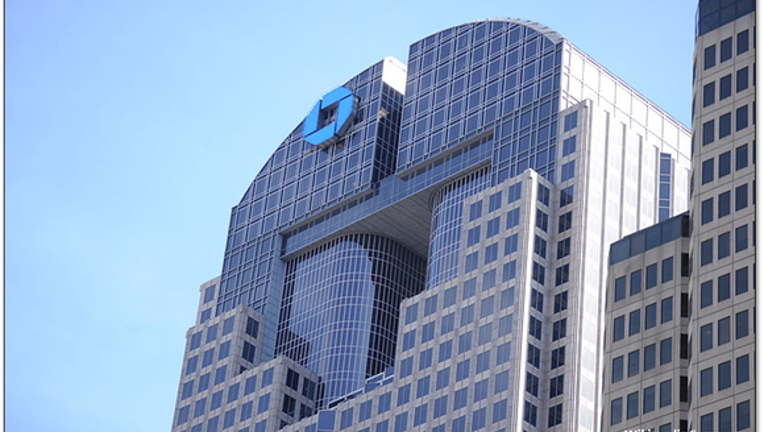 JPMorgan Chase is the biggest bank in America -- in terms of both its balance sheet and earnings. Image source: Wikimedia Commons.
When most people talk about banks being too big to fail, they're referring to the size of bank balance sheets. This is valid, but it overlooks another way to gauge a bank's size: earnings. When you view the issue through this lens, it becomes even clearer why Bank of America , Citigroup , Wells Fargo , and JPMorgan Chase make the cut.
These four banks aren't only massive when you compare them to their industry peers; you get the same impression when you compare them to all other blue-chip companies in the United States. This is illustrated in the chart below, which reveals the 10 companies on the S&P 500 with the highest net incomes over the past 12 months.
As you can see, the nation's four biggest banks by assets also happen to be among the most profitable companies in America. JPMorgan Chase tops the banks on the list with $24.1 billion in earnings since the second quarter of 2015. Wells Fargo is next at $22.6 billion. And Citigroup and Bank of America bring up the rear, with trailing-12-month earnings of $15.9 billion and $15.5 billion, respectively.
Data source: YCharts.com. Chart by author.
You'd be excused for finding it odd that four out of the 10 most profitable companies in America are banks. I say that because all of these banks do essentially the same things. While JPMorgan Chase, Citigroup, and Bank of America are universal banks, whereas Wells Fargo operates a more traditional lending operation, they each generate income by borrowing money at low short-term interest rates and then investing the funds into higher-yielding assets, such as loans and government securities.
The six other companies on the list are engaged in a variety of different industries. Apple sells mobile phones. Berkshire Hathaway is a diversified conglomerate. Verizon is a telecom provider. Alphabet owns Google. And both Johnson & Johnson and Gilead Sciences are in the pharmaceuticals business.
The benefit to shareholders of these four banks is reflected in the "too big to fail" moniker. As opposed to allowing Bank of America and Citigroup to close up shop during the financial crisis, the federal government poured tens of billions of dollars into each bank to prop them up. And while Wells Fargo and JPMorgan Chase didn't need as much help, the government's decision to inject capital into both in 2008 shored up the industry and helped the banks finance their crisis-era acquisitions of Wachovia and Washington Mutual, respectively.
The other benefit to earning so much money, aside from the impact on shareholder returns, is that it helps offset losses that materialize when the economy takes a turn for the worse. JPMorgan Chase could lose $24 billion in a single year before it had to tap into capital to absorb the loss. Wells Fargo isn't far behind. This is an enviable advantage when you consider how frequently recessions and other varieties of financial crises come about.
In short, when it comes to banking, and investing in banks in particular, there are benefits to being too big to fail.
The article Too Big to Fail? 1 Overlooked Reason Bank of America, Citigroup, Wells Fargo, and JPMorgan Chase Make the Cut originally appeared on Fool.com.
Suzanne Frey, an executive at Alphabet, is a member of The Motley Fool's board of directors. John Maxfield owns shares of Bank of America and Wells Fargo. The Motley Fool owns shares of and recommends Alphabet (A shares), Apple, Gilead Sciences, Johnson & Johnson, Verizon Communications, and Wells Fargo. The Motley Fool has the following options: long January 2018 $90 calls on Apple and short January 2018 $95 calls on Apple. The Motley Fool recommends Bank of America. Try any of our Foolish newsletter services free for 30 days. We Fools may not all hold the same opinions, but we all believe that considering a diverse range of insights makes us better investors. The Motley Fool has a disclosure policy.
Copyright 1995 - 2016 The Motley Fool, LLC. All rights reserved. The Motley Fool has a disclosure policy.