Today's Oil Rally Has Made a Lot of Investors Happy (DNR, SM, CRC, LPI, SWN)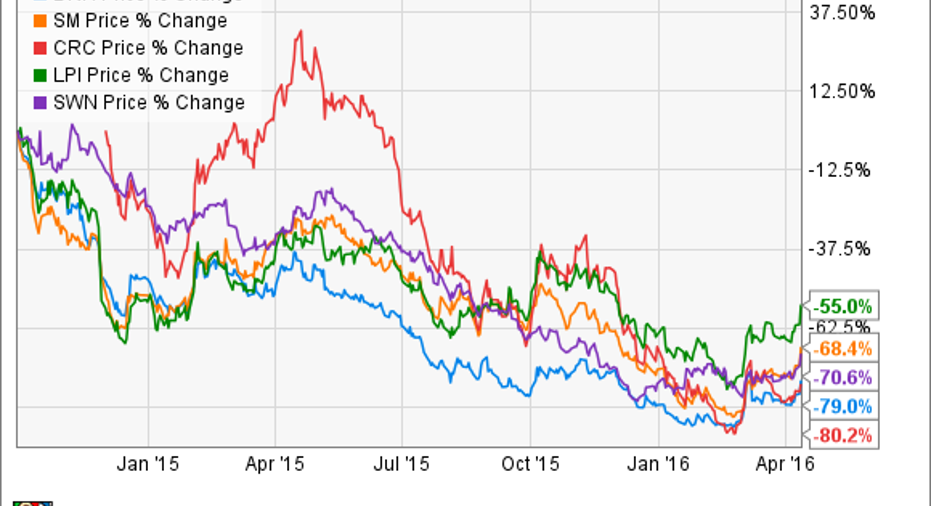 Image source: BP via Flickr.
What: There was a lot of good news in the oil patch today, which has sent shares of independent oil and gas producers flying today. While some of that news is still speculative, there was some tangible news that showed the glut of oil was starting to clear and that prices are on much more solid footing.
There are dozens of companies that have seen greater than double-digit gains today, but here's a snippet of companies with very notable price changes as of 3:30 p.m. EDT:
Denbury Resources : 24.6%
SM Energy Co : 22.9%
California Resources Corporation : 19.5%
Laredo Petroleum : 16.9%
Southwestern Energy Company : 16.1%
So what: There are two big drivers of today's oil price rally. The first one was that both Russia and Saudi Arabia have reached an agreement on an oil output freeze prior to the meeting of OPEC nations plus Russia scheduled in Doha early next week. This is a story that has been going on for some time, but one of the restricting factors has been whether these two could get the other members of OPEC to cooperate. So, until we actually see a production freeze, it's probably still best to chalk this one up as speculation.
The other major factor for today was data from the U.S. Energy Information Administration that shows hale production slowing at faster-than-projected rates. In less than a month, it has cut its average U.S. production rate by another 70,000 barrels per day to 8.6 million barrels per day. This is in part because of the rapid decline rates from shale wells in the U.S. and the complete lack of investment in new production as the active rig count in the U.S. has declined to its lowest levels since we started recording them more than half a century ago. Of the two news stories, this is the one that really matters, because it's showing tangible effects on supply today.
With share prices that have been ravaged by oil's decline, shares of Denbury, SM Energy, California Resources, Laredo, and Southwestern Energy have been on a wild, wild ride in recent months. It seems the days of double-digit pops and drops happen more often than not. Of course, every time Wall Street reacts to oil price news like this, there are always a couple of companies that rise, and the reason is slightly less clear. See if you can spot the one in this group:
| | |
| --- | --- |
| Company | % Production From Oil/Liquids |
| Denbury Resources | 95% |
| SM Energy Co | 55% |
| California Resources Corporation | 77% |
| Laredo Petroleum | 74% |
| Southwestern Energy Company | 9% |
Data source: Company earnings presentation.
So, based on today's news, Southwestern's stock probably shouldn't be rising as much as it has since its prospects aren't that tied to oil, specifically. However, sometimes, a rising tide lifts all ships, and a 6% increase in natural gas prices to a touch over $2.00 per thousand cubic feet today also helps. Even at that price, though, Southwestern and just about anyone producing gas is losing money.
Now what: In reality, today's price jump is just another day in the roller-coaster ride that is oil and gas stocks over the past several months. One promising thing is that today's price climb is actually rooted in some tangible results that show the supply glut is starting to clear. Still, oil and gas prices are still a long way away from where these companies need them to be to become solidly profitable enterprises again, and we still have a lot of ground to cover before shares are back to where they were pre-collapse:
Until we can see these companies generate solid profits and start to clean their balance sheets back up, it may be a good idea to wait and see. There are plenty of reasons to be temped to jump into these stocks, but there is still significant risk.
The article Today's Oil Rally Has Made a Lot of Investors Happy (DNR, SM, CRC, LPI, SWN) originally appeared on Fool.com.
Tyler Crowe has no position in any stocks mentioned.You can follow him at Fool.comor on Twitter@TylerCroweFool. The Motley Fool owns shares of Denbury Resources. Try any of our Foolish newsletter services free for 30 days. We Fools may not all hold the same opinions, but we all believe that considering a diverse range of insights makes us better investors. The Motley Fool has a disclosure policy.
Copyright 1995 - 2016 The Motley Fool, LLC. All rights reserved. The Motley Fool has a disclosure policy.