Tobi Ltke: Snowboarder, Programmer, and Shopifys Unlikely CEO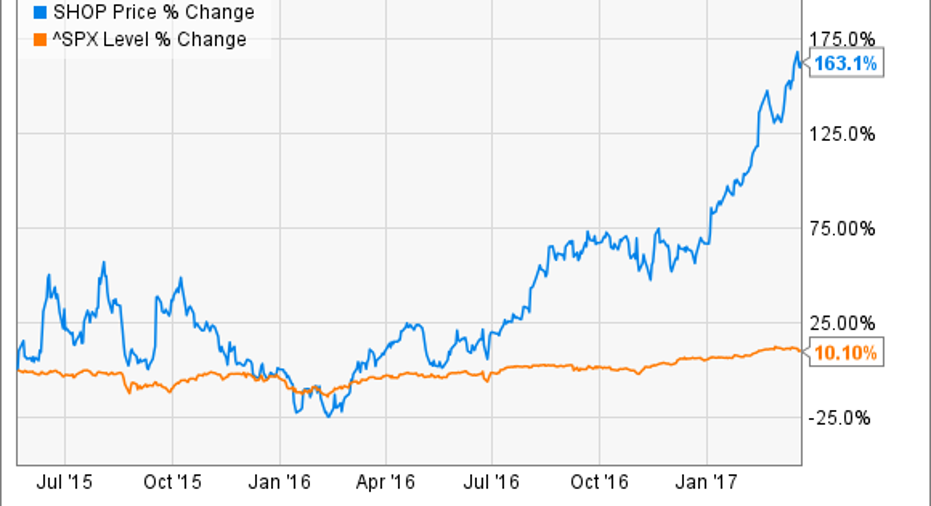 Tobi Ltke Source: Shopify.com
Tobi Ltke loves snowboarding and programming. When he wanted to start an e-commerce business to sell snowboarding equipment, he found there was no good software to help get his online business up and running, so he coded it himself. It didn't take long for Ltke and his co-founder Scott Lake to realize that the snowboarding business didn't do well in the summer. However, subscriptions of the e-commerce platform Ltke built had started selling, andShopify(NYSE: SHOP) was born.
Shopify's stock has been on a tear since the company's IPO, significantly beating the S&P 500. Shopify's platform supports 377,500 merchants today, an 814% increase from 2012. Through this tremendous period of growth, the company has been able to attract talented people because of a great culture and that has contributed to the company's amazing performance. Ltke, Shopify's founder and CEO,has had significant influence on what Shopify's culture is today. Let's go back in time to see how Ltke'searly training as a programmer and his unwanted CEO promotion have shaped this fast growing e-commerce platform company's culture.
High school dropout -- and programmer
Ltke received his first computer at age six and by the time he was 12, he was rewriting the code for his computer games. He dropped out of high school at the age of 16 because, in his words, "computers were so much more interesting." Ltke was able to land a computer programming apprenticeship at Siemens in his German hometown. He ended up working for an unconventional boss named Jrgen, who made a tremendous impact onLtke.
Jrgen was a rebel, he refused the corporate dress code, rebuffed the corporate standard programming language, and called people out on bad ideas in a public way. But everyone respected him because the team produced results. Ltkedescribed the experience working for Jrgenin a blog titled "The Apprentice Programmer."
Ltke spent seven years at Siemens before snowboarding and a girl from Ottawa got Ltke to move to Canada. In 2004, he started the online snowboard shop with Scott Lake.
The unlikely CEO
Fast forward to 2008; Shopify had a staff of ten and $60,000 in revenue per month when his co-founder and CEO, Lake, decided to leave. Up to that point Ltkehad been totally focused on the product and had no idea about the finances or business of Shopify, but now hehad no choice but to step into the CEO role.Ltke said "When I took over as CEO, I had to essentially get an MBA in a couple of weeks."
Ltke dived in and read everything he could put his hands on about being a CEO and running a business. He decided to go to Silicon Valley to find a CEO and meet with venture capital (VC) firms about getting funding for Shopify. When he met with the VC's, they would use terms he didn't understand and ask questions about the business he couldn't answer. At night, Ltke wouldresearch to get the answers, so that for the next VC meeting, he'd be more prepared.He didn't find a CEO on the trip to Silicon Valley, but he did learn the basics of being CEO of a start-up company. It was still a lean time at Shopify and he was still living at his girlfriend's parent's house and having his friends and family cover payroll. John Phillips, an early angel investor, convinced Ltketo stay on as CEO.
Because Ltkekept getting thrown into unfamiliar situations and would emerge a more capable person, personal development has become a defining part of Shopify's culture today.
Shopify's Culture
Shopify couldn't build a fantastic business that serves hundreds of thousands of merchants without having a strong culture of achievement. Ltke constantly challenges his team to do more, just like Jrgendid for him at Siemens, and it has trickled down throughout the Shopify organization. Looking over Shopify's career page in the "Life at Shopify" section personal development is front and center with the subtitle "We care about growing great people". The culture of learning is further emphasized in the following description.
It seems that the experiences Ltke had as a high school dropout have created a great place to work since Shopify was named the #1 Best Place to Work in Canada by Glassdoor for 2017.
Why it matters for investors
Buck Hartzell,Director of Investor Learning and Operations at The Motley Fool, wrote an article titled6 Inviolable Rules for Analyzing Stocks,in which he discussed the importance of culture."The great businesses have dynamic leaders who build outstanding cultures. Those cultures don't always prevent mistakes, but they do allow the company to adapt more quickly and learn from failure." Hartzell went on to say that investors would do well to look for companies with a learning culture.
It would seem that Shopify fits Hartzell's mold for having a learning culture, and it's no accident that that atmosphere has produced incredible financial results -- the stock has soared as the company's monthly recurring revenue has climbed at a compound annual growth rate of 81% over the past five years. The learning culture that Tobi Ltke has built at Shopify is a key reason why this business has been successful and will continue to be successful long into the future.
10 stocks we like better than ShopifyWhen investing geniuses David and Tom Gardner have a stock tip, it can pay to listen. After all, the newsletter they have run for over a decade, Motley Fool Stock Advisor, has tripled the market.*
David and Tom just revealed what they believe are the 10 best stocks for investors to buy right now... and Shopify wasn't one of them! That's right -- they think these 10 stocks are even better buys.
Click here to learn about these picks!
*Stock Advisor returns as of February 6, 2017
Brian Withers owns shares of Shopify. The Motley Fool owns shares of and recommends Shopify. The Motley Fool has a disclosure policy.