TJX same-store sales fade, weak outlook spooks Wall Street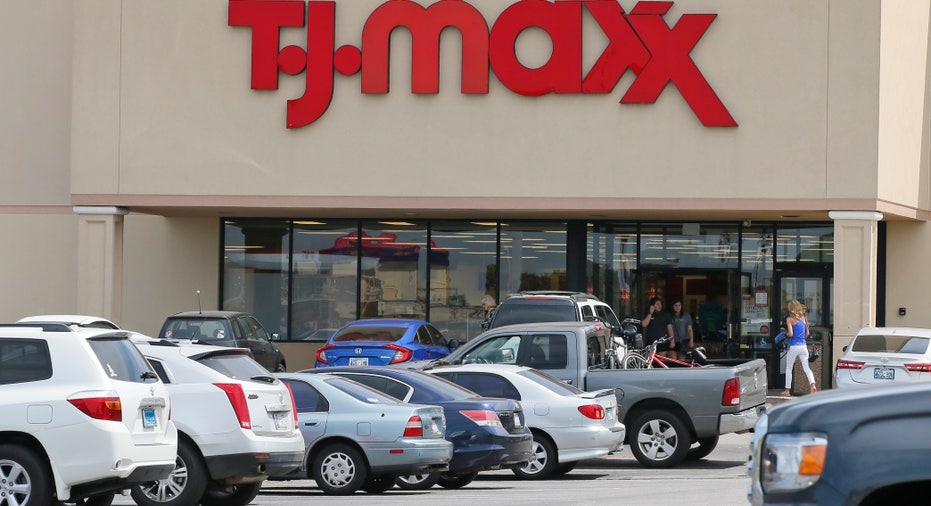 A weak outlook overshadowed strong quarterly profit at TJX and shares slid more than 3 percent at the opening bell Tuesday.
The TJX Cos., which operates T.J. Maxx and Marshalls, also reported disappointing comparable-store sales, a key indicator of a retailer's health for industry analysts.
Profit during the first quarter rose 5.5 percent to $536.3 million, or 82 cents per share, beating Wall Street expectations by 3 cents, according to a survey by Zacks Investment Research.
Revenue rose 3.2 percent to $7.78 billion, but that was short of analyst expectations.
Same-store sales rose 1 percent, well below the 8 percent gain during the same period a year ago. Analysts had expected a 1.6 percent gain, according to FactSet. It was a slowdown from the 3 percent gain in the fourth quarter and represented a rare miss for a retailer that has been a stellar performer in an otherwise difficult retailing environment.
Since the recession, TJX has been able to draw shoppers away from the mall and in to its stores as it rapidly expands and offers the goods that people want. It now has more than 3,800 stores with annual sales of $33.1 billion. Six years ago, it had 1,000 fewer stores and $21.9 billion in sales.
Traditional stores like Macy's are testing their own off-price stores even as they close locations that are not getting the traffic they once did.
CEO Ernie Herrman blamed the slower sales growth on bad weather in parts of the U.S. and Canada.
"We are pleased to see sales trends pick up as the quarter progressed," Herrman said in a company release.
A number of industry analysts, however, see dark clouds elsewhere.
They are witnessing rampant discounting everywhere, meaning that retailers who rely on lower prices to lure customers are losing their leverage.
"While neither Marshalls nor TJX has fallen out of favor with consumers, the amount of discounting and markdown activity across the apparel sector resulted in the customers of both chains shopping more widely than usual," said Neil Saunders, managing director at Global Data Retail. "At the same time, interest in and demand for apparel waned, especially during the early part of the quarter."
The Framingham, Massachusetts, company expects full-year profit between $3.71 and $3.78 per share, far short of expectations. Analysts polled by FactSet expect $3.90 per share in profit for the year.
Shares fell $2.54 to $74.36 Tuesday.
_____
Elements of this story were generated by Automated Insights using data from Zacks Investment Research. Access a Zacks stock report on TJX at https://www.zacks.com/ap/TJX
_____
Keywords: TJX, Earnings Report